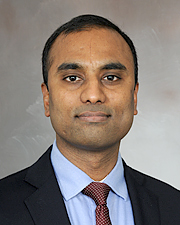 Sudhakar Selvaraj, MD, PhD
Associate Professor
Director, Depression Research Program
Biography
Sudhakar Selvaraj, MD, PhD, is associate professor and the Director of the Depression Research Program at the Department of Psychiatry and Behavioral Sciences. He also serves as the Director of the UTHealth Student Counseling Center, which provides mental health services to students at UTHealth. He qualified in medicine in India and completed clinical psychiatry residency training at the University Oxford and Maudsley Hospital and Institute of Psychiatry in London. He studied the role of serotonin transporters in major depressive disorders for his Ph.D. under the supervision of Professor P.J. Cowen at the University of Oxford, UK.
He has broad experience in clinical psychiatry with a specific interest in treating and managing patients with mood disorders such as major depression, bipolar disorder, and anxiety disorders. He focuses on mood disorders in pregnancy and postpartum and in neuropsychiatric conditions such as Epilepsy. He provides specialist psychiatric care for UTHealth Obstetrics and Gynecology department and at the Texas Comprehensive Epilepsy Program Physicians and Surgeons.
His research has primarily focused on understanding the biological mechanisms underlying mood and psychotic disorders. He has specific training and expertise in psychopharmacology and brain imaging techniques, both structural and functional Magnetic Resonance Imaging/Spectroscopy and Positron Emission Tomography (PET) imaging and its applications in neuropsychiatric disorders.
His research has been published in a number of highly cited journals, including the American Journal of Psychiatry, Molecular Psychiatry, Biological Psychiatry, etc. He has been a recipient of a number of awards and honors including the 2016 Dean's Teaching Excellence Award, American Society of psychopharmacology (ASCP) Fellowship Award, American College of Neuropsychopharmacology travel award (ACNP), European College of Neuropsychopharmacology (ECNP) Young Scientist Fellowship Award and ECNP Best Research poster award, International Society of Serotonin Research's (ISSR) NIDA Travel Award, the International Society for CNS Clinical Trials and Methodology's (ISCTM) New Investigator Award, and Dennis Hill Prize, King's College London.
Dr. Selvaraj is also active in international psychiatric organizations such as the Society of Biological Psychiatry (SOBP), American Society of Clinical Psychopharmacology (ASCP), Harris County Medical Society (HCMS), Royal College of Psychiatrists in London and the Texas Medical Association.
Education
Medical Degree

The Tamilnadu Dr MGR Medical University, India

Master's Degree

Member of Royal College of Psychiatrists, UK

Doctorate Degree

University of Oxford, UK

Residency

General Psychiatry, Oxford Deanery, UK

Research Fellowship

University of Oxford, UK

Clinical Lecturer

Institute of Psychiatry, King's College London, UK
Areas of Interest
Clinical Interests
ADHD/ADD
Adult General Psychiatry
Anxiety/OCD
Bipolar Disorder
Depression
PTSD
Schizophrenia
Second Opinion
Research Interests
Community Mental Health
Mood Disorders
Neuroimaging
Neuroplasticity
Psychopharmacology
Schizophrenia
Relapse Prevention
Publications