2019 Benjamin J. Geigerman Lecture Series
Improving the Bottom Line: How Three Major Corporations Benefited by Hiring Individuals with High Functioning Autism Spectrum Disorders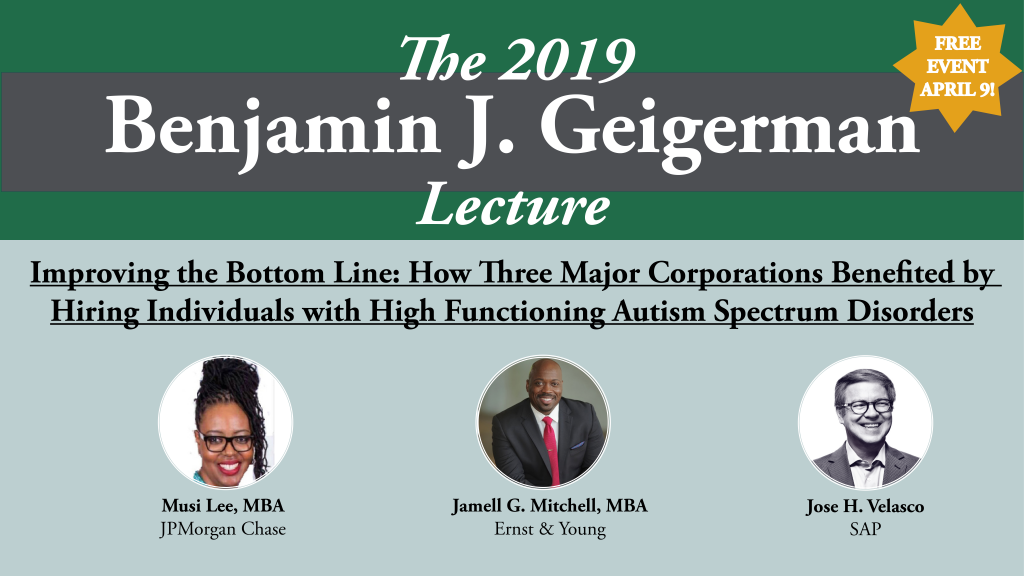 According to the National Autism Indicators Report called "Transition into Adulthood" by Drexel University, young adults on the autism spectrum have the lowest rate of employment compared to their peers with other disability types, while 4 in 10 never work for pay between high school and their early 20s. Those who are employed are mostly working part-time jobs and earning low wages. Although these individuals often face interpersonal challenges, companies are now discovering that they are valuable employees, helping to drive innovation, growth, and return on investment.
Panel speakers bring years of experience and insight from leading programs that seek to recruit and employ people with autism spectrum disorder (ASD). They will share the best hiring and workplace practices for a thriving work environment, as well as ways to leverage the unique talents and skills of persons on the autism spectrum.
Nyamusi Lee, MBA, vice president at JPMorgan Chase, manages the creation and execution of the firm's strategies to develop a talent pipeline for those on the autism spectrum.
Jamell G. Mitchell, MBA, serves as the Neurodiversity Center of Excellence (CoE) Operations Leader at Ernst & Young. The neurodiversity program is an initiative to recruit and hire people on the spectrum for technology-related jobs.
Jose H. Velasco, vice president of products and innovation, heads the SAP Autism at Work program. He has presented on autism in the workplace around the world, including to the United Nations, U.S. Congress, and World Economic Forum. In 2016, SAP launched the Autism at Work Summit, a conference series designed to foster collaboration to improve opportunities for individuals with autism in the labor market.
Date: Tuesday, April 9, 2019
Time: 6:30 P.M.-8:30 P.M.
Location: The Denton A. Cooley, MD and Ralph C. Cooley, DDS University Life Center
7440 Cambridge St
Houston, TX 77054
View the Lecture
The Geigerman Lecture Series was founded in 2015 in memory of Benjamin J. Geigerman, a young man with a high functioning Autism Spectrum Disorder (ASD). He exhibited promise and incredible talents, graduating from college with honors. However Benjamin had difficulty obtaining employment, leaving him without hope or a sense of self-worth.
This evening is made possible by funding from Louis Geigerman, Joanne Must, Katherine A. Loveland, Ph.D., and the Department of Psychiatry and Behavioral Sciences at McGovern Medical School.
---
Location & Parking
The Denton A. Cooley, MD and Ralph C. Cooley, DDS University Life Center
7440 Cambridge St
Houston, TX 77054
(Google map)
Parking is available in the surface lot of the Research Park Complex (click here for map). Participants can pay for their own parking at walk-up kiosks or on their way out with a credit card. Parking rates are:
0 minutes – 1 hour $4.00
1 hour – 1 hour, 20 minutes $5.00
1 hour, 20 minutes – 1 hour, 40 minutes $6.00
1 hour, 40 minutes – 2 hours $7.00
2 hours – 2 hours, 20 minutes $8.00
2 hours, 20 minutes – 2 hours, 40 minutes $9.00
2 hours, 40 minutes – 24 hours $10.00
Daily Maximum Charge / Lost Ticket Charge $10.00
---
Contact
Ruth Yeh
Program Coordinator
Email: Ruth.E.Yeh@uth.tmc.edu
Phone:713-486-2715