Elizabeth Newlin, MD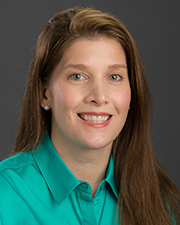 Elizabeth Newlin, MD, is associate professor and vice chair of Child and Adolescent Psychiatry in the Department of Psychiatry and Behavioral Sciences. She provides both inpatient and outpatient services, serving as Chief of Child and Adolescent Services at UTHealth Harris County Psychiatric Center (HCPC) and leading the UT Physicians Child and Adolescent Psychiatry Outpatient Clinic. Newlin has expertise in the comprehensive assessment and treatment of mental health conditions, including personality disorders, mood disorders, and trauma. She has particular interests in adolescents who are struggling with anxiety or depression accompanied by self-destructive behaviors.
Newlin earned her degree in medicine and completed an adult psychiatry residency as well as a child and adolescent psychiatry fellowship at The Medical University of South Carolina. She is trained in evidence-based therapeutic interventions, including mentalization based treatment (MBT) and dialectical behavioral therapy (DBT) and experienced in developing and directing therapeutic programs. Prior to joining the department in 2016, she spent six years with Baylor College of Medicine, where she served as Program and Medical Director of the Adolescent Treatment Program (ATP) at The Menninger Clinic. She is board-certified in both adult psychiatry and child and adolescent psychiatry by the American Board of Psychiatry and Neurology.