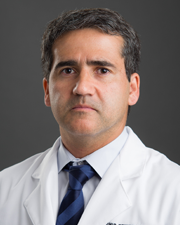 Antonio L. Teixeira, M.D., Ph.D., M.Sc.
Professor
Director of Neuropsychiatry Program
Biography
Antonio Lucio Teixeira, MD, PhD, is a professor, actively involved in both clinical and research components of the Faillace, MD, Department of Psychiatry and Behavioral Sciences. Besides treating older adults with cognitive and behavioral disorders, Teixeira leads the Neuropsychiatry Program, which is dedicated to investigate the neurobiological basis of behavioral syndromes (e.g. apathy, depression) in the context of neurodegenerative diseases, including Alzheimer's disease and Huntington's diseases. Teixeira is particularly interested in understanding the participation of inflammatory/immune mechanisms in the pathophysiology of neuropsychiatric disorders.
After completing his medical training/residency in internal medicine, neurology and psychiatry, Teixeira had the opportunity to do MSc/PhD and post-doc fellowship in cellular biology and immunology, respectively. In the following years, he investigated the role played by chemokines – chemoattractant cytokines – in the pathogenesis of different central nervous system diseases. Later, to integrate his clinical and basic research backgrounds, he focused on how immune/inflammatory changes lead to behavioral and cognitive deficits, also exploring the role of immune molecules and cells as potential biomarkers of neuropsychiatric disorders. He also participated in hospital and community-based epidemiological studies assessing the impact of psychiatric and neurological diseases. Prior to coming to Houston at the end of 2015, Teixeira was an associate professor of Neurology and Internal Medicine at the Department of Internal Medicine, School of Medicine, UFMG, Brazil. He currently holds adjunct positions at UT Health Department of Neurology, and Santa Casa BH Education and Research Institute (Brazil).
Education
Medical Degree

Universidade Federal de Minas Gerais (UFMG), Belo Horizonte, Brazil

Masters Degree

Cellular Biology, UFMG, Brazil

Doctorate Degree

Cellular Biology, UFMG, Brazil

Research Fellowship

Immunology, UFMG, Brazil

Residency

Psychiatry, Internal Medicine and Neurology, University Hospital, UFMG, Brazil

Fellowship

Movement Disorders and Psychogeriatrics, University Hospital, UFMG, Brazil
Areas of Interest
Clinical Interests
Dementia
Alzheimer's disease
Neuropsychiatry
Mood Disorders
---
Research Interests
Neurodegeneration
Biomarkers
Psychoneuroimmunology
Immuno-Psychiatry
Publications