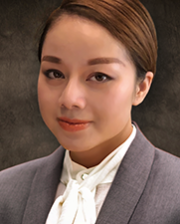 Hanjing Emily Wu, MD, PhD
Biography
Hanjing Emily Wu, MD, PhD, is an assistant professor of psychiatry and behavioral sciences at McGovern Medical School at UTHealth. She received her PhD in biomedical sciences at The University of Texas MD Anderson Cancer Center UTHealth Graduate School of Biomedical Sciences. She then completed medical school at St. Matthews University School of Medicine and residency training in general psychiatry at McGovern Medical School at UTHealth.
Wu has been working in the field of psychiatric disorders and neurocognitive disorders for the past six years. She is currently involved in neuromodulation treatment, including Transcranial magnetic stimulation (TMS), Transcranial direct current stimulation (tDCS), and Electroconvulsive therapy (ECT) to treat mood and neurocognitive disorders. Wu is a committee member of multiple prestigious societies, including American Society of Clinical Psychopharmacology Early Career Committee and Texas Society of Psychiatry Physicians Academic Committee. She has received multiple nationally competitive awards, including the American Psychiatric Association Research Colloquium for Junior Investigators, the American Society of Clinical Psychopharmacology Clinical Trail Workshop Fellowship, and the American Society of Clinical Psychopharmacology New Investigator Award. She is also a reviewer for multiple scientific journals.
Wu is a physician with a passion in research, with the long-term goal of advancing research in mental disorders, particularly in neurocognitive disorders. Her work has involved exploring mechanisms and developing novel treatments for these disorders. She has published more than 20 peer review publications. Selected peer reviewed articles that describe her overall research program: Wu HE and Soares, JC (2019). Book chapter for Major Depressive Disorder; Wu HE, et al. (2018) Epidermal growth factor and fibroblast growth factor-2 circulating levels in elderly with major depressive disorder. Psychiatry Research; Wu HE, et al. (2018) MR Spectroscopy Findings of the Basal Ganglia in Bipolar Disorders: a Systematic Review. Current Psychiatry Reviews.
Education
Doctoral Degree

The University of Texas MD Anderson Cancer Center UTHealth Graduate School of Biomedical Sciences

Medical Degree

St. Matthew's University School of Medicine

Residency

Psychiatry, McGovern Medical School at UTHealth
Areas of Interest
Clinical Interests
ADHD/ADD
Addiction
Adult General Psychiatry
Anxiety
Bipolar Disorder
Depression
ECT
Schizophrenia
TMS
---
Research Interests
Mood disorders
Neuroimaging
Neurophysiology
Psychopharmacology
Schizophrenia
Publications