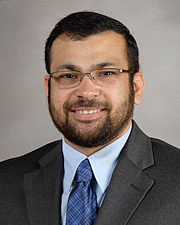 Assistant Professor, Diagnostic and Interventional Imaging
Education
Graduate School

Biomedical Engineering, Cairo University, 2003

Graduate School

Electrical and Computer Engineering, , The Johns Hopkins University, 2006

Graduate School

Electrical and Computer Engineering, The Johns Hopkins University, 2009

Post Graduate School

Postdoctoral Fellow, Radiology, The Johns Hopkins University, 2012
Areas of Interests
Research Interests
Dr. Gabr conducts research in quantitative magnetic resonance imaging (MRI) and spectroscopy (MRS) techniques and their applications in neuroscience. His research interests include fast MRI, patient-adaptive MRI, MR image reconstruction, metabolite quantitation, brain perfusion, image processing, and spectral analysis.
Research Information
Passed American Board of Medical Physics (ABMP) MRI Scientist Exams Part I and Part II, 2015
Publications
Publication Information
Junior Fellow Award, ISMRM (2013)
ISMRM Travel Award (2006, 2009, 2011)
Dean Excellence Award, Cairo University Faculty of Engineering (1995,1996,1997,1998,1999)
Additional Information
PATENTS:
System and method of performing magnetic resonance spectroscopic imaging, Application Filed. 2016.
System and method for adaptive and patient-specific magnetic resonance imaging, Application Filed. 2016.