July 06, 2022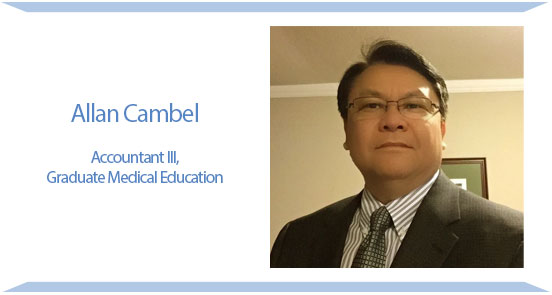 When did you join UTHealth Houston? What brought you here?
I officially became a part of the UTHealth family in March of 1995. My wife, Jasmin Dimayuga-Cambel, who was working in the HR department during that time, convinced me to apply.
Tell me about your work history here.
My career here started at the School of Public Health, where I took on the role as a temporary data collector. I was surrounded by great co-workers and good company, working with Christopher Harvey and Dr. Christine Markham. I loved the culture here and noticed it was a job with good work-life balance – allowing me to still spend time with my family, so I decided to pursue a permanent position within the University. Thankfully, I was given the choice to work in the Payroll Department or the Medical Foundation, and decided to further my career in the latter. During 2019, the Medical Foundation was dissolved, and I was transferred to the Medical School Office of Graduate Medical Education, where I am currently working.
What are you most proud of accomplishing?
Opting to pursue my career within the Medical Foundation was a great choice, due to the vast area of work involved; it mirrored the responsibilities of running an entire company. The Medical Foundation employed UT Residents and Fellows at that time. Meaning, we basically handled everything – from human resources, payroll, benefits, affiliated hospital billing for residents and fellows' services, A/R and payables, and everything that involved reporting federal and state taxes. It was challenging but extremely rewarding.
I remember having only a little over 600 medical residents and fellows at the time, and running our payroll as another corporation called Corp02 on BPPS. The role became a little more complicated and time consuming once the number of residents and fellows started increasing each year, and we were simultaneously sharing the payroll system with UTHealth's thousands of employees. The yearly cycle of terminating and hiring about 200-300 individuals was tough. Wayne Laird and Kevin Lam, the senior accountants of the Foundation, approached Dee Warren, the director of Payroll and Benefits, to see if the Medical Foundation could have its own payroll system to accommodate the growing numbers.
I have worked through three payroll system changes – from BPPS, Best Software, and lastly with ADP; before the Medical Foundation was dissolved and all residents and fellows were moved to UTHealth. I remember it like it was yesterday – we were working several late nights, trying to make sure our first payroll run went smoothly… I'm still here, so it did.
What do you enjoy most about your work?
The unknown challenges that may arise keep me going. You're never sure what kind of curveball you'll get. It keeps me on my toes and makes the job more exciting.
Why have you stayed?
Working here feels like home – knowing that I have my wife, Jasmin, and two daughters, Regina and Hannah, here, too. I can only hope my son, Patrick, will consider joining us at UTHealth sometime soon; it would be very rewarding.
UTHealth has truly become my second home, and I plan to stay here until I am ready to pass down the torch – can't ask for anything better than this!
When you are not at work, how do you spend your time?
Outside of work, I love to eat, travel, and spend as much time as I can with my family. I enjoy the outdoors and watching my grandkids play sports every weekend, curating priceless memories – wishing GOD will give me ample time to enjoy them and all good things.