March 23, 2022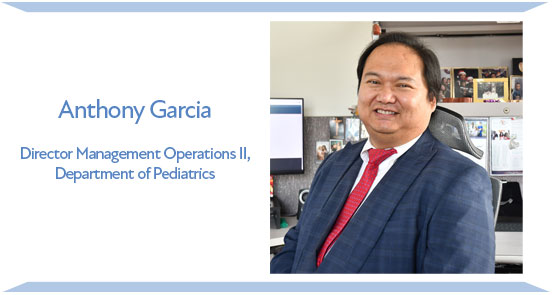 When did you join UTHealth? What brought you here?
I graduated from Texas A&M in 1990 with a bachelor's degree in biology and was interested in going into graduate school to work in research, but I was not sure what field of research to pursue. I joined UTHealth Houston in May 1991 as a research assistant in the Department of Pharmacology which, eventually merged with the Department of Physiology to form the Department of Integrative Biology, Pharmacology and Physiology (IBPP). I worked for Dr. David Loose and Dr. Merrill Overturf, assisting them in their research in molecular biology looking at the overexpression of cholesterol 7 alpha-hydroxylase.
Tell me about your work history here.
I worked for five years with Dr. Loose and Dr. Overturf in a research lab working with New Zealand white rabbits that had the ability to resist dietary-induced hypercholesterolemia. I gained skills in the area of molecular biology in investigating the mechanisms that control gene expression.
Unfortunately, after working with rabbits for five years, I developed an allergy toward them. My sister said it was the rabbit's revenge for investigating them. Under the mentorship of Ms. Olivia Carleno Denison, DMO of IBPP, I pursued an MBA in management and Olivia gave me an opportunity to work in IBPP's administration, assisting her with finances and operations.
In October 1997, I was hired into the Department of Pediatrics by Mr. Jorge Zambra, DMO of Pediatrics, as the department's contracts and grants specialist.  I was able to assist Pediatric faculty in grant submissions to secure resources to continue their work in finding ways to help children with various health challenges.
As the department grew, Jorge expanded my role into other areas of finance and operations in the Department of Pediatrics.  Under Jorge's invaluable mentorship, I was able to expand my area of responsibility to support all of our faculty in any business function they needed assistance in, from reviewing the budgets of their respective division, to procuring specific research or medical equipment, to recruitment of faculty and staff, to coordinating moves and remodeling projects, etc. This expanse of responsibilities afforded me promotions to an Administrative Assistant, Administrative Service Officer, and eventually to Assistant DMO.
In 2002, the Medical School consolidated the business operations of several clinic departments, so we also had the privilege to assist in the management of Ob/Gyn for 12 years. It was a joy to work for Dr. Larry Gilstrap, Dr. Susan Ramin, Dr. Sean Blackwell, and all of the Ob faculty during those years.
In Pediatrics, I have had the honor to work for our various chairs these past years starting with Dr. John Sparks, Dr. Giuseppe Colasurdo, Dr. Brent King, Dr. Eric Eichenwald, Dr. Kevin Lally, Dr. Barbara Stoll, and currently Dr. Mary Aitken.
On August 2014, Jorge retired from UTHealth Houston after 30 years of service.  Thanks to his guidance, I was chosen as his successor by Dr. Eric Eichenwald and Ms. Julie Page to be the DMO of Pediatrics.  It has been an incredible journey working in Pediatrics that started with an overall operating budget of $7M in 1997 to over $80M in 2022.  To work with experts in their respective specialties in Pediatrics has been an honor and privilege.
What are you most proud of accomplishing?
Assisting our Pediatric faculty to acquire resources to continue their work in teaching future pediatricians, caring for the sickest of the sick pediatric patients, and seeking better ways to treat various childhood illnesses.
For some adults, life choices have led some of us to deal with various health challenges such as obesity, coronary heart disease, hypertension, etc.   For many children, they unfortunately were born with their challenging health condition.  It is a wonder to witness our Pediatric faculty passionately care for their patients on ways to manage their conditions, or even help find a cure. How could you not be proud to be part of that team? I am happy to be of service to these incredible providers.
What do you enjoy most about your work?
Working with all the professionals at UTHealth Houston from General Administration to the McGovern Medical School to SPH, SOD, Cizik, SON, GSBS, SBMI, and HCPC. UTHealth Houston is my extended family. I have made lifelong friendships along the way. There are too many names to mention, but they know who they are.  Thank you for being part of my journey.
Why have you stayed?
It has been a source of pride to work for UTHealth Houston for 31+ years and 25+ years in the Department of Pediatrics. The work our Pedi faculty do to improve care for children is second to none.
I was blessed for the care Dr. Giuseppe Colasurdo and the Division of Pediatric Pulmonary gave to my nephew in 2003 when he got infected with the Respiratory Syncytial Virus (RSV) and developed bronchiolitis obliterans.  The outstanding care our Pedi Pulmonary Division provided saved the life of my nephew, and he recently celebrated his 18th birthday and looks forward to graduating high school and going to college.
I am a second-generation UTHealth employee.  My mother, Angelita Garcia, started her career here in 1981 working in Revenue Cycle for Mr. Dennis Christie.  She worked for UTHealth Houston for 25 years at various UTHealth Houston facilities at HCPC and the Houston Recovery Campus before leaving to start her own billing company for a private physician in the Woodlands so she did not have to commute to Houston every day.  I hope my youngest son will have an opportunity to join the faculty here at UTHealth Houston someday as he completes his Doctorate in Child Psychology.  What an honor to have three generations of my family work for this fine institution.
On a more recent note, when I got infected by the coronavirus in March 2021 and ended up in MHH ICU for 14 days, I was very blessed to be cared for by the incredible physicians here at UTHealth.  I would not be here today to share my story if it was not for all the incredible healthcare providers at MHH and UT Physicians.
When you are not at work, how do you spend your time?
My wife and I are active ministers in our church and in the Archdiocese of Galveston-Houston, serving on the Filipino Ministry Council.  We participate in various fundraising activities to gather resources for survivors of natural disasters in the Philippines.  We also work in our church's food pantry (second largest in Montgomery County) or work on our church's Habitat for Humanity house build.  I have been given so many blessings, and I want to share those blessings with others.
I am a fan of science fiction novels and movies. When time permits, my family loves to travel and visit national parks.