September 23, 2020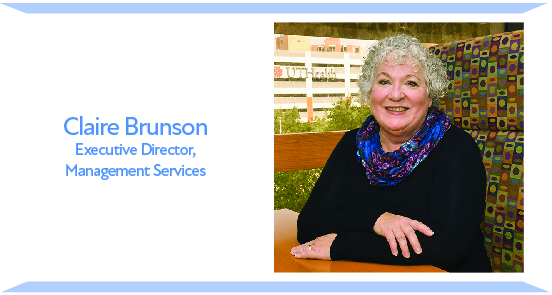 When did you join UTHealth? What brought you here?
In 1987, my sister was attending the UTHSC School of Allied Health Sciences, working on her degree in nutrition.  She had a friend who was in the Medical School's Pediatrics Division of Medical Genetics. There was an opening for a staff assistant, and I was offered the position.
Tell me about your work history here.
I spent my first four years at the UT in Pediatrics Medical Genetics Division, first with Drs. Julian Williams, Adam Jonas, and Robert Grier.  I then worked in the division director's office (in the old Shriner's Hospital building) with Drs. Bill Horton and Jacqui Hecht.  In 1991, I transferred to the Health Science Center's Office of Financial Services with Jerry Ellis, and I was there for another four years.  In 1995, I took a "sabbatical" to work in a local hospital for about 16 months, and I found I really wanted to be back at UT.
Katherine Thatcher, the previous Director of Management Services in the Office of Management and Administrative Services, encouraged me to come back to the Medical School in 1996.  I've been in the Office of Administration, now Office of Administration and Faculty Affairs, ever since.
What are you most proud of accomplishing at the medical school?
Tropical Storm Allison recovery and rebuilding is probably first on my list.  I've learned in many situations that water is not our friend, but this was the most devastating event that has happened in my career.  Our medical school building was totally dead for a month after June 8, 2001.  I received a call that Saturday morning about 4:30 a.m. from Work Control in which I was told that the Medical School's basement had flooded and the ground floor was covered in 10-12 inches of water.  I called Rick Gaines, the associate dean for management at the time, and that was the first of many phone calls I had that day contacting department chairs and DMOs to let them know of the horrible conditions that were to ensue in the coming days in the MSB and John Freeman Building next door.  We lost 4,700 animals in the basement, millions of dollars in research in freezers, refrigerators, computers, and an NMR and MRI.  In the next month, I had to find temporary offices for about 85 people.  We borrowed space from departments in the building in MSI, UCT, OCB, and JJL.  Many people worked from home for the next month.  Some researchers found space at Rice, Baylor, or MD Anderson.  The MSB looked as though it was on "life support" for many months while air handlers as big as box cars circled the building, and five-foot diameter hoses were connected to the building and pushed cool air into the building.  It took about five years to finish all of the medical school building's TSA projects, including rebuilding the basement to hold new classrooms, PBL rooms, morgue, Gross Anatomy, a Surgical and Clinical Skills Center, ground floor administrative offices, and a Learning Resource Center.
Because we lost the animal care facility in the basement and saw the need for more research space, this was an opportunity to build a new building next to MSB to replace the John Freeman Building, which was only two stories and held small classrooms and the Bookstore on the first floor. And then, we had three departments or divisions of research space on the second floor, including Microbiology, Pediatric Infectious Diseases, and Internal Medicine Infectious Disease.  To clear the building, we often had to take over department conference rooms to hold third- and fourth-year classes until the basement classrooms were ready. MSB 1.006 became the LRC, so students could study on site for the next two years. I had to create a plan to move enough research space around to move Microbiology and Pediatric and Internal Medicine Infectious Diseases into the MSB, so the building could be torn down. I not only had to "sell" this plan to the (acting) dean, but I also had to sell the plan to HSC leadership, department chairs, and investigators.  That may have been more stressful than Tropical Storm Allison!  We also had to take lab space in MSB to use for animal care.  We used about 7,000 SF of lab space to house animals while the Medical School Expansion Building was being built.
We opened the Research Replacement Facility (now known at the Medical School Expansion Building) at the end of 2007 with a beautiful, new animal care facility and four research floors.  Having the opportunity to help plan, design, and implement the MSE was the experience of a lifetime!  Dr. Jim Willerson, president of the Health Science Center at the time of Tropical Storm Allison, said on the Sunday after the storm that this was a golden opportunity to allow the Medical School to come back even better than it was before.  We didn't waste that opportunity.  I am humbled and honored to have actively participated in these projects from start to finish, and I am very proud of what we accomplished!
My Senior Job Coordinator, Greg Dorsey, and I continue to work closely with the Facilities and Project Management teams on projects to improve the quality of the buildings that we work in, so that research, education, and clinical activities operate seamlessly.  These individuals are all attuned to the needs of the school and strive to complete their activities and projects with as little disruption and interference as possible to our researchers, students, staff, and animals.
I also have to brag on the Office of Conference Operations.  Valerie Buchanan and her staff exemplify the essence of great customer service.  When I started overseeing Conference Operations 20 years ago, they were scheduling all classes on a huge notebook, by hand!  They recorded and duplicated lectures on cassette tapes for students, then on VHR, then DVD, and now, the classes are streamed and recorded online.  Conference Operations under Valerie's leadership has implemented an online scheduling system that anyone in the university can access.  Their website is full of valuable information about our classrooms and auditoriums, policies, and pictures of our various classrooms.  Valerie led the scheduling software project for the entire university, and she has been invaluable in bringing this process to fruition.  These folks have had tragedies in their families with Hurricane Harvey and other personal loss, and they have embraced each other and kept the work of the office moving forward seamlessly.
How has the medical school changed since you first joined?
When I started in Pediatrics in 1987, my world was that of meeting the needs of the Medical Genetics faculty and staff.  I've seen faculty, chairs, deans, and HSC executive leadership come and go.  I've seen buildings come down and buildings go up.  Even our name has changed!  But I think maybe I've changed and grown even more than the School!
I've served under seven deans, including interim or acting deans, since 1996.  With each dean comes new challenges and priorities.  Tropical Storm Allison blew up and increased the challenges and priorities for the Medical School in 2001 and beyond for years to come.
The Medical School has always valued the three priorities of education, research, and clinical service.  McGovern Medical School has certainly grown and developed in all three of these aspects.  We compete with other universities for the best and the brightest students, researchers, clinicians, and we have some of the best and brightest administrators and staff to help meet the needs of these groups.  We collaborate with other institutions and other HSC schools better now than when I first started.  We encourage others more to succeed and be successful in what they are doing, so they can grow in their jobs and take on new challenges and opportunities.
Our clinics have expanded and grown out into the communities of the Greater Houston area, and our faculty, especially our clinicians, have more than doubled since I started in Administration.  Our doctors are the best!
Of course, the buildings have changed most of all.  We still don't have enough space – office, research, or even classroom space for small-group activities.  Space is definitely the final frontier, and it will always be a challenge to meet the needs of our new and/or highly successful researchers.
Today, COVID-19 has turned our world upside down professionally and personally.  To keep the missions of the Medical School moving forward, we're all having to do things differently, whether it is the way we see patients, train students, or interact with others to accomplish our daily tasks and goals.  We are resilient, and we will be stronger and wiser for going through this pandemic.
Why have you stayed?
I love my job!  I enjoy the people that I work with daily, whether it be those in my office, in Conference Operations, Facilities, Project Management, the Dean's Office, faculty, staff, Security, Housekeeping, or students.  I enjoy the challenges of finding space where there is none, almost constantly resolving problems and finding solutions, and helping people find joy in their job and workspace.  I love to make people happy!
I appreciate the fact that UTHealth cares about its employees and is finding ways to encourage us to have a real work/life balance in our jobs and our home life.
When you are not at work, how do you spend your time?
Since April, my husband Mark and I have had the opportunity to work together at home most of the time, and we have enjoyed our time as office partners!  We started playing Mexican Train dominoes with my daughter and her husband during the pandemic on the weekends.  My son's family lives in Maryland, and we enjoy visiting with our three grandchildren online since we aren't able to visit often.  I enjoy cooking and reading recipe books for new, healthier ways to cook and eat.  We are involved in our church, and I had been singing in the choir at Houston's First Baptist Church prior to the pandemic, and I look forward to getting involved again in church activities on-site soon.