April 20, 2022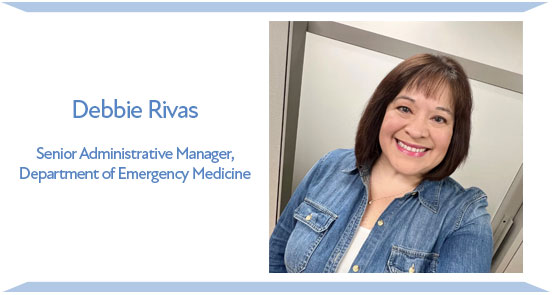 When did you join UTHealth Houston, and what brought you here?
I joined The University of Texas Health Science Center at Houston in February of 1991.  I was led here by my sister Terri Ramirez (an employee of UT) and a former employee and was lucky to apply and interview the same day.  I started my UTHealth Houston career at the School of Allied Health Sciences.
Tell me about your work history here.
I began my UTHealth Houston career as an administrative clerk for the School of Allied Health Sciences, where I worked with Dr. Ronald Novak and Joyce McKnight.  I was a receptionist and responsible for validating guest parking and purchasing departmental supplies.  In 1992, I transferred to the Center for Laboratory Animal Medicine & Care under the direction of Angelique Nathan, DMO, and was promoted to a senior administrative clerk, where I was responsible for general office duties and purchasing.
In 1994, I went on to broaden my skills as a support specialist in Human Resources. I worked with Annette Collins, Bobbie Ware, Debbie Drew Norris, Karen Motsinger, and Loretta Jones and was responsible for greeting guests and assisting the recruiters in various recruitment activities.
In 1999, I transferred to the Department of Family Practice & Community Medicine as a senior support specialist.  I handled a vast variety of administrative, and financial duties in addition to credentialing and HRMS activities. Under the direction of Elaine Martin Embody and Linda Lindloff, DMO, I began to develop a strong skillset and was eager to make full use of my new skills to advance my career goals.
In 2004, I transferred to the Department of Emergency Medicine under the direction of Annette Roberts and Janet Sherry, DMO, as an administrative assistant and have recently been promoted to my current role as senior administrative manager.  The department has grown steadily over the years, which has allowed numerous opportunities for my role to expand, including business and financial management and learning how to manage a loyal, dedicated, and successful administrative team.  I also have been instrumental in providing critical support to the research division with onboarding new hires during COVID-19 due to the numerous research projects that had taken off during this time period.  There is never a dull moment working here, and it certainly keeps me on my toes!
What are you most proud of accomplishing?
I am proud of accomplishing 31 years of UTHealth Houston service. Working here has allowed me to achieve my long-term vision for my career as I continually strive to learn new skills.
What do you enjoy most about your work?
I enjoy the challenges and sense of accomplishment.  I have had the pleasure of working with some incredible Emergency Medicine staff, leadership, and faculty.  The leadership team here has allowed me to feel that my daily contributions are valued, and I have been made to feel appreciated.
I've also been lucky through the different aspects of my career for numerous opportunities to collaborate and network with other departments throughout UTHealth Houston.  I have formed many lifelong friendships throughout my 31 years.
Why have you stayed?
I am blessed to have the privilege of working for some fantastic directors and administrators.   I am grateful for continuous mentoring, guidance, professional growth opportunities, and commitment to career development within the organization.
When you are not at work, how do you spend your time?
When I am not at work, I enjoy spending time with my husband and kids.   I am a proud mom of three awesome sons, and Glamma to two wonderful grandkids, with another one making his debut in June 2022!  I enjoy traveling to gorgeous beach destinations.  By far, Cancun is still my favorite vacation spot! My leisure activities are morning or evening walks at my local park, shopping, crafting, and gatherings with family and friends.