July 20, 2022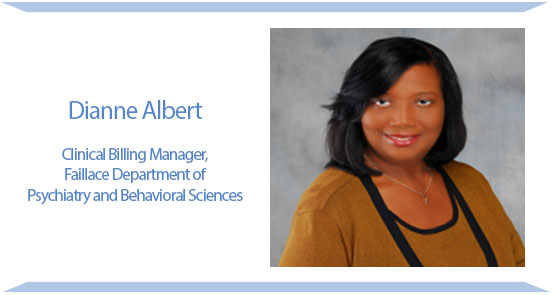 When did you join UTHealth Houston?
I joined UTHealth Houston on November 13, 1995.
What brought you here?
I started my career with Blue Cross Blue Shield in Jackson, Mississippi, after graduation from University of Mississippi (Ole Miss) with a bachelor degree in Health Information Management (at that time it was called "Medical Records Administration").  One of the divisions of BCBS was called "Quality Assurance," which was composed of compliance and coding of claims.  This allowed me to learn and grow in the healthcare environment. Assigning appropriate CPT-4 procedure codes, ICD-9 diagnosis code to insurance claims, performing accuracy of payment benefits on medical claims, and a team leader were some of my duties. After a successful career at BCBS for 5 years, I got married and moved to Houston.
When I arrived in Houston, I began working for BASF Corporation and provided administrative support for 17 engineers with specialties in mechanical, civil, piping, and instrumental/electrical.  After 5 years, unfortunately, BASF decided to close the office in Houston.  This was a good opportunity to seek the healthcare environment again.
I then started working as a temp employee for Baylor College of Medicine at Texas Children's professional building.  One of my colleagues told me that his wife worked at UTHealth in the Department of Obstetrics and Gynecology and was looking for an assistant. When my temp assignment was completed with Baylor College of Medicine, my next temp assignment was at UTHealth.  To my surprise, the assignment was in the Department of Obstetrics and Gynecology.  I began working in the ob/gyn department in September 1995.  After two months working as a temp, I was hired permanently at UTHealth.
Tell me about your work history here.
I began as a staff assistant in ob/gyn where I  worked with physicians Pamela Berens, MD; Laurie Swaim, MD; and Marion Wolf, MD.  My work included administrative support to patients, publications, and preparing grants.  I still wanted to work in the area of HIM or coding/compliance and  saw an opening in medical records for the Department of Psychiatry and Behavioral Sciences.  I applied for the position of Medical Records Administrator and interviewed with then-DMO Will Kyle and was offered the position. It is with the advice and encouragement of the physicians that I worked with in OBGYN that made my transition easier.  I will be forever grateful to them.
I transferred to the Department of Psychiatry and Behavioral Sciences and have been truly blessed to work the majority of my career, 25+ years, in this department. At that time, Psychiatry was located at MSI (Mental Sciences Institute).  In addition to managing all medical records, release of information, storage/retrieval, policy updates etc, I obtained additional duties as coder, auditor, and compliance representative for the department. Wearing these different hats were exactly the tools that I went to school for….it was meant to be.
The medical records department was located in the basement, and the medical record were paper charts at that time. When Tropical Storm Allison hit in the medical center in 2001, I just knew that all of the medical records were damaged. When we were allowed to come back to MSI, it was astonishing to see that all of the medical records were not touched by the water.  All faculty and staff were startled at this….truly amazing!  Afterwards, the medical records department was moved to the first floor.
By working in Psychiatry for many years, I had the opportunity to work for six different DMO's (Will Kyle, Bob Travis, Karen Jones, Mike Bridgett, Mary Battaglia, and my current DMO Mary Lopez) who have enhanced my skills and provided guidance along the way.   I worked with an amazing staff in the medical records department, one of whom is still here in the Psychiatry department today.
In March 2009, I was promoted to Clinical Billing Manager.  This broaden my skills further as I was responsible for providing charge capture/coding, billing activities, billing profiles of providers, reimbursements from insurances, etc. just to name a few.
On March 1, 2010, the Psychiatry department moved to a new building (Behavioral and Biomedical Sciences Building) in its new location on the south campus of the Texas Medical Center.
Throughout the years I've seen many changes in Psychiatry and how it has steadily grown and continues to grow.
What are you most proud of accomplishing?
I'm very proud that the Psychiatry department at UT Health helped me with accomplishing my career goals.  During the 25+ years of service in Psychiatry, I've had many responsibilities, challenges, the ability to obtain additional education and grow professionally.  My work here has been rewarding, and I enjoy working with my DMO who is very supportive.
What do you enjoy most about your work?
I enjoy being able to provide assistance to the faculty and staff when needed.  It is also nice to provide assistance to patients in Psychiatry as it relates to billing.  Solving their billing questions often helps to ease their minds, and this is very heartwarming.
Why have you stayed?
I work with great faculty and staff, and I love what I do.  When I experienced Hurricane Ike (a tornado demolished my home and it had to be rebuilt) and Hurricane Harvey, my Psychiatry family provided great support for me during these times.  I am part of a great team!!  UTHealth is really a great place to work with many opportunities for growth!!
When you are not at work, how do you spend your time?
My husband and I are "foodies," and Houston is known for different restaurants.  A tradition that we have had is that we go to a different restaurant (of which we have not gone to before and/or different specialty) on each anniversary and have not been back to the same place twice….. Houston is huge!!  I also love to travel, jazz, stage plays, and am a fan of mystery movies.