May 04, 2022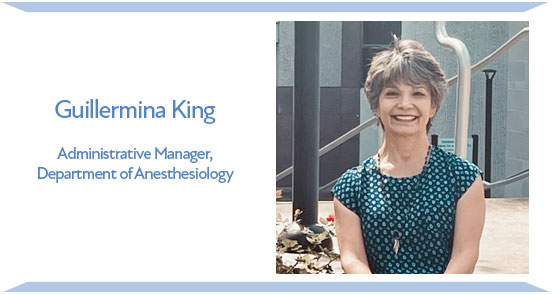 When did you join UTHealth? What brought you here?
Originally from Mexico City, my family visited Houston and the Texas Medical Center regularly.  My grandmother was treated at Methodist Hospital for six months.  My mother had two open-heart surgeries at St. Luke's Hospital. Eventually, she passed away in Houston when I was in my twenties.  Later in life, I came to Houston for medical reasons and stayed in Houston for two years for treatment.  During that time, I met my husband, Frank S. King Jr., and we were married in 1990. After several administrative temporary jobs, I landed a position with the Department of Neurology. The irony of this is that I continued working in the Texas Medical Center — the place our family had visited for so many years.
Tell me about your work history here.
From the Department of Neurology, I transferred to the  Department of Anesthesiology and have been working in this department for 32 years.  Although my professional background in Mexico City was very different, I nevertheless took the challenge to build a new career in the Medical School.
What are you most proud of accomplishing?
Throughout the years, I have had different responsibilities in our department and have learned and grown from of all them.  I currently have a great team.  We coordinate the processes of credentialing and bringing new providers on board while keeping all our current providers active and in good standing.
What do you enjoy most about your work?
I enjoy being part of the Medical School, especially the anesthesia department. Seeing its transformation and progress throughout the years have been a great experience. I also enjoy the support we receive from other UTHealth Houston departments.  Collaborating with them has helped me to better understand UTHealth Houston policies and procedures, which sometimes is quite challenging.
Why have you stayed?
I work with great faculty and administrative support, which allows me to both learn and grow within the department and the university. I am a steady person, and I like to grow in one place, building good relationships and teamwork. This always makes you stronger not only at work but in life in general.
When you are not at work, how do you spend your time?
Always being positive and active. I spend my time off just enjoying life. I am passionate about yoga, which I have been practicing for 13 years.   I have one son, Brandon, and two beautiful grandchildren, Grady and Raegan.  I also enjoy playing with my chihuahuas: Chula, Coco, and Cielo.