August 24, 2022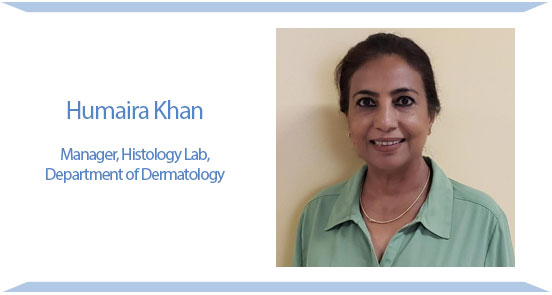 When did you join UTHealth Houston? What brought you here?
I joined UTHealth Houston in November 1987. I came to UTHealth for an opportunity for professional growth and experience. It was a great fit, so much so that I have been here for 35 years now!
Tell me about your work history here.
I have been working in the dermatopathology lab for Dr. Ronald Rapini from the start. He is an amazing clinician and professor who has taught me so much. He inspires everyone around him with his work ethic to do their best, and that has been a huge part of my work history.
What are you most proud of accomplishing?
I am most proud of accomplishing growth in knowledge of histotechnology and applying that knowledge. On a personal note, my children are my greatest accomplishment.
What do you enjoy most about your work?
I enjoy the variety of pathology and clinical cases we get in the lab.
Why have you stayed?
UTHealth holds a special place in my heart. It is where I have built my career and get to do what I love daily. I am fortunate to work alongside wonderful colleagues who inspire me in their own ways and, of course, Dr. Rapini who makes being part of his team feel special. Also, UTHealth is extra special because my daughter graduated from McGovern Medical School (formerly UT Houston Medical School) in 2009.
When you are not at work, how do you spend your time?
When I am not at work, I love spending time with my family and friends. I enjoy gardening and home projects, but most of all I enjoy spending time with my granddaughters.