September 09, 2022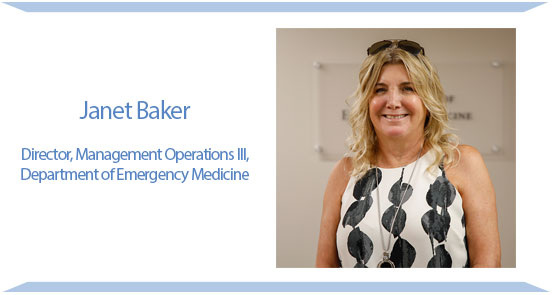 When did you join UTHealth Houston? What brought you here?
My ex-husband was laid off from his job during the big oil and gas bust in the 1980s, we had just given birth to our first son, and we were weeks from losing our home to foreclosure when my former sister-in-law told me about a front desk receptionist position in the Department of Surgery, Urology clinic. Thankfully, I landed the position, which gave us the lifeline we needed, and I never looked back. That was in 1987 and I had the privilege of celebrating my 35th work anniversary at UTHealth Houston this past July.
Tell me about your work history here.
After working the front desk in the clinic for a year, I was promoted into coding and billing, then a central lead position where I supported the front office staff in multiple clinics. That position led me to Systems Management in the Central Business Office, where I worked for 7 years under the direction of Andy Mishlan. There I was responsible for implementing a new claims tracking management system and training end-users on our patient billing and scheduling system, MedTEC. This was back when our computer systems were on giant mainframes that took up almost an entire floor of the University Center Tower. The end-users had to know DOS syntax commands to access the system, so I had to be very creative in my training classes to keep them awake long enough to memorize all those commands. My, how far we've come since then!
After Systems Management, I went to the Medical School and joined the Department of Otolaryngology as their administrative service officer. A few years later, I also became the administrative service officer for the Department of Emergency Medicine.  It was there I found my home. I fell in love with the specialty, and I was promoted to director of management operations in June 2005.
What are you most proud of accomplishing?
I am most proud of being able to spend the last 21 years of my career supporting an incredible group of individuals that, as a team, has taken this department from a staff of 13 faculty, 21 residents, 3 APPs, 4 support staff and a $3.2M budget in FY2001, to 127.75 faculty and staff physicians, 6 fellows, 60 residents, 68.5 APPs, 52 support staff, and a budget of $75.9M in FY2023. We staff the nation's busiest Level 1 and Level 3 trauma centers as well as three community pediatric ERs. We expanded into hospitalist services a few years ago, providing hospitalist medicine services to the TMC campus, Memorial Hermann | Rockets Orthopedic Hospital, and TIRR. We are also excited about opening UT Physician's first urgent care center at our Bayshore Multispecialty clinic site with plans to expand across the city and surrounding communities.
What do you enjoy most about your work?
The thing I enjoy most about my work is our faculty and staff. I have had the privilege to work under some amazing leadership, including Dr. Brent King, Dr. James McCarthy, Dr. Sam Luber, Dr. Sam Prater and most recently Dr. Ben Bobrow. And of course, I need to mention Julie Page and Nancy McNiel who are so supportive of all the DMOS. We couldn't succeed without their leadership. But it's not just the great leadership I've enjoyed. The staff in our department consistently go above and beyond their normal duties, they help each other out, and support each other when needed. They are dependable, hardworking, and a joy to be with. I couldn't ask for a better team, and I certainly couldn't do my job without them.
Why have you stayed?
I can't imagine finding a better place to work. UTHealth Houston offers us so much in benefits, learning, and career growth opportunities. This department has always been supportive of our staff and faculty, both professionally and personally. It is the best team atmosphere I've ever worked in. What's even better is that we work for an institution that helps save lives and improves patient health. Although we are not on the frontline, I believe those who serve in administrative functions in our departments, schools and university provide an integral role supporting those who deliver the best care and treatments available to our patients. It feels good to know we help make a difference in our patients' lives.
When you are not at work, how do you spend your time?
I love to saltwater fish! I have a beautiful 5-year old granddaughter who I would love to spend more time with, but unfortunately, they live in Dallas, so it isn't nearly as often as I would like. I also enjoy live music and watching my husband, who happens to be an excellent lead guitar player, perform at various venues around Houston and the surrounding communities on the weekends.