February 02, 2022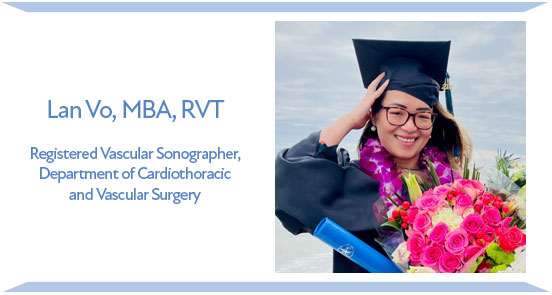 When did you join UTHealth? What brought you here?
I joined UT Physicians in May 2011 and then migrated to UTHealth in November 2013. I was looking for a challenging position. From a friend, I heard Dr. Sheila Coogan was expanding her practice and was looking for a vascular sonographer. I was trained and had worked with vascular surgeons previously and was looking forward to working with a great vascular surgeon like Dr. Sheila Coogan.
Tell me about your work history here.
When I first started with UT, I was working closely with Non-Invasive Cardiology because our Department of Cardiothoracic and Vascular Surgery wasn't as big as it is today. With my background in vascular sonography, I was able to perform all vascular ultrasound exams from head to toe, except for the heart. Along with Dr. Coogan, we began to market our services and tried to expand our network. I joined forces with the marketing team to create fliers and provided free screenings for our community. Then I began the accreditation process for our CV Surgery ultrasound laboratory at Bellaire with a vision of providing better quality care and maintaining quality assurance. Since our CV Surgery Bellaire clinic expanded, my duties also expanded to multiple roles. I have covered all possible roles in our clinic in order to have a smooth clinic flow. Luckily in the past year and a half, my hard work paid off and I was advanced to a clinic management role.
What are you most proud of accomplishing?
I have been with the same department for a little over a decade and have witnessed enormous growth in the department. It makes me feel proud to be a part of the team. Although I am a clinical staff, I was able to comprehend the administration/business side of healthcare since I had the opportunity to learn, especially when we were understaffed. One thing I am most proud of accomplishing is earning my MBA in healthcare administration. My job helped me to go beyond my role and to be able to put myself in the upper management position. I was able to view healthcare from both the business and patient perspectives.
What do you enjoy most about your work?
I enjoy working together with a knowledgeable team to help our patients get better. It is extremely rewarding when patients come back to the clinic and let us know how grateful they are for what we did for them.
Why have you stayed?
I have stayed with UT because it is one of the largest organizations with endless opportunities for growth. Best of all, my role allows me to interact with people daily, and I get to be a part of a team that can make a positive impact on our patients' lives.
When you are not at work, how do you spend your time?
When I am not working, I have two kids and three dogs to entertain. I am an adventurous person and love outdoor activities, especially fishing. My passion for culinary is awfully high because I love to try new foods and cook different recipes.