November 30, 2022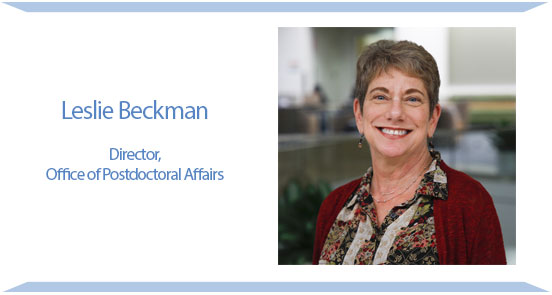 When did you join UTHealth Houston? What brought you here?
I started in October 2005 as the first employee of the Office of Postdoctoral Affairs (OPA). This was an historic time in postdoctoral training.  Sigma Xi had just released a national survey on the conditions of postdoctoral training, and the newly created National Postdoctoral Association published recommendations on establishing postdoctoral offices and policies. Yet even before this, several key stakeholders at UTHealth had a keen interest in opening such an office, which was truly novel at the time. I interviewed with Dr. Jack Byrne, head of the Research Committee, and he took a chance on me.  I had previously worked in human resources, immigration law firms, and international healthcare recruiting. Plus, as a native Houstonian who had worked in the Texas Medical Center in high school and college (for Dr. DeBakey and Dr. LeMaistre), he thought I was a good fit for the office.
Tell me about your work history here.
When I was hired, I was the Coordinator of Special Programs, which was a well-suited name.  Postdocs are indeed a special group who need special attention.  My first task was to find out how many postdoctoral trainees were on campus, locate where they were working, and learn how much were they being paid. Within one year, all postdocs were accounted for, and we reduced 20 job titles into one.  Next, we centralized the appointment process and established the Postdoctoral Certificate Training Program.  I am currently the Director of the OPA, and I share the office with Senior Program Manager Dr. Yasmin Chebaro, who is a former postdoc.
What are you most proud of accomplishing?
There is no way I could identify my "most proud" accomplishment.  Our office is well-known across campus for offering support and training to postdocs, as well as to faculty and administrators.  Whether one likes us or not, my guess is you would be hard pressed to find someone who doesn't think we are useful to the community.  We make every effort to meet all new postdocs, we provide a unique training program, and we always have our door open for conversations, coffee, candy, and Kleenex!  The UTHealth Postdoctoral Certificate Training Program has grown to a three-track program, offering training and certificates and becoming a model for other universities. In fact, Yasmin and I recently met with faculty from UC Santa Barbara who want information on how we run our training program.  And, I keep a framed document on the wall of our office, which is a list of everything that was to be "out of scope" for the OPA – but each of the items are now exactly what we do on a daily basis.
What do you enjoy most about your work?
Creating an atmosphere for postdoctoral research fellows where they know they have someone in their court. We hear it all the time, and it never gets old.  We hear from faculty who wished they had an office like ours when they were postdocs. That makes me want to come in every day and do everything I can for our postdocs.
Why have you stayed?
Very simple – I absolutely LOVE my job.  It is what I do – and in a very healthy way, it is my outlet.  I tease my family that I am appreciated at work – they get the joke. As a mom, my job gives me strength.
When you are not at work, how do you spend your time?
With family – my two amazing daughters and their fantastic husbands, my loving in-laws, my sister and brother, their spouses and kids. We are a close family who gathers around food – be it at our homes, in my backyard, or one of the million Houston restaurants.  We enjoy eating out at restaurants where we discuss food – at my house where we cook and discuss food – we spend time around the pool from the first day possible to the last – eating and discussing food.  My daughters and I have a ritual of going to theatre shows – and eating out before at a new restaurant.   Get the theme here – food and Beckmans!