April 06, 2022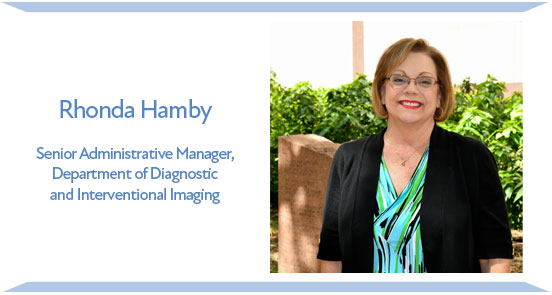 When did you join UTHealth Houston?
I started at UTHealth Houston in May 1984, right after I graduated from Sam Houston State University with a bachelor's degree in business administration.
What brought you here?
My sister was working here at the time in Student Affairs and connected me with Dr. Frank Moody's assistant for a job interview.
Tell me about your work history here.
I started working here for Dr. Frank Moody who was chief and chair of the Department of Surgery.  I was the receptionist and his patient care coordinator. I handled all of his patient-related matters plus greeted our guests and answered the phones. I worked for Dr. Moody from 1984 to 1989.  He was a wonderful, great man.
I left the university for four years and worked in a private practice working for a plastic/hand surgeon at Memorial Southwest.
In October 1993, I returned to the University and was hired into the radiology department, where I have been ever since.  At the end of August, I will have 34 years of service with UTHealth Houston.
What are you most proud of accomplishing?
I have seen the university change and grow.  I am most proud of being dedicated to my department and job.  I have held several different positions within the department, with different responsibilities along the way, and feel that I am a valuable asset to our department mainly because of my tenure within the group.  In addition, I am proud that as a single mom later in life, I saw my daughter through high school, college, and now watching her blossom and make a difference in young lives as a high school AG teacher and FFA advisor.
What do you enjoy most about your work?
I work with a great group of people.  I consider the people in my department as my work family. They have been here for me through the birth of my daughter in 1996 and have been there for me through many other events in my life.  I feel this is what has kept me here.  Of course, there are times when the job gets stressful.  I have been through several chairs and many changes, but nothing that would have ever made me leave.  After all these years, I still learn something new every day.
When you are not at work, how do you spend your time?
I enjoy working in my yard when the weather is tolerable, and I travel when I can, either locally or abroad.  My most recent trip was to Aruba where I did nothing for a week but relax on the beach with friends.  I enjoy spending time with my family as often as I can, meeting friends for dinner, or just hanging out,  watching football in the fall and attending baseball games in the springtime.