February 16, 2022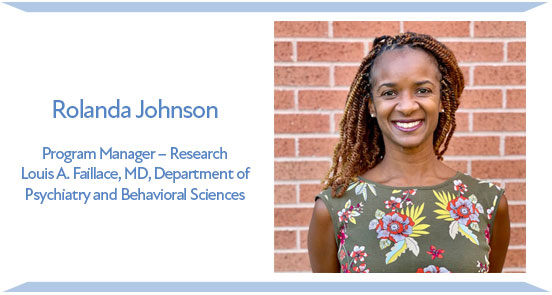 When did you join UTHealth? What brought you here?
Wow!  I can't believe it's been almost 20 years, but it's true.  I joined UTHealth in 2003!  I was just out of graduate school with a master's in clinical psychology, hoping to gain some much-needed experience.  I also needed to gain 3,000 hours of clinical experience and counseling supervision to obtain my license as a professional counselor.  A friend told me that her clinic was looking to hire a new therapist, so I jumped at the opportunity.
Tell me about your work history here.
I have been blessed to work at the same clinic in the same department for 19 years, helping to conduct research studies on substance abuse treatment.  I began working as a Counselor I at what was then known as the Substance Abuse Research Clinic, located in the former Mental Sciences Institute building that was a part of the psychiatry department.  Over the next few years, I would work my way through the Counselor II, Senior Counselor, and Lead Therapist positions.  In 2010, our clinic was so excited to be moving with our department into its new building, the Behavioral and Biomedical Sciences Building.  This was definitely one of the highlights of my career at UTHealth.  A couple of years later, our clinic went through a change in leadership and this led to not only a job promotion but a complete shift in my job duties.  I became the new Program Manager and have continued to enjoy my work since.
What are you most proud of accomplishing?
Transitioning to my role as a Program Manager was a huge challenge for me that I was definitely a little nervous about.  Ultimately, this challenge became a great accomplishment and one that I'm glad I took on.  I am also proud that I have been a part of creating a clinic atmosphere that our patients love.
What do you enjoy most about your work?
As a Program Manager, there are minor challenges I face every day, along with the occasional showstopper, and I get so excited at the opportunity to figure out a way to make things work.  One of the joys I miss most is working directly with our patients as a counselor.  So now, every chance I get, I find a way to interact with them.
Why have you stayed?
Besides UTHealth being an amazing company to work for, I have also stayed because I love the staff and faculty I work with.  There are some people who have been here since before I began and others who I have had the pleasure of knowing from their beginning at UTHealth.  We have truly become a family that I'm not sure I'll ever be able to leave.
When you are not at work, how do you spend your time?
I spend my "free" time shuttling my three kids around to their various activities.  And when we're not cheering the kids on, my husband and I enjoy working out together and then stuffing our faces with good food while watching a good movie.  I love trying new restaurants, which becomes a decision nightmare in Houston, but a good problem to have.  And spending time with my family and friends is an absolute must.  I also enjoy attending the educational and social events through our church's marriage ministry.  And last, but not least, I require at least one night of dancing per month to help keep me emotionally balanced.