August 04, 2022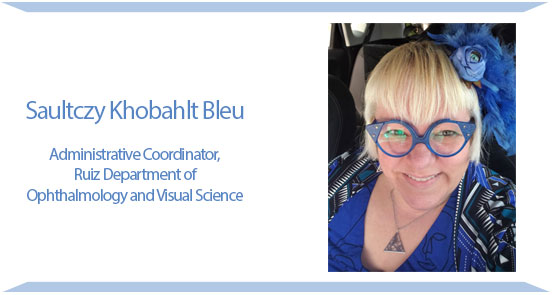 When did you join UTHealth Houston? What brought you here?
I often joke that UT was my 1995 birthday present, since my start date was the day before my 23rd birthday.  I have always loved the world of education.  One of my first jobs while still in high school was at a university, and I just loved the spirit of hope that flourished on the college campus.  A few years later, the company I was working for went bankrupt, and a friend who worked here suggested I apply to UT.  It was even more exciting to me when I came to interview because the man that would soon be my chairman, Dr. Richard Ruiz, was also a huge lover of the arts.  As I was walked through the clinic to meet him, I was awed at how much the clinic resembled an art museum.  Many changes have happened since then, including Dr. Ruiz passing away last year, but our clinic is still an amazing art installation due to him.
Tell me about your work history here.
I have been with the same department for 27 years, the Ruiz Department of Ophthalmology and Visual Science. We were a clinical department when I started and a few years later added a basic science department that has been led for years by Dr. Stephen Massey. We have always been a small department compared to most, so my job has always been composed of whatever was needed at the moment. The day-to-day tasks have changed over the years, and the processes on how to do them have certainly changed, but my job is still very much a "what needs to get accomplished today." I love that aspect since it keeps each day exciting and new.
What are you most proud of accomplishing?
I brought the Farm to Work program to the McGovern Medical School and have overseen it since 2013. Through this program, I am able to offer the McGovern Medical School fresh organic fruits and vegetables grown from local farms: here in Houston for Med School delivery and small Austin farms for home delivery.  The Houston farm, Plant It Forward, is a non-profit farm that teaches refugees how to make a living as a farmer in America, so there is extra joy in being a part of that.  Farm to Work has allowed me to meet many more of the building occupants than I would normally, expanding on that feeling of "family" that so many people here describe.
I have also played a large role in changing our medical school curriculum many times over the years to meet the needs of our students. We recently added a new MSIV course that I worked hard to organize, and the feedback has been stellar. We are now in the process of trying to get more ophthalmology added to the MSI or MSII curriculum, which will be much more challenging.
A couple of years ago, I had a former student call me to thank me for all of the help and encouragement I gave him while he was a student with us.  He confessed that he had almost given up on ophthalmology as a career since it is so competitive, but said that I gave him a pep talk and some extra help, and he went on to become an ophthalmologist. He called me the first week of his new job as an official eye doctor to let me know that my extra help paid off for him. We both cried – I was so touched!
What do you enjoy most about your work?
I love that even the most boring of tasks I might encounter still has the greater effect of helping the world in some way. That travel reimbursement I completed could lead to an idea or collaboration that turns into a future cure for blindness. That student schedule I published just might ignite a passion for ophthalmology in a student who will go on to save the sight of thousands of patients over their career.  That lab supply order just might contain items that are used in a breakthrough for understanding how a gene works, which could then lead to future cures.  I have seen all these things happen since I have been here, and it is humbling to know I play a small role in it.  The other admin jobs I had prior to UT never had that "hazzah!!" element to them.
Why have you stayed?
I love the people, the benefits, and the excitement of discovery all around me.  There are many people I have worked with here who are now part of my forever family, including one that was once one of our PhD students in the '90s that I am throwing a 50th birthday party for this weekend.  This job has always been much more than just a job to me.  I have spent most of my adult life at UT, and it has become a huge part of me.
When you are not at work, how do you spend your time?
I am a punk rock drummer who writes silly punk songs on my bass guitar, a poetry and fiction writer, an artist, a political activist, a caretaker to my disabled mom, a collector of strays (furry and human), and I love cooking.  My husband is a high school teacher, so a good amount of my time also goes into helping him help others.  I also run a fitness group where I host different weekly challenges to keep people motivated to pursue a healthier lifestyle.