October 19, 2022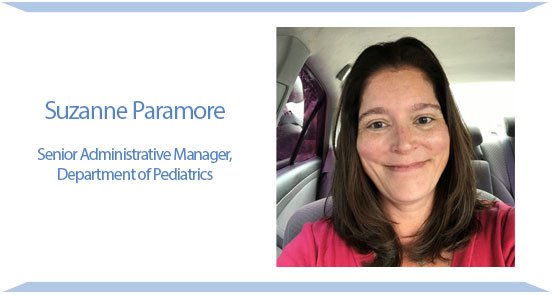 When did you join UTHealth Houston? What brought you here?
I joined the UTHealth family in December of 2001 with the Department of Pediatrics within the Division of Nephrology and Hypertension. I was at a point in my life where I was ready to find a career, and the pieces all seemed to fall into place. I was looking to be a part of something meaningful and make a difference in the world, and I was thrilled when I received the phone call offering me the position. I remain grateful for the chance the DOP team took on me on that fateful day.
Tell me about your work history here.
I have been blessed to be a part of the Department of Pediatrics throughout my time with UTHealth Houston. When I joined the DOP Division of Nephrology and Hypertension as a staff assistant in December 2001, I gradually moved up to a senior staff assistant in November 2003, and then to an executive assistant in April 2005. Back then, I was constantly asking questions and looking to learn new skills. In February 2008, a position opened up with the DOP Medical Genetics Division and the late Joannie Miller told me I'd be perfect for the position. I joined Dr. Hope Northrup's team as an administrative assistant II and then an administrative assistant III in December 2013.  Throughout this time, I was working to learn new skills and improve the services I offered my team. Thanks to the mentorship of Mary Lopez, now DMO of the Department of Psychiatry and Behavioral Sciences, who was patient with my millions of questions about why certain things were completed this way, what that meant, and how the many pieces fit together, I learned much about projects and grants submissions and quite a bit about the overall finances. So, in June 2015, I was promoted to an administrative manager with the Genetics Team.  Under the guidance of Anthony Garcia, DMO I was promoted to a senior administrative manager for the Department of Pediatrics in February 2019, where my role was expanded to include multiple divisions. I am thankful that I get to support and manage many remarkable people. The DOP team is huge!
What are you most proud of accomplishing?
I am proud of all that I have learned here at UTHealth Houston and all of the great co-workers I get to call friends. I have been a part of many of the great resources for classified staff at the University (UCSC) and the McGovern Medical School (MMS-ERC) level.  I believe growth is an essential part of all our lives and have been blessed to get to do just that within the same department.
What do you enjoy most about your work?
I enjoy meeting one-on-one with my team members and sharing the details of how to accomplish tasks, navigating the at-times cumbersome rules and regulations, and listening to how they help their teams reach their goals. When I meet with others, there is a mutual sharing of best practices that I believe enriches us all.
Why have you stayed?
I have stayed with UTHealth due to the growth opportunities that are available, the ongoing learning, and of course the wonderful people I get to interact with.  Co-workers have become part of my extended family who have enriched my life immensely.
When you are not at work, how do you spend your time?
I enjoy spending time with my twin 22-year-old daughters, Samantha and Shyanne, and relaxing at the beach.  I also enjoy reading mystery novels and trying to solve the crimes.