September 09, 2020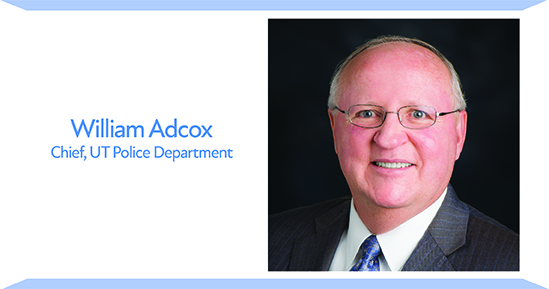 When did you join UTHealth? What brought you here?
I was honored to join UTHealth in 2004.  I was working at an academic institution when this position as the police chief for UT Police at Houston developed. I have always admired the academic medical environment and was extremely excited for the opportunity.
Tell me about your work history here.
I spent 21 years in a large municipal police agency serving in various areas with executive leadership roles.  Before becoming chief of police and chief security officer at UTHealth and UT MD Anderson, I served five years at UT El Paso leading their police department.
What are you most proud of accomplishing?
Without question, I am most proud of building a professional, caring, and diverse team at every level who embrace respect and service with an institutional health/individual wellness approach as they carry out their daily work. I am proud of the evolution of our department from a traditional, response-driven university police department into a diverse service-oriented team, focused on our shared purpose of Prevention, Preparedness, and Protection. The building of a professional, caring, and diverse team at every level has enabled our Police Department to truly become part of the UTHealth family.
Serving an urban campus community, our diverse and professional leadership team utilizes a strategic approach, a combined protection model, which leverages data, technology, and a well-trained workforce to identify and mitigate potential risk and harm to our institution.
An example of this is our Threat Management team, which has been recognized throughout UT System and on an international stage for its innovative and proactive efforts on the early identification of risks and threats and their mitigation actions. This cutting-edge model is considered a best practice among academic medical institutions, creating opportunities for early intervention for those on the pathway to violence.
Our security professionals continually evaluate our campus environment, looking for opportunities to use technology, early warning systems, and force multipliers. Our guards and uniformed officers use scenario-based training to hone their de-escalation skills. Threat and risk analysts harvest a multitude of data streams to produce daily crime trend reports for use in our deployment schemes. Our investigators are trained to look beyond a criminal act to find ways to prevent theft, fraud, and violent crime. We report back on our findings to help the institution tighten controls and strengthen its crime prevention efforts. We teach through community outreach and serve on the Behavioral Intervention Team.
Finally, our guardian first, organizational health/individual wellness, values-driven approach has informed and shaped everything the UT Police Houston does. The respect and fairness displayed with every person our staff is in contact with is our expectation as the foundation of our core values.  I am so immensely proud of our amazing team and their accomplishments.
How has the university changed since you first joined?
UTHealth has grown significantly in prominence, respect, breadth, size, financial stability, and reach. In my opinion, the leadership, both academically and administratively has evolved into some of the best in academic medicine today. Our footprint and impact in the TMC have grown and flourished.
Why have you stayed?
I have been very privileged to have worked with extraordinary leadership from President Dr. James Willerson and Dr. Larry Kaiser to Dr. Giuseppe Colasurdo. Dr. Colasurdo is not only a renowned physician, he is a true visionary and servant leader. My immediate supervisor is Mr. Kevin Dillon. He is an amazing leader, a stabilizing force, and a true mentor. I deeply appreciate and value working with outstanding leaders and peers who are wonderful persons from top to bottom at UTHealth. I have been welcomed and made to feel part of the UTHealth family, knowing that I serve a great institution.
When you are not at work, how do you spend your time?
I love spending time with my wife, our children, grandchildren, and extended family and friends. I also enjoy reading, researching, and working with others to better the threat safety field and improve policing and security for all.