Cassie Hartline, MD
---
Cassie chose UTHealth Houston because of its excellent reputation, case diversity, complexity, and exposure, and the ability to practice in the world-renowned Texas Medical Center. She continues to be proud of her program and its dedication to resident well-being, attendings and staff that have become family through their unending support of the program and its staff, and the ability to deliver medical care to those in most need and in the most dire and complex situations.
---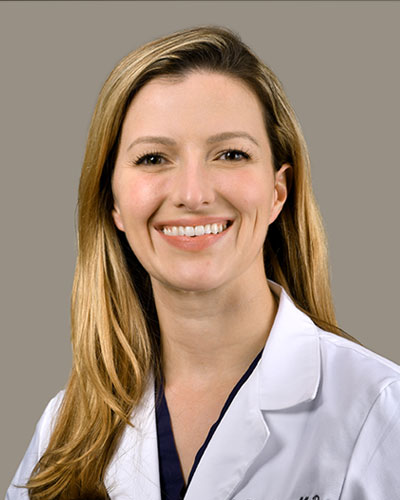 Undergrad: UT Austin BA, Plan II
Med school: UT Health Science Center at San Antonio
General surgery residency: Methodist Dallas Medical Center
Awards:
Top Surgery Student, UTHSCSA May 2015
Mentor of the Year Award, UTHSCSA May 2015
Gold Humanism Honor Society, The Arnold P. Gold Foundation, May 2015
Forland Award – Humanism in Medicine Student Essay Contest, UTHSCSA March 2013 · Given to the medical  student whose essay is judges to be the most creative and reflective on what is important to them in their pursuit of becoming a physician.
Top Community Service Learning Project – Frontera de Salud: Spanish Immersion and Community Service Learning, UTHSCSA 2012
Texas Chapter of the American College of Physicians, On Becoming a Doctor Essay Competition – 2nd Place · "Medical Education: Mine, Yours, Theirs – Ours" 2012. Rising Star Award, Pappasito's Cantina, Austin, Texas 2008
Publications:
Wainwright D, Ashley J, Hartline C, Benjamin L, Walker K. "Patient Experience with Laser Treatment of Burn Scars." Abstract presentation. Plastic Surgery, The Meeting. 29 October – 1 November 2021.
Wainwright D, Ashley J, Hartline C, Benjamin L, Walker K. "Patient Experience with Laser Treatment of Burn Scars." Oral presentation. International Society for Burn Injuries, 14-17 June 2021.
Prakash, P, et al. "Predictors of Retained Hemothorax: Results of an EAST Multi-Institutional Trial." Oral podium presentation. 32nd EAST Annual Scientific Assembly. 17 January 2019.
Hartline CA, Kukreja SS. "Robotic Sleeve Gastrectomy." Atlas of Robotic Surgery. Editor in Chief: Yusef Kudsi, 2018.
Frazee R, Regner J, Truitt M, Agrawal V, Dirks R, Kwok A, Grover B, Kothar S, Scherer E, Chrane C, McIntyre RC, Peltz E, Dissanaike S, Vangipuram D, Cribari C, Goden S, Gordy S, Bruns BR, O'Meara L, Schroeppel TJ, Callaghan E, Cothren Burlew C, Swope M. The Southwest Surgical Congress Multi-Centered Trial on Suspected Choledocholithiasis. Oral Presentation. North Texas American College of Surgeons Meeting. 16 February 2018.
Stein DM, Kozar RA, Livingston DH, Luchette F, Adams S, Agrawal V, Arbabi S, Ballou J, Barraco R, Bernard A, Biffl WL, Bosarge PL, Brasel KJ, Cooper Z, Efron PA, Fakhry SM, Hartline C, Hwang F, Joseph BA, Kurek SJ, Moore FA, Mosenthal AC, Pathak AS, Truit MS, Yelon JA. Geriatric traumatic brain injury – What we know and what we don't. Journal of Trauma and Acute Care Surgery. Online 26 March 2018.
Pearcy, C, Almahmoud K, Jackson T, Hartline C, Cahill A, Spence L, Kim D, Olatubosun O, Todd SR, Campoin EM, Burley CC, Regner J, Frazee R, Michaels D, Dissanaike S, Stewart C, Foley N, Nelson P, Agrawal V, Truitt MS. Risky Business? Investigating outcomes of patients undergoing urgent laparoscopic appendectomy on antithrombotic therapy. American Journal of Surgery. 2017 December; 214(6): 1012-1015.
Grase Hsiung MD, Cassie Hartline BA, Ross Willis PhD, Lori Pounds MD. Gender Acquisition of Surgical Skills after Proficiency- and Simulation-based Training. Oral Poster Presentation. Women in Surgery Career Symposium, Washington DC, June 20-22.
Colleen M. O'Connor, Sabina Sheppard, Cassie A. Hartline, Helen Huls, Mark Johson, Shana L. Palla, Sourindra Maiti, Wencai Ma, R. Eric Davis, Suzanne Craig, Dean A. Lee, Richard Champlin, Heather Wilson, Laurence J.N. Cooper. "Adoptive T-cell therapy improves treatment of canine non-Hodgkin lymphoma post chemotherapy." Online 13 February 2012. Scientific Reports 2: 249. PMID: PMC3278154.
Ang SO, Maiti SN, Hartline C, Olivares S, Huls H, Champlin R, Cooper LJN. Avoiding the need for clinical grade OKT3: Ex vivo expansion of T cells using artificial antigen presenting cells genetically modified to cross-link CD3. Poster presentation, 2012 BMT Tanden Meeting, San Diego, CA (#150404). February 2012.
Hartline, Cassie. "Keeping the Focus on Patients." San Antonio Medicine via Bexar County Medial Society. 1 December 2011. Print.
Ang, Sonny O., et al. "In Vivo Selection of Gene Modified T Cells by Engineering Resistance to Clinical Immunosuppressive Drugs Mycophenolate Mofetil and Methotrexate." Molecular Therapy 19(2011): 1.
Sonny O. Ang, Cassie Hartline, Tiejuan Mi, Sourindra N. Maiti, George W. Jackson, Hiroki Torikai, Helen Huls, Elizabeth Shpall, Dean A. Lee, Richard E. Champlin, Laurence J.N. Cooper. Generating a chimeric antigen receptor to redirect T-cell specificity after infusion. Oral Presentation, 14th Annual Meeting of the American Society of Gene & Cell Therapy (ASGCT). Seattle, WA (#353), May 2011.
Ang SO, Hartline C, Mi T, Maiti SN, Jackson GW, Huls H, Shpall E, Lee DA, Champlin RE, Cooper LJN. Cancer Immunotherapy – Emphasis on Adoptive T cell transfer. Oral Presentation, 14th Annual Meeting of the American Society of Gene & Cell Therapy. Seattle, WA (#353), May 2011.
PRS Interests reconstruction: breast and lower extremity, massive weight loss
Dr. Cassie Hartline grew up in Houston, very close to the medical center. She went to UT Austin for undergrad and majored in Plan II, worked as a waitress at Pappasito's Cantina where she is most proud of being awarded the "rising star" as a server there, and spent a year as an assistant researcher at MD Anderson. She completed her medical school at UT Health Science Center at San Antonio, where she was active in the anatomy lab and mentoring program. She went on to general surgery residency at Methodist Dallas Medical Center in Dallas, Texas, and has great memories of the attendings, residents, and operations she got to be a part of there.  She is proud to be a board-certified general surgeon, continuing the tradition of excellence as established at her program by the long line of 100% first pass rate from Methodist Dallas.
Outside of work, Cassie enjoys being with her husband and their three dogs, risking being a patient on the hand service by chainsawing, mowing, and working on her family's ranch, and catching up with the latest reality TV gossip.