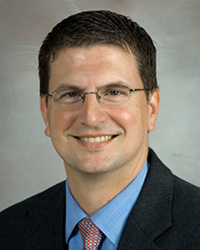 Professor, Department of Surgery
Biography
Curtis J. Wray MD, MS, attended the University of Louisville and received an undergraduate degree in Chemistry. He received his medical degree from the University of Kentucky College of Medicine in 1998. Dr. Wray completed the general surgery residency program at the University of Cincinnati in 2005. While at Cincinnati, he received a NIH T32 postdoctoral research fellowship. From 2005-2008, Dr. Wray completed a surgical oncology fellowship at the University of Texas M.D. Anderson Cancer Center.
In 2008, Dr. Wray was appointed Assistant Professor of Surgery at McGovern Medical School at UTHealth. His research interests include clinical outcomes for gastrointestinal cancers as well as cancer-related health care disparities. These research efforts have led to 52 peer-reviewed publications. These work led to a successful application and grant funding from the American Cancer Society to investigate clinical outcomes for Hepatocellular Cancer patients. In 2013, Dr. Wray was promoted to Associate Professor of Surgery at McGovern Medical School at UTHealth. He has also recently received a Masters Degree in Clinical Research from McGovern Medical School at UTHealth.
Dr. Wray belongs to numerous professional organizations including the Society of Surgical Oncology, American College of Surgeons, American Association of Cancer Research, Society of University Surgeons, American Society of Clinical Oncology, Society for Surgery of the Alimentary Tract, Association for Academic Surgery and the American Hepatico-Pancreatico-Biliary Association. Dr. Wray has served as Cancer Liaison Physician for Harris Health System and was recently appointed to the American College of Surgeons Commission on Cancer. Currently he is President of the Houston Surgical Society. Areas of clinical expertise include traditional open as well as minimally invasive surgery for gastric, liver, pancreas and colorectal cancers.
Education
Undergrad

Bachelor of Science, Chemistry, University of Louisville, 1989-1993

Graduate

MD, University of Kentucky College of Medicine, 1994-1998

Residency

General Surgery, University of Cincinnati College of Medicine, 1998-2005

Fellowship

Critical Care Research, University of Cincinnati College of Medicine, 2000-2002

Fellowship

Surgical Oncology, University of Texas M.D. Anderson Cancer Center, 2005-2008

Graduate

Master's Science in Clinical Research, UTHealth McGovern Medical School, 2008-Present
Clinic Locations
UT Physicians Minimally Invasive Surgeons of Texas (UTMIST)
713-486-1330
6500 West Loop South, Suite 200-E
Bellaire, TX 77401
Directions
UT Physicians General Surgery – Southeast
713-486-7650
11920 Astoria Boulevard, Suite 460
Houston, TX 77089
Directions
Memorial Hermann Cancer Center – Texas Medical Center
713-704-3961
6400 Fannin Street, Suite 2900
Houston, TX, 77030
Directions