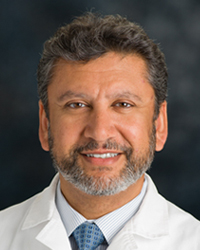 Professor, Department of Surgery
Biography
Dr. Kamal Busaidy is an Associate Professor at The University of Texas Health Science Center at Houston (UTHealth).
Board certified in Oral and Maxillofacial Surgery, Dr. Busaidy sees patients of all ages.
Dr. Busaidy believes excellent care through personal attention, technical expertise and a compassionate heart. Every patient deserves the best we have to offer.
He is the current examiner for the American Board of Oral and Maxillofacial Surgeons, current vice president of the Houston Society of Oral and Maxillofacial Surgeons, and past president of the Arab American Medical Association – Houston chapter.
In his spare time, Dr. Busaidy likes to spend time with his family, volunteer service in the community, watch movies, and international travel.
Education
Undergrad

Mathematics, Statistics, Biology, Chemistry, Mander Portman Woodward College, 1987-1988

Graduate

DDS, The London Hospital Medical College, School of Dentistry, University of London, 1988-1992

Residency

Oral and Maxillofacial Surgery, UTHealth School of Dentistry, 1998-2002

Fellowship

Dental Surgery, Royal College of Surgeons of England, 1995
Clinic Locations
UT Physicians Oral and Maxillofacial Surgery-Texas Medical Center
713-790-4600
6550 Fannin Street, Suite 2237
Houston, TX 77030