Dr. Bhavani R. Iyer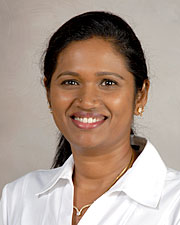 Dr. Iyer is a certified low-vision specialist at the Cizik Eye Clinic, where she has practiced since 2007. She is an associate professor in the Ruiz Department of Ophthalmology and Visual Science at the McGovern Medical School at UTHealth, who was recently named a Low Vision Diplomate by the American Academy of Optometry. She is also director of the Dan Arnold Center for Vision Rehabilitation, one of the most comprehensive visual rehabilitation programs in the country. The center includes adaptive computer training, driving simulation, and a full kitchen to help patients with visual rehabilitation.
At the clinic, Dr. Iyer takes pride in assisting patients with resuming everyday activities, such as reading and driving, after suffering low vision caused by macular degeneration, glaucoma, diabetes, stroke, or other conditions.
Dr. Iyer received her Doctor of Optometry from Michigan College of Optometry in 1997, after earning her baccalaureate in optometry in India. She completed a low vision fellowship with the American Academy of Optometry in Rockville, Maryland.
Contact Us
At Robert Cizik Eye Clinic, we offer patients access to highly specialized eye and vision care. To ask us a question, schedule an appointment, or learn more about us, please call (713) 486-9400, or click below to send us a message. In the event of an emergency, call 911 or go to the nearest Emergency Room.