Robert Cizik Eye Clinic Location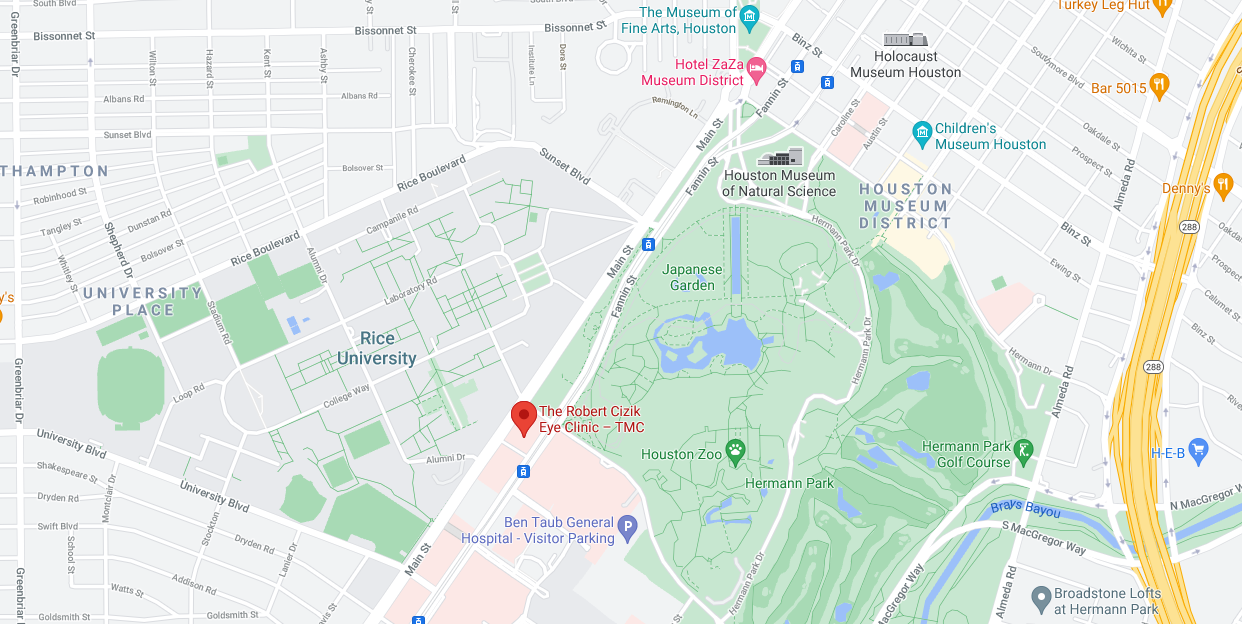 The Robert Cizik Eye Clinic is located in the Memorial Hermann Medical Plaza at 6400 Fannin Street. Adult Ophthalmology is on the 18th floor and Pediatric Ophthalmology is on the 19th floor with parking available from Main or Fannin streets.
The clinic is open from 8 a.m. to 5 p.m. Mondays-Fridays.
One of the most notable features of the clinic are the dozens of cheerful abstract painting featuring bright colors and large shapes that can be enjoyed by people with visual impairments. Most of the art was acquired in the late 1970s when local art dealer Ben Dubose passed away from complications caused by eye cancer. Two of his favorite artists — David Adickes and Herb Mears — donated several paintings in his memory. Pieces are also featured by Dixon Bennett, Lamar Briggs, Tony Bass, David Hickman, Peggy Oxford, Oris Robertson, and Alvaro Herran.
Memorial Hermann Medical Plaza
Adult Ophthalmology
6400 Fannin Street
18th Floor
Houston, Texas 77030
Pediatric Ophthalmology
6400 Fannin Street, Suite 1980
19th Floor
Houston, Texas 77030
Call Us:
Office: (713) 486-9400
Fax: (713) 486-9592
Clinic Hours
8 a.m.–5 p.m., Monday–Friday
Physician on call 24 hours a day, 7 days a week
Parking
On-site parking available from Main or Fannin streets
Helpful Links