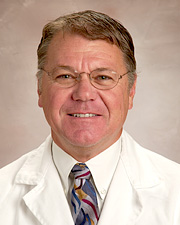 Associate Professor, Pediatric Neurosurgery
Contact
Biography
Stephen A. Fletcher, DO, received his medical degree at the University of North Texas Health Science Center's Texas College of Osteopathic Medicine, and completed his neurosurgery residency at The University of Texas Health Science Center at Houston/Memorial Hermann-Texas Medical Center and Oklahoma State University/Oklahoma Osteopathic Hospital. He also completed a fellowship in pediatric neurosurgery at The University of Texas Southwestern Medical School and Dallas Children's Hospital.
An associate professor in the Department of Pediatric Surgery at McGovern Medical School, he treats patients from fetus to young adulthood, as well as some adults. In practice since 1980, Dr. Fletcher formerly was the chief of surgery at Kingwood Medical Center, chief of pediatric neurosurgery at Children's Memorial Hermann Hospital (2003 to 2012) and director of pediatric neurosurgery at McGovern Medical School.
Dr. Fletcher's research interests include Chiari malformation, medical management of trauma-associated brain swelling, attempts at culturing brain tumor cell lines in collaboration with The University of Texas MD Anderson Children's Cancer Center, and development of innovative surgical options for management of fetal spina bifida patients.
For Patients
If you are interested in learning more about Dr. Fletcher's clinical practice, please click below.
Education
Residency

Oklahoma Osteopathic Hospital, 1984

Residency

Memorial Hermann Hospital , 1985

Fellowship

Dallas Children's Hospital , 1994