A problem-solver extraordinaire travels the world
---
---
The fact that Wayne Moorehead is a quadruple amputee doesn't dampen his can-do attitude or independent spirit.
Moorehead's life turned upside down in August 2018 when he got sick and developed sepsis. He went to a local clinic, was diagnosed with food poisoning, and sent home. His condition worsened and after he went to a hospital, he learned he had a strep infection in his heart. He went into septic shock.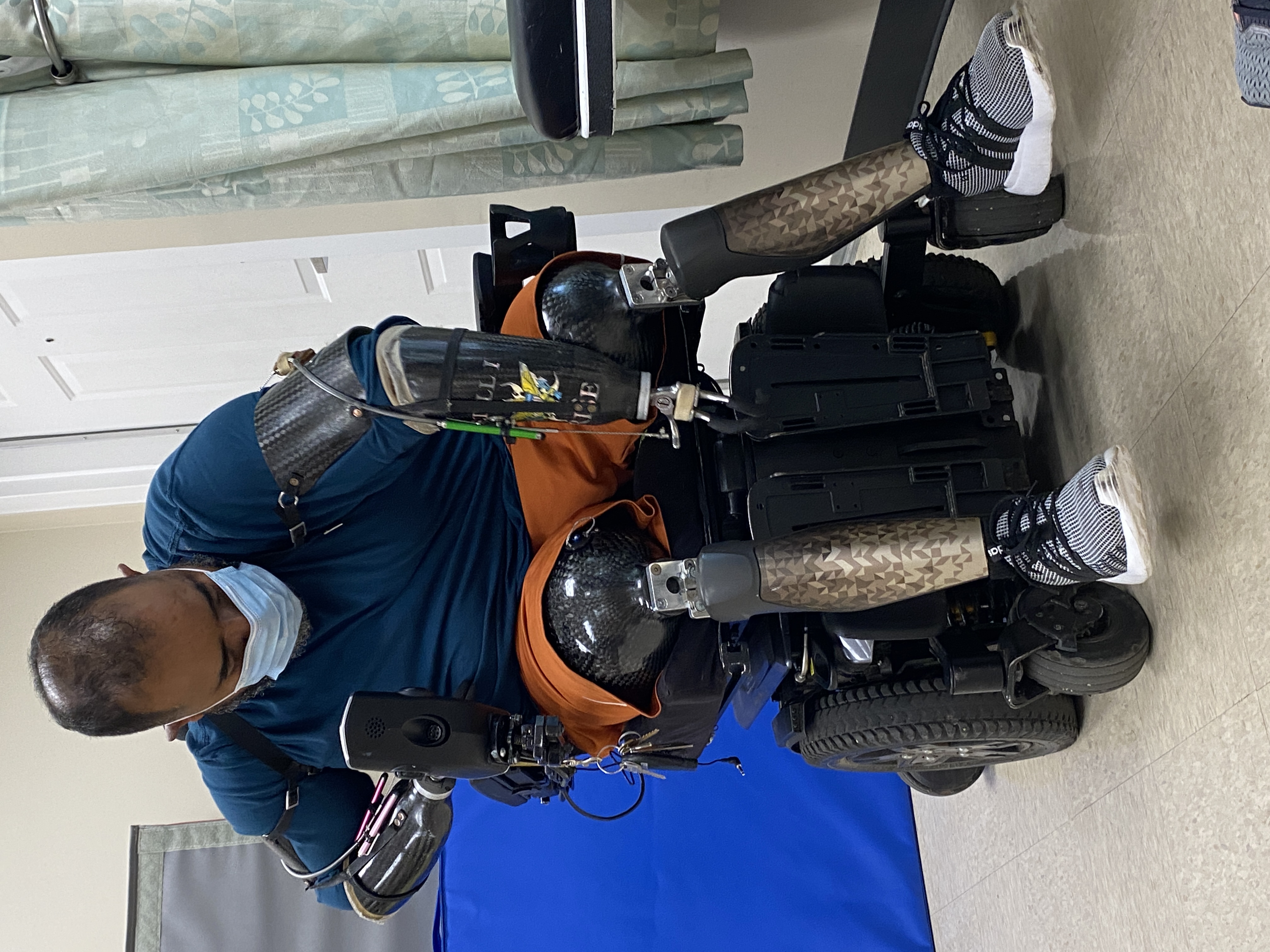 Moorehead, who lives in Alexandria, Louisiana, was at a Medical Center in New Orleans for more than five weeks before being transferred to a Houston hospital.
His challenging journey continued in September 2018 when amputations were performed as life-saving measures.
A bi-lateral amputation above the knee was performed, as well as an amputation below both elbows. "I learned that it makes a huge difference when an amputation is below the knee, rather than above the knee," he said, "because there are more challenges."
Moorehead was in a Houston hospital for two weeks and was then transferred to TIRR-Memorial Hermann, one of the nation's top-ranked rehabilitation hospitals. "I needed to learn basic maneuvers, such as getting in and out of bed and getting dressed," he explained. "I met Dr. Melton there and we hit it off immediately. She has made a huge difference in my recovery and I appreciate that she is always honest with me."
Danielle Melton, M.D., is associate professor in the Department of Orthopedic Surgery at McGovern Medical School at The University of Texas Health Science Center at Houston (UTHealth).
She specializes in the nonsurgical management of patients with limb-salvage and amputation, as well as pre-prosthetic or bracing management, prosthetic design and prescription, rehabilitation and pain management.
"Since pursuing a career in medicine, my goal has been to work with people with amputations," said Dr. Melton. "I consider it an honor to work with exceptional colleagues in the surgical and rehabilitation field to care for catastrophically injured patients affiliated with the Trauma Institute and TIRR-Memorial Hermann."
Sophisticated resources
Dr. Melton makes sure Moorehead has the most appropriate prosthetic technology. He started with body powered prostheses but once he mastered these conventional devices, "we progressed to myoelectric prostheses, with multi-articulated hands, that are externally powered devices controlled by muscles in his forearms. Myoelectric prostheses can be aesthetically appealing and provide additional prosthetic options to enhance independence and optimize function in our quest to restore limbs in hopes of making amputees feel whole again," she said.
One lower limb prosthetic option that proved helpful to Moorehead, particularly in the early phases of rehabilitation for bilateral above knee amputees, are short prostheses without knees, often termed "stubbies," which are energy efficient and less physically demanding. This custom-fitted design is essential for bilateral amputees as they begin to learn to walk again. Moorehead's motivation to walk has propelled him to advance to long legs with microprocessor knees. He continues to amaze his rehabilitation team as he demonstrates once again his motivation to work hard in achieving his goals.
"Dr. Melton's team works with the prosthetic company to solve any issues I have and this is really appreciated," said Moorehead.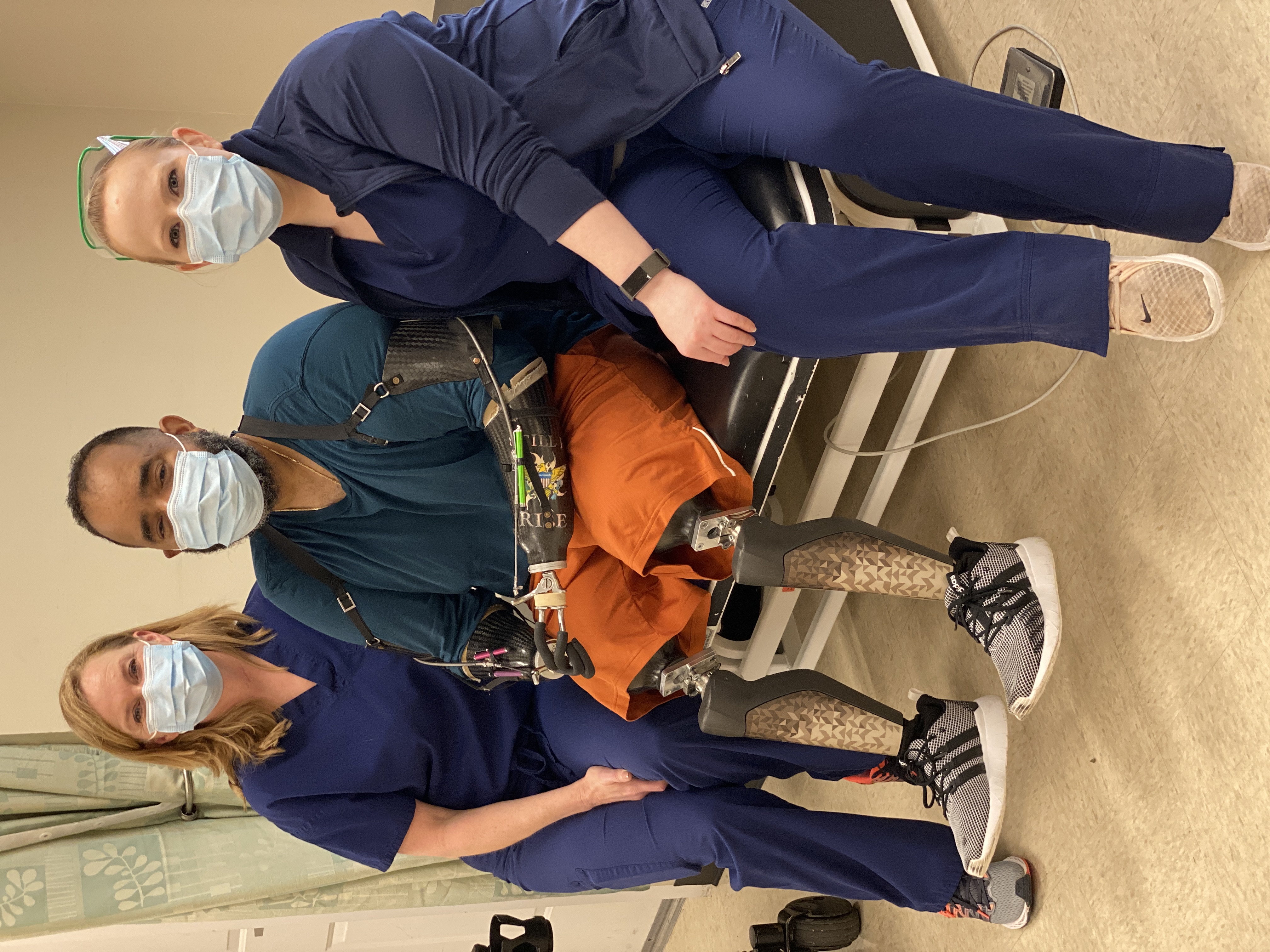 "My goal is to stay independent"
"I see men in their 20s who decide to stay in their wheelchair," he said. "I'm 48-years-old and I decided that kind of life wasn't for me."
He admitted that with an above the knee surgery, he had to re-think everything he does. "Just walking takes 300 percent more energy than I needed before I had the surgery."
A former truck driver, Moorehead takes it in stride to drive from his home in Louisiana to Houston for physical therapy twice a week. Now more than 2.5 years post-surgery, he doesn't think twice to drive the eight-hour round trip.
Moorehead receives plenty of motivation from Dr. Melton and her team, who continue to make his world better. His main physical therapist is Kristin Reeves and he does occupational therapy with Jose Guzman.
He appreciates also his non-stop family support. He gets encouragement from his wife, Dr. Barbara Moorehead, a clinical psychologist, and his daughter Christmas Day, her husband and two kids. He also values the special support provided by his mother-in-law, Ruthlyn Jarvis.
He joked that the positive side to the amputations is the extra time he has to be PawPaw to his grandkids. "It is special that I get to enjoy so much time with them."
Helpful advice
"It's good to remember that for any patient, and the entire family, this journey takes a village," he said. "To be successful on this journey, you need to not only have the whole family working together to get results, but also a support system. We have good friends who drove me places and this kindness helped ease the burden on my family."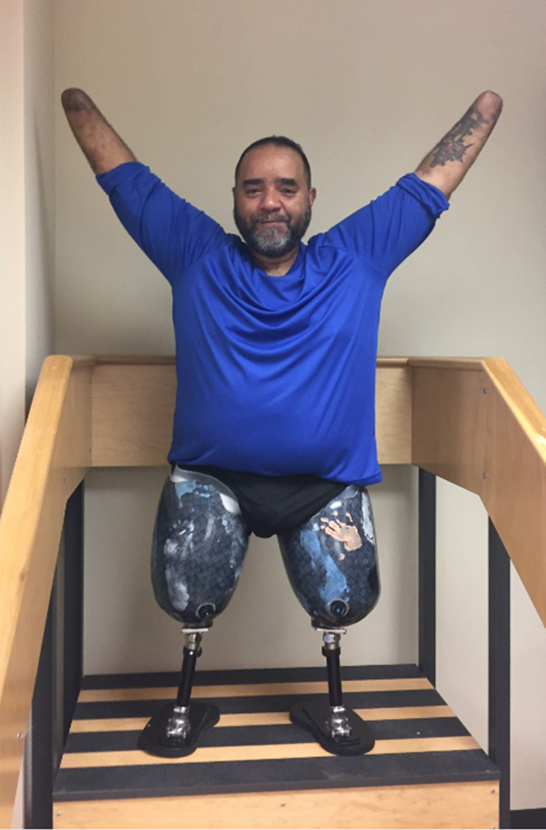 Even though "it is a long journey, never sell yourself short," he said. "If today you can't do something, tomorrow you can. It's all about how you look at life and how motivated you want to be. I tell patients not to be ashamed of their amputation and to remember the amputation saved their life."
Moorehead has learned it's important "to roll with the punches and become an expert problem-solver. There are good days and bad days and you need your family and your support system to get you through the hard times. Believe me, there will be hard times."
He proves time and again nothing gets in his way when he has a goal. He was determined to dance with his wife on their 25th wedding anniversary in June 2019 and that dance is one he'll never forget.
He continues to enjoy life and has taken a cruise to Europe, travelled to Antigua and is planning a trip to the Virgin Islands, where he was born.
"I'm just trying my best to do whatever I can to enjoy life," said Moorehead. "There's a lot to look forward to and I'm not slowing down."
---