With fearless grit, a Pan Am Games competitor is already a winner
---
---
Alexandra Wainwright,19, has competed in karate at the world level since 13.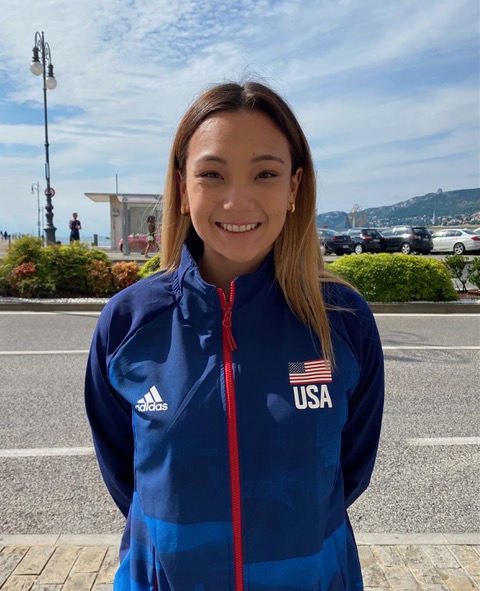 Now, she's set to compete on another international stage at the Junior Pan American Games in Cali, Colombia, November 25-Dec. 4.
This is a daunting challenge for any athlete, but Alexandra already sees herself as a winner: she had to learn to walk again after two bi-lateral hip preservation surgeries in 2020.
After 18 months of physical rehabilitation and recovery, "Competing and qualifying for my first Pan Am Games is already a huge accomplishment," she says.
Alexandra was born with hip dysplasia that initially did not cause symptoms. "At 16, I started feeling a small pinch in both my left and right hip when I was at karate practice. I ignored it for about a year, but the pain increased until it interfered with my ability to practice. I went to a chiropractor who said there was nothing wrong. I knew I needed help, so I went to an orthopedic doctor who referred me to Dr. Mansour. That's when I got a proper diagnosis and treatment plan."
Alexandra was referred to Alfred A. Mansour, III, M.D., associate professor in the Department of Orthopedic Surgery at McGovern Medical School at The University of Texas Health Science Center at Houston (UTHealth).
"As she matured, the structural abnormalities in her hip made the hip more susceptible to damage, especially with high level activity, such as martial arts," explains Dr. Mansour.
Not only did the damaged portions of the joint (the labrum) need to be repaired, but the underlying structure and position of the hip joint needed to be restored to a more normal position so that Alexandra would not keep damaging and reinjuring her hip.
Dr. Mansour, director of both pediatric orthopedics and the comprehensive Hip Preservation program, explains, "She required hip arthroscopy to fix the labrum and shape the femur bone, and at the same time had a Periacetabular Osteotomy surgery (PAO).  During the PAO, four cuts were made in the pelvis and connected to free the socket from the pelvis. This allowed us to reposition the joint into a better position and secure it into place with screws."
The surgery enables the bone to heal in this new position so as Alexandra increased her activity and returned to competitive martial arts, the hip could withstand the extreme activity. "Both hips were involved, so she required a PAO on both sides, six months apart." Dr. Mansour is one of a handful of surgeons nationally who employ both arthroscopic and open surgical techniques, including PAO, for complex hip problems.
Strength of spirit during surgeries and recovery
In January 2020, Alexandra had PAO surgery on her left hip and in May 2020 she had PAO surgery on her right hip.
Ten months after her second PAO surgery and considerable physical therapy, she returned to karate training. Those first practices back in karate school were tough and she was not able to kick yet. "Kicking is an essential component for karate athletes," she says, but after a month of practice, she was asked to compete at the U21 Junior Pan American Games Qualifier.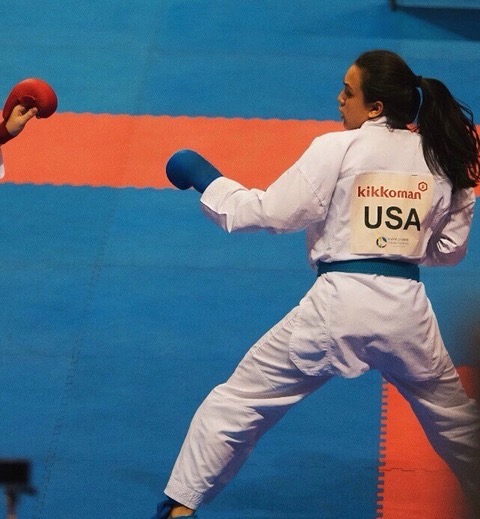 "I still did not feel ready to compete, but I decided to do my best for this once-in-a-lifetime opportunity," she explains.
Competing in the Pan American Games was a lifelong dream.  The Junior Pan American Games is an international multi-sports event for athletes aged 17-22 in the Americas. "This is the biggest competition this year for junior athletes, and I am blessed to be a part of it," she says.
Alexandra was very confident in Dr. Mansour's treatment plan. "His extensive experience with PAO surgery helped ease my stress," she notes. "He goes into every situation with a smile and his team was always ready to answer questions and they connected me with amazing physical therapists to aid in rehabilitating my hips. I would not have wanted to go through this surgery with any other team."
She admits her recovery was long, but smooth. "Learning how to walk again was difficult," she admits. "If I rushed the process, I would start walking with a limp. I strengthened not only my hip muscles, but all the muscles in my legs and I got stronger every day. I made it back to 100% about 18 months later."
Hip preservation strategy
"Alexandra and I spent a lot of time talking about the risks and benefits of treating her hip dysplasia, not just related to her sports participation, but also later in life and the ultimate longevity of keeping her native hip joint," says Dr. Mansour.
Alexandra is an example of applying a comprehensive hip preservation strategy to a very challenging hip problem. "Her story proves how children and young adults can have an impressive recovery and do really well when treated before the hip joint suffers the irreversible damage that occurs when this condition is ignored or only partially treated," he explains.
Children and young athletic adults can have subtle hip abnormalities that are easily overlooked even with a thoughtful evaluation. Further evaluation by a hip preservation specialist may identify this subtle abnormality and address the underlying problem.
Karate whiz kid
Alexandra laughs remembering how she became interested in karate. When she was eight years old, her family moved to Scottsdale, Arizona, and her mom took her to a ballet studio to register for class, but the studio was closed. A karate school next door was doing a demo and Alexandra was hooked. "The rest is history," she says.
"I do Shotokan, a traditional karate style," Alexandra explains, "and I compete under the World Karate Federation, the same federation that is in the Olympics."
Her karate talent has enriched her life. "I have traveled to over 30 countries, experienced different cultures, established lifelong friendships all around the world, and learned valuable traits such as respect, integrity, and discipline," explains Alexandra.
A sophomore at Texas Christian University with a marketing and management double major, she admits, "Without karate, I would not be who I am today."
Advice for patients facing a similar challenge
"For patients dealing with returning to sports from an injury, or even a recovery in general, my advice is to be patient," she explains. "Rushing the process will only delay your recovery. Have hope and don't give up because you'll look back and be proud of how far you've come."
What it takes
"Alexandra's grit and resilience are amazing and played a huge part in her recovery," adds Dr. Mansour, who is team physician for the Houston Rockets NBA organization. "The surgery didn't get her to the international competitive level in her sport – it simply put her hip in a position to withstand what is required to push herself to the most elite level."
Dr. Mansour knows this level of mental toughness is what it takes to achieve at the elite level. "Overcoming injury is a common theme of many elite athletes of all sports, and their ability to recover mentally, as well as physically, determines their outcome."
He points to Alexandra as a great example of how to deal with adversity by staying encouraged, having a plan, and working endlessly to overcome obstacles along her path to success.
###
---