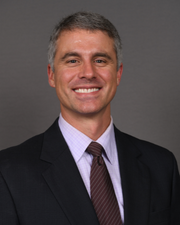 Alfred A. Mansour III, MD
Associate Professor
Director of Pediatric Orthopedics
Director of the Comprehensive Hip Preservation Program
Contact
713.486.4880
713.512.7240 fax

Biography
Dr. Alfred Mansour is an Associate Professor in the Department of Orthopedic Surgery at McGovern Medical School at UTHealth Houston. He has recently been named Director of the UT Ortho Comprehensive Hip Preservation Program and serves as a Team Physician for the Houston Rockets NBA Organization. In addition to leading the hip preservation program, he also currently serves as Director of Pediatric Orthopedics.
Certified by the American Board of Orthopedic Surgery, Dr. Mansour completed dual fellowships in both Orthopedic Sports Medicine and Pediatric Orthopedic Surgery with an emphasis on the full spectrum of hip preservation. His combined training experiences have shaped his subspecialized expertise and approach to both sports medicine and hip preservation in children and athletic adults. He is one of only a handful of surgeons nationally employing both arthroscopic and open surgical techniques including periacetabular osteotomy for complex hip problems including femoroacetabular impingement (FAI) and hip dysplasia. He also specializes in fractures and growth plate injuries of the extremities, patellar instability, osteochondritis dissecans (OCD), ACL ruptures, and cartilage injuries of the elbow, hip, knee and ankle.
Dr. Mansour received his undergraduate degree from Texas A&M University in College Station, Texas, while becoming a seven-time NCAA All-American swimmer and finalist for NCAA National Scholar Athlete of the Year. His experience at the elite level of athletics as a competitor and physician give him a unique perspective in caring for the high-level athlete of all ages.
He attended medical school at Louisiana State University Health Sciences Center in New Orleans, Louisiana. He completed both his internship and residency at Vanderbilt University Medical Center in Nashville, Tennessee. Dr. Mansour went on to complete a fellowship in Pediatric Orthopedic Surgery at Children's Hospital Colorado and an additional fellowship in Sports Medicine from the prestigious Steadman Hawkins Denver Clinic, serving as an assistant team physician to the Denver Broncos Football Club and Colorado Rockies Baseball organization.
Dr. Mansour is a member of the American Academy of Orthopedic Surgeons, the American Orthopedic Society for Sports Medicine, and the Pediatric Orthopedic Society of North America, where he serves on multiple national committees. He has been recognized by H-Texas Magazine and Houstonia Magazine multiple years as one of the "Top Doctors" in Texas in both pediatric orthopedics as well as sports medicine.
His research interests include various areas of sports medicine and hip preservation and he has presented at a multitude of national meetings. He has numerous publications in a variety of orthopedic journals and frequently lectures on the topics of hip preservation in adolescent and young adults, pediatric sports medicine, and trauma.
Education
Undergraduate Degree

Bachelor of Science, Biological Sciences,Texas A&M University, College Station, Texas

Medical School

Louisiana State University Health Sciences Center, New Orleans, Louisiana

Internship

Vanderbilt University Medical Center, Nashville, Tennessee

Residency

Orthopaedic Surgery Resident, Vanderbilt University Medical Center, Nashville, Tennessee

Fellowship

Pediatric Orthopaedic Surgery, Children's Hospital Colorado, Denver, Colorado

Fellowship

Sports Medicine, Steadman Hawkins Denver Clinic, Denver, Colorado
Areas of Interest
Clinical Interests
Pediatric Sports Medicine
Pediatric Orthopedic Surgery
Hip Preservation
Hip Dysplasia
Publications
Refereed Original Articles in Journals
Lalonde, J., Rabalais, R.D., Mansour A., Burger, E., Riemer, B., Lu, Y., and Baratta, R. New Tension Band Material for Fixation of Transverse Olecranon Fractures: A Biomechanical Stud. Orthop. 28(10):1191-4, 2005.
Rabalais, R.D., Burger, E., Lu, Y., Mansour A., and Baratta, R. Comparison of Two Tension-Band Fixation Materials and Techniques in Transverse Patella Fractures: A Biomechanical Study. Orthop. 21(2):128, 2008.
Magnussen, R., Mansour A., Carey, J., and Spindler, K. Meniscus Status after ACL Reconstruction is Associated with the Presence of Radiographic Signs of Osteoarthritis at 5-10 Year Follow-up: A Systematic Review. J Knee Surg. 22(4):347-57, 2009.
Mansour A., Block, J., and Obremskey, W.T. A Cadaveric Simulation of Distal Femoral Traction Shows Safety in MRI. J. Orthop. Trauma 23:658-662, 2009. January 14, 2015
Nyman, J., Munoz, S., Jadhav, S, Mansour A., Yoshii, T., Mundy, G., and Gutierrez, G. Quantitative Measures of Femoral Fracture Repair in Rats Derived by Micro-computed Tomography. J. Biomech. 11;42 (7):891-7. 2009.
Mansour A., Kelley, M., Hatmaker, A., Holt, G., and Schwartz, H. Verification of Musculoskeletal Findings on FDG-PET-CT Scans Performed for Melanoma Staging. Ann. Surg. Oncol. 17(4):1144-51, 2010
Mansour A., Wilmoth, J., Mansour AS., Mencio, G., Lovejoy, S., Martus, J. Immediate spica casting of pediatric femoral fractures in the operating room versus the emergency department: comparison of reduction, complications, and hospital charges. J. Pediatr. Orthop. 30(8):813-7, 2010.
Kinkartz J., Mansour A., and Noonan T. Post-arthroscopic Elbow Chondrolysis after Continuous Intra-articular Ropivacaine Infusion. J. Shoulder and Elbow Surg, 21(11):e1-e5, 2012.
Mansour A., Watson J., and Martus J. Displaced Dorsal Metaphyseal Cortex Associated with Delayed Extensor Pollicis Longus Tendon Entrapment in a Pediatric Smith's Fracture. J. Surg. Orthop. Advances, 22(2):173-5, 2013 Summer.
Mansour A., Genuario J., Young J., Murphy T., Boublik M., and Schlegel T. National Football League Athletes' Return to Participation following Surgical Reattachment of Complete Proximal Hamstring Ruptures. The Amer. J. Orthop.: E38-E41, 2013.
Mitchell JJ.1, Sjostrom R., Mansour AA., Irion B., Hotchkiss M., Terhune EB., Carry P., Stewart JR., Vidal AF., Rhodes JT. Incidence of Meniscal Injury and Chondral Pathology in Anterior Tibial Spine Fractures of Children. J Pediatr Orthop.: July 2, 2014.
Book Chapters
Mansour A., Kuhn JE. "Sternoclavicular Joint Reconstruction using Semitendinosus Autograft", in Operative Techniques: Shoulder and Elbow Surgery, 2011.
Mansour A., Eilert RE. "Pediatric fracture principles and growth plate injuries", in Hak DJ, Ipaktchi KR, and Morgan S, (authors): Orthopedic Trauma Call for the Attending Surgeon, Slack Incorporated Publisher, March 2013.