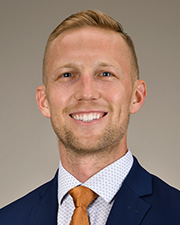 Contact
713-486-7500

Biography
Dr. Brennan Roper is an Assistant Professor in the Department of Orthopaedic Surgery at McGovern Medical School at UTHealth Houston.
Dr. Roper is a board-eligible, fellowship-trained orthopedic surgeon who specializes in the care of pediatric and adolescent orthopedic patients. His clinical focus includes the acute and long-term care of patients from birth into their young adult years with issues of congenital anomalies/deformities, limb length discrepancies, and trauma. He has trained with leaders in the field of Pediatric Orthopedics, where he learned to develop individualized plans for each patient, specifically taking into account their age, ailment, and goals of care.
Dr. Roper joins the Department of Orthopedic Surgery at UT Ortho after completing a year of fellowship at the nationally-acclaimed Children's Hospital of Colorado. Prior to fellowship, Dr. Roper completed five years of residency training at The University of Texas at Houston. During this time, he was awarded the Arthur Jansa, MD Courage to Lead award for dedication to resident education, as well as was selected to represent the program at the American Orthopedic Association Emerging Leaders program. He completed his medical school at the McGovern Medical School at The University of Texas Health Science Center at Houston, where he was elected into the Alpha Omega Alpha National Honor Society as one of the top-performing students in his class. He is a proud alumnus of the University of Texas – Austin, where he graduated with High Honors with a degree in Exercise Science.
In addition to his responsibilities within the UT Ortho department, Dr. Roper is a member of both the American Academy of Orthopaedic Surgeons (AAOS) as well as the Pediatric Orthopaedic Society of North America (POSNA). He is actively involved in research and quality improvement projects which he feels will help to further advance the field of orthopedic and pediatric orthopedic surgery.
Dr. Roper is a native Texan, born in Arlington, Texas. He spent most of his childhood in the beautiful state of Colorado, before returning to the state of Texas for his undergraduate and professional education. He enjoys time with his family, good food, the outdoors, and cheering on the Texas Longhorns any chance he can get.
Education
Undergraduate Degree

Bachelor of Science, The University of Texas, Austin, Texas

Medical Degree

The University of Texas at Houston Medical School, Houston, Texas

Residency

Orthopaedic Surgery, McGovern Medical School at The University of Texas Health Science Center of Houston Department of Orthopaedic Surgery, Houston, Texas

Fellowship

Pediatric Orthopedic Surgery Fellowship, The University of Colorado Pediatric Orthopedic Surgery Fellowship, Aurora, Colorado
Areas of Interest
Clinical Interests
Clubfoot deformity of the newborn
Congenital deformities of the foot and hand
Congenital limb length discrepancies
Congenital hip dislocations
Developmental Dysplasia of the hip
Musculoskeletal manifestations of Cerebral Palsy and other Neuromuscular Disorders
Adolescent Idiopathic Scoliosis
Care of the pediatric physis and related injuries
Musculoskeletal trauma of the pediatric and adolescent patient
Musculoskeletal trauma of the extremities in all patients
Post-traumatic deformity and limb-length discrepancies
Musculoskeletal infections of the pediatric, adolescent, and adult patient population
Research Interests
Musculoskeletal trauma of the pediatric and adolescent patient
Management of pediatric and adolescent deformity and limb length discrepancies
Quality improvement for all orthopedic patients
Resident education in the field of Orthopedic Surgery
Publications
Roper B, Parikh S, Haidar L, Warth R, Ambrose C, Younas S, Crawford L, Mansour A.
Outcomes After Operative Treatment of Pediatric Monteggia Fracture-Dislocations: Comparison Between Open and Closed Injuries. J Pediatr Orthop. 2022 Aug 1;42(7):361-366.
doi: 10.1097/BPO.0000000000002171. Epub 2022 May 10. PMID: 35543603.
Roper B, Ahmad H, Gary JL.
Percutaneous Reduction and Provisional Pinning of the Distal Fibula: A Novel Way to Maintain Fibular Length in Temporary Stabilization. J Orthop Trauma. 2022 May 25.
doi: 10.1097/BOT.0000000000002421. Epub ahead of print. PMID: 35613325.
Rogers NB, Roper BP, Mansour AA 3rd.
Pathologic Femur Fracture through Osteoid Osteoma after Radiofrequency Ablation: Case Report and Review of the Literature. Case Rep Orthop. 2021 Jul 28;2021:5560037.
doi: 10.1155/2021/5560037. PMID: 34367706; PMCID: PMC8337104.
Lehmberg J, Roper B, Omoruyi E, Evangelista M.
Skin Plaques Mimicking Psoriasis. J Pediatr. 2015 Oct;167(4):937-937.e1.
doi: 10.1016/j.jpeds.2015.06.072. Epub 2015 Jul 31.
Erratum in: J Pediatr. 2015 Dec;167(6):1456. Omouryi, Emma A [corrected to Omoruyi, Emma]. PMID: 26239929.
Roper, B. Lessons Learned in Gross Anatomy Lab. San Antonio Medicine: The Official
Publication of the Bexar County Medical Society. March 2014: 67(3); 16-17.