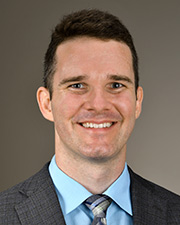 Contact
713.486.7500

Biography
Dr. Cody Tillinghast is an Assistant Professor in the Department of Orthopedic Surgery at McGovern Medical School at UTHealth Houston.
Dr. Tillinghast is board eligible by the American Board of Orthopedic Surgery and specializes in orthopedic spine surgery.  He focuses on both surgical and nonsurgical care of a variety of spine pathology including trauma and fractures, degenerative disease like stenosis and myelopathy, herniated discs, scoliosis and deformity, tumors, and revision procedures.  When clinically appropriate, he is experienced in using technology (both navigation and robotics) to assist in optimizing surgical results.  Dr. Tillinghast practices a patient-centered approach, by individualizing treatment plans to provide compassionate care and achieve the best outcomes.
Born and raised in Arizona, Dr. Tillinghast graduated Summa Cum Laude at the University of Arizona with a degree in Biology and minors in both Spanish and Chemistry.  His medical training began in the Houston Texas Medical Center, earning both his MD and orthopedic surgery residency diploma at the University of Texas McGovern Medical School at Houston.  Dr. Tillinghast completed his Spine Surgery fellowship with the world-renowned spine surgeons at Emory University in Atlanta, Georgia.
He is a member of the American Academy of Orthopedic Surgeons and AO Spine North America. He enjoys sports, exercise, reading, and travel in his spare time. Dr. Tillinghast is proficient in both English and Spanish.
Education
Undergraduate Degree

Graduated Summa Cum Laude Bachelor of Science in Biology with a focus in Biomedical Sciences, University of Arizona, Tucson, Arizona

Medical Degree

Doctor of Medicine, The University of Texas Medical School at Houston – McGovern Medical School, Houston, Texas

Residency

Orthopaedic Surgery Residency, The University of Texas Medical School Houston – McGovern Medical School, Houston, Texas

Fellowship

Spine Surgery Fellowship, Emory University, Atlanta, Georgia
Areas of Interest
Clinical Interests
Spinal Surgery

Spine Trauma and Fractures

Degenerative/Arthritic Spine

Minimally Invasive Surgery

Navigation/Robotics

Spinal Fusion

Spinal Deformity and Scoliosis

Back/Neck pain

Spinal Stenosis

Myelopathy

Revision Surgery
Publications
Book Chapters
2019 Tillinghast C, Gary J. Compartment Syndrome of the Lower Extremity. Compartment Syndrome.
A Guide to Diagnosis and Management. Mauffrey, Cyril et al. (Springer Nature) Chapter 8. ISBN 978-3-030-22330-4
Journal Articles
Renfree KJ, Odgers R, Zhang N, Tillinghast C. Long-term Outcomes of APL Suspensionplasty
with No, Partial, or Complete Trapezoid Excision. The Journal of Hand Surgery 42(9):S30. September 2017. DOI 10.1016/j/jhsa/2017.06.062
Abstract
Tillinghast C, Rennard J, Cornelius C, Warner S. Incidence of Compartment Syndrome in Tibia Fractures after Staged Internal Fixation. Submitted to AAOS 2022 Annual Meeting
Presentations
June 11, 2021, Tillinghast C, Rennard J, Cornelius C, Warner S. Incidence of Compartment Syndrome in Tibia
Fractures after Staged Internal Fixation. University of Texas at Houston Residency
Annual Research Day. Houston, Texas
Sept 21, 2014, Renfree KJ, Odgers R, Tillinghast C. Outcomes of Suspensionplasty with Partial or Complete
Trapezoid Excision. New Millennium Hand Study Group Annual Meeting.
Martha's Vineyard, Massachusetts
June 14, 2014, Renfree KJ, Odgers R, Tillinghast C. Outcomes of Trapezoidectomy with Trapeziectomy are Comparable to Simple Trapeziectomy for the treatment of STT and Pantrapezial Arthritis. Banner/Mayo Integrated Orthopaedic Residency,
7th Annual Resident Research Symposium. Phoenix, Arizona