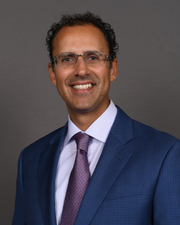 Assistant Professor
Medical Director, Rockets Sports Medicine Institute - Memorial City
Contact
713.486.1700

Biography
Dr. Peter Sabonghy is an Assistant Professor in the Department of Orthopedic Surgery at McGovern Medical School at UTHealth Houston. He currently serves as Medical Director of the Rockets Sports Medicine Institute at Memorial City.
Certified by the American Board of Orthopedic Surgery, Dr. Sabonghy specializes in Sports Medicine with an emphasis on reconstructive shoulder surgery.
Dr. Sabonghy received his undergraduate degree from Spring Hill College in Mobile, Alabama. He attended medical school at The University of Texas Health Science Center at Houston. Following his internship at The University of Louisville Medical School, he returned to Houston, Texas for residency and went on to complete a Sports Medicine fellowship from the Foundation for Orthopedic, Adult Reconstruction Research.
Dr. Sabonghy is a member of several professional organizations including the American Academy of Orthopedic Surgeons, the Arthroscopy Association of North America, and the Texas Society of Sports Medicine.
Education
Undergraduate Degree

Spring Hill College, Mobile, Alabama

Medical School

The University of Texas Medical School, Houston, Texas

Internship

The University of Louisville School of Medicine, Louisville, Kentucky

Residency

Orthopaedic Surgery Residency, The University of Texas Health Science Center at Houston

Fellowship

Sports Medicine Fellowship, Foundation for Orthopaedic, Athletic Reconstructive Research, Houston, Texas
Areas of Interest
Clinical Interests
Shoulder
Shoulder Arthritis
Total and Reverse Shoulder Replacement
Rotator cuff Surgery
Shoulder Instability
SLAP Lesions
Humeral Resurfacing
Revision Shoulder Surgery
Shoulder Fractures / Shoulder injuries
Knee
ACL reconstruction
Cartilage restoration
Meniscus injury
Knee Arthritis
Knee Trauma
Multi-ligament Injuries
Publications
Ali V, Lilja JF, Chuang AZ, Mogallapu RV, Sabonghy E. Incidence Of Perihepatic Adhesions In Ectopic Gestation. Obstetrics and Gynecology 1998 Dec;92(6):995-8.
Ambrose CG, Kiebzak GM, Sabonghy EP, Tabor BT, Peindl RD, Clanton TO, Anderson RA, Davis WH. Biomechanical Testing Of Cadaveric Specimens: Importance Of Bone Mineral Density Assessment. Foot and Ankle International 2002 Sep;23(9):850-5.
Rotator Cuff Surgery, Jeffrey Abrams et. al. Chapter 19, Biceps Tenotomy: Alternative When Treating the Irreparable Cuff Tear. E. Peter Sabonghy, T. Bradley Edwards, Gilles Walch. Springer, 2006, 269-275.