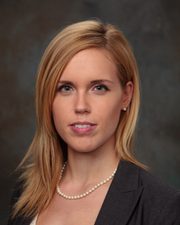 Contact
713-486-7500

Biography
Dr. Erica Giles is an Assistant Professor in the Department of Orthopaedic Surgery at McGovern Medical School at UT Health Houston.
Dr. Giles specializes in Orthopaedic Oncology. Her clinical emphasis is the diagnosis and surgical management of bone and soft tissue tumors of children and adults. She treats primary and metastatic disease of the extremities and pelvis.
Raised in Saskatchewan, Canada, Dr. Giles received her undergraduate degree at the University of Victoria. She received her medical degree from Yale University School of Medicine; following residency at Washington University St. Louis, Dr. Giles completed a subspecialty fellowship in orthopaedic oncology at the University of Texas MD Anderson Cancer Center.
Dr. Giles has an academic interest in complex limb reconstruction and outcomes, and treatment of metastatic disease of the pelvis. She is a candidate member of several professional organizations including the Musculoskeletal Tumor Society and the American Academy of Orthopaedic Surgeons.
Education
Undergraduate Degree

B. Sc. Honors Kinesiology, University of Victoria, Victoria, British Columbia

Medical Degree

Yale University School of Medicine, New Haven, Connecticut

Residency

Orthopaedic Surgery, Washington University School of Medicine/ Barnes Jewish Hospital, St. Louis, Missouri

Fellowship

Orthopaedic Oncology, University of Texas MD Anderson Cancer Center, Houston, Texas
Areas of Interest
Clinical Interests
Pediatric and adult musculoskeletal tumors

Sarcoma of the extremities or pelvis

Metastatic disease of the extremities or pelvis

Periacetabular tumors

Limb salvage surgery

Endoprosthetic reconstruction

Allograft reconstruction
Publications
Publication Submitted
Giles E, Elsamadicy A, David W, Koo A, Kundishora A, Kahle K, DiLuna M. Influence of socioeconomic disparities on management and outcomes after traumatic upper cervical spine fracture. Spine
Publications, Peer-reviewed
Giles E, Nicholson A, Sharkey M, Carter C. (2018). Focal periphyseal edema (FOPE): Are we overtreating physiologic adolescent knee pain? JAAOS Global Research and Reviews, 2(4), e47
Giles E, Godbout C, Chi W, Glick M, Lin T, Li R, Schemitsch E, Nauth A. (2017). Subtypes of endothelial progenitor cells affect healing of segmental bone defects differently. International Orthopedics, 41, 2337-2343
Giles E, Henderson S, Halim A, Smith B, Milewski M. (2016). Apophyseal avulsion of the greater trochanter in an adolescent treated with abduction bracing: A case report. Journal of Bone and Joint Surgery Case Connector, 6(2), e47
Bagheri Z, Giles E, El-Sawi I, Amleh A, Schemitsch E, Zdero R, Bougherara H. (2015) Osteogenesis and cytotoxicity of a new carbon fiber/flax/epoxy composite materials for bone fracture plate applications. Material Sciences and Engineering: C, 46(1), 435-442
Buerba R, Giles E, Fu M, Webb M, Gvozdyev B, Grauer J. (2014). Increased risk of complications after ACDF in the elderly: an analysis of 6,253 patients in the ACS-NSQIP database. Spine, 39(25), 2062-2069
Goldstein, J. (2014). Neurological complications of rheumatic disease. Continuum: Lifelong Learning in Neurology, 20(3), 657-669.
Nauth A, Giles E, Potter B, Nesti L, O'Brien F, Bosse J, Anglen J, Mehta S, Ahn J, Miclau T, Schemitsch E. (2012). Heterotopic ossification in orthopaedic trauma.Journal of Orthopaedic Trauma, 26(12), 684-688.
Gil-Mohapel J, Boehme F, Patten A, Cox A, Kainer L, Giles E, Brocardo P, Christie B. (2011). Dysregulation of adult hippocampal neurogenesis in a rodent model of fetal alcohol syndrome. Brain Research,1384, 29-41.
Boehme F, Gil-Mohapel J, Cox A, Patten A, Giles E, Brocardo P, Christie B. (2011). Voluntary exercise induces adult hippocampal neurogenesis and BDNF expression in a rodent model of fetal alcohol syndrome. European Journal of Neuroscience, 33(10), 1799-1811.