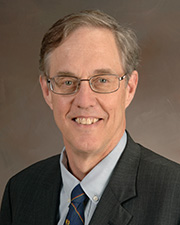 Ernest Chappie Conrad III, MD
Contact
713.486.7500

Biography
Dr. Ernest "Chappie" Conrad III is a Professor in the Department of Orthopedic Surgery at McGovern Medical School at UTHealth Houston.
Certified by the American Board of Orthopedic Surgery, Dr. Conrad specializes in Orthopedic Oncology. His main clinical interests and emphasis include treating bone and soft tissue tumors in children and adults, and in reconstruction and grafting for bone tumors.
Dr. Conrad earned his undergraduate degree at Washington and Lee University. He completed medical school at The University of Virginia School of Medicine in Charlottesville, Virginia. Dr. Conrad then did his internship at Roosevelt Hospital in New York, New York, and his residency in orthopedic surgery at The Hospital for Special Surgery Sloan-Kettering Memorial Hospital Cornell Medical Center New York, New York. Following his residency, he completed a fellowship in orthopedic oncology under Dr. William Enneking at the University of Florida, and also completed an additional fellowship in pediatric orthopedics under Dr. Mercer Rang at the Hospital for Sick Children in Toronto, Ontario.
Shortly after completing his fellowship in Toronto, Dr. Conrad moved to the University of Washington School of Medicine in Seattle. He made the move because he was able to treat sarcoma using chemotherapy which was a new idea and he believed was just the beginning of treating bone and soft tissue tumors. In Seattle, he paved the way and helped set standards for the world in assessing risk and response in sarcoma patients using Positron Emission Tomography (PET) and as well for limb salvage surgery (skeletal bone in adults and children). Currently, his interest includes finding new drugs for sarcoma treatment.
Dr. Conrad's research projects include multiple clinical studies in pediatric and adult tumors with a special interest in pediatric limb-sparing procedures, benign pediatric tumors, and soft-tissue sarcomas in adults. His research interests include the metabolic imaging of sarcomas, the clinical and biologic description of hereditary multiple exostoses, and the response associated with musculoskeletal transplantation. He instituted the first multi-disciplinary clinics in both pediatric and adult sarcomas at Children's and the University of Washington.
When he isn't working, Dr. Conrad devotes his time to his wife and three adult children.
Education
Undergraduate Degree

Bachelor of Science - Washington and Lee University, Lexington, VA

Medical School

Doctor of Medicine - University of Virginia Medical School, Charlottesville, VA

Internship

Roosevelt Hospital in New York, New York

Residency

Orthopaedic Surgery - The Hospital for Special Surgery Sloan-Kettering Memorial Hospital Cornell Medical Center New York, New York

Fellowship

Orthopaedic Oncology - University of Florida College of Medicine, Gainesville, Florida

Fellowship

Pediatric Orthopaedics - The Hospital for Sick Children, Toronto, Ontario
Areas of Interest
Clinical Interests
Bridging of biologic and clinical issues for sarcoma patients; molecular biology of sarcomas; pediatric musculoskeletal tumors; bone transplantation; metabolic imaging.
Research Interests
Sarcobase tumor registry; PET scanning as a predictor of tumor response to therapy; studies to evaluate the success of limb-salvage surgery and reconstruction surgery.
Publications