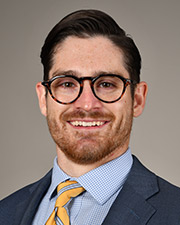 Contact
713-486-7500

Biography
Dr. James Showery is an Assistant Professor in the department of Orthopaedic Surgery at McGovern Medical School at UTHealth Houston.
Dr. Showery specializes in spine surgery with an emphasis in spinal trauma, revision spinal surgery, adult degenerative scoliosis, complex spinal deformity, spine injuries in athletes, and minimally invasive surgical techniques. Additionally, he has special interest in optimizing the patient experience throughout all episodes of care, from non-operative treatment to the pre- and post-operative period.
Dr. Showery received his undergraduate degree from The University of Texas at Austin. He attended the Texas Tech University Health Science Center Paul L. Foster School of Medicine in his hometown of El Paso, Texas and completed a residency in Orthopaedic Surgery at McGovern Medical School at Houston. He then went on to complete a fellowship in Orthopaedic and Neurosurgical Spine Surgery at the Cleveland Clinic.
Dr. Showery is member of several professional organizations including the American Academy of Orthopaedic Surgeons, the Orthopaedic Trauma Association, AONA-Spine, and Lumbar Spine Research Society. He is active in resident education both locally and nationally through the Orthopaedic Trauma Association, has presented research at national and international meetings, has authored several peer-reviewed publications and book chapters, and has developed multiple ongoing research studies in spine surgery. His research interests include spinal trauma, spinal cord injury, peri-operative patient care optimization, and spine biomechanics.
Education
Undergraduate Degree

Bachelor of Science, University of Texas, Austin, Texas

Medical Degree

Paul L. Foster School of Medicine at Texas Tech University Health Science Center- El Paso, El Paso, Texas

Residency

Orthopaedic Surgery, McGovern Medical School at The University of Texas Health Science Center of Houston Department of Orthopaedic Surgery, Houston, Texas

Fellowship

Spine Surgery Fellowship, Cleveland Clinic, Cleveland, Ohio
Areas of Interest
Clinical Interests
Spine Trauma
Cervical and Thoracic Myelopathy
Adult Spinal Deformity
Revision Spinal Surgery
Lumbar Spinal Stenosis
Spine Injuries in Athletes
Minimally Invasive Spine Surgery
Motion Preservation Surgery
Publications
Fares A, Kusnezov N, Dunn J, Balsiger H, Showery J, Hsiao M, Orr J. Predictability of Lower Extremity Peripheral Nervous Anatomy. J Surg Orthop Adv. 2017;26(4):206-210.
Showery JE, Kusnezov NA, Dunn JC, Bader JO, Belmont PJ, Waterman BR. The Rising Incidence of Degenerative and Posttraumatic Osteoarthritis of the Knee in the United States Military. J Arthroplasty. 2016;31(10):2108-2114. doi:10.1016/j.arth.2016.03.026
Speirs J, Showery J, Abdou M, Pirela-Cruz MA, Abdelgawad AA. Dog bites to the upper extremity in children. J Paediatr Child Health. 2015;51(12). doi:10.1111/jpc.12948
Additional Information
AO North America- Spine
Orthopedic Trauma Association
Lumbar Spine Research Society