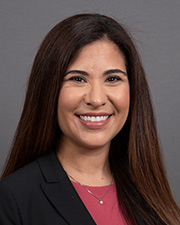 Contact
713-486-4880

Biography
Dr. Jessica Traver is an Assistant Professor in the Department of Orthopedic Surgery at McGovern Medical School at UTHealth Houston.
Dr. Traver treats a wide variety of pediatric orthopedic and sports medicine disorders. She is dual fellowship trained in both Pediatric Orthopedic Surgery and Orthopedic Sports Medicine, specializing in the treatment of the young athlete as well as pediatric trauma, growth plate injuries, ACL tears, patellar instability, ankle instability, osteochondritis dissecans (OCD), and other injuries of the elbow, shoulder, hip, knee and ankle.
Dr. Traver is a native, Spanish speaking, Houstonian who grew up in Spring, Texas where she was an avid soccer player for Challenge SC. She received her undergraduate degree from Tulane University in New Orleans, Louisiana as an NCAA Division I women's soccer player and went on to be inducted into the Tulane Athletic Hall of Fame in 2015. Her experience as an elite athlete provides her with a unique perspective on treating young athletes and the importance of an expeditious, safe return-to-sport.
She returned to Texas to attend medical school at the University of Texas Medical School at Houston. She completed both her internship and residency at Saint Louis University Hospital in St. Louis, Missouri. Dr. Traver went on to complete a fellowship in Pediatric Orthopedic Surgery at Children's Hospital Colorado. She then went on to complete a second fellowship in Sports Medicine at the prestigious Harvard University/Boston Children's Hospital where she served as a team physician to the University of Massachusetts Boston and for the 2019 Boston Marathon.
Dr. Traver's specialty research interests include various areas of pediatrics and sports medicine, particularly the treatment of skeletally immature athletes, ACL injuries, and psychological readiness for return-to-sport. She has several publications and has presented at national meetings on a variety of topics including pediatric sports medicine and trauma.
Education
Undergraduate Degree

Bachelor of Science, Cell and Molecular Biology, Tulane University, New Orleans, LA

Medical Degree

Doctor of Medicine, University of Texas at Houston Medical School, Houston, TX

Residency

Orthopaedic Surgery Residency, Saint Louis University School of Medicine, Saint Louis, MO

Fellowship

Pediatric Orthopaedic Surgery, University of Colorado, Children's Hospital Colorado, Aurora, CO

Fellowship

Sports Medicine Orthopaedic Surgery, Harvard Medical School, Boston Children's Hospital, Boston, MA
Areas of Interest
Clinical Interests
Pediatric Orthopedics
Pediatric Trauma
Sports Medicine
Pediatric Fractures
Shoulder Instability
Hip Impingement
Patellar Instability
Knee ligamentous Injuries
Osteochondritis Dissecans
Ankle Instability
Publications
Publications:
Gagliardi AG, Carry PM, Parikh HB, Traver JL,Howell DR, Albright JC. Should We Rethink How to Define Success After ACL Surgery? Response. Am J Sports Med. 2019 Aug;47(10):NP59-NP60.
Gagliardi AG, Carry PM, Parikh HB, Traver, JL, Albright JC. Sex-Based Differences in the Outcomes of ACL Reconstruction with Quadriceps Tendon-Patellar Autograft in Adolescent Patients. OJSM 2019 Mar. 7(3)(suppl 1)
Gagliardi AG, Carry PM, Parikh HB, Traver JL, Howell DR, Albright JC. ACL Repair with Suture Ligament Augmentation Is Associated With a High Failure Rate Among Adolescent Patients. Am J Sports Med. 2019 Feb 7. [Epub ahead of print]
Traver JL, Guzman MA, Cannada LK, Kaar SG. Is the Axillary Nerve at Risk During a Deltoid-Splitting Approach for Proximal Humerus Fractures? J Orthop Trauma. 2016 May;30(5):240-4.