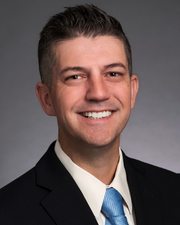 Contact
713-486-8800
281-367-1323 fax

Biography
Dr. Joshua Griffin is an Assistant Professor in the Department of Orthopedic Surgery at McGovern Medical School at UTHealth Houston.
Certified by the American Board of Orthopedic Surgeons, Dr. Griffin is fellowship-trained in Sports Medicine with an emphasis on arthroscopic and minimally invasive surgery of the shoulder, elbow, wrist, knee, and ankle.  His expertise includes the latest and most advanced techniques for minimally invasive surgery and reconstructive treatments, as well as nonsurgical management and rehabilitation.
Dr. Griffin graduated Magna Cum Laude at Texas A&M University for his undergraduate degree. He completed medical school at The University of Texas Health Science Center at Houston, graduating with prestigious Alpha Omega Alpha honors.  Dr. Griffin then completed his orthopedic surgery residency at Baylor Scott and White Hospital.  He next completed an additional fellowship year of subspecialty training in orthopedic sports medicine at The University of Texas Health Science Center at Houston.
Dr. Griffin is a member of the American Academy of Orthopedic Surgeons (AAOS) and the American Orthopedic Society for Sports Medicine (AOSSM).  He has extensive hands-on experience in sports medicine treating high school, collegiate, professional, and recreational athletes.  Dr. Griffin has worked with the Houston Texans, Houston Rockets, Houston Astros, Houston Dynamo, and the University of Houston.  Dr. Griffin served as Head Orthopedic Team Physician for East Texas Baptist University.  He has served as Team Physician for two 6A State Championship teams with the Longview Lobos and Northshore Mustangs.  Dr. Griffin is the team physician for Oak Ridge High School and participates in the care of athletes at other local schools.
Education
Undergraduate Degree

Magna Cum Laude, Texas A&M University, College Station, Texas

Medical School

The University of Texas Medical School at Houston, Houston, Texas

Residency

Orthopaedic Surgery Residency, Scott & White Hospital

Fellowship

Orthopaedic Sports Medicine Fellowship, The University of Texas Medical School at Houston, Houston, Texas
Areas of Interest
Clinical Interests
Orthopedic Sports Medicine Arthroscopic and Minimally Invasive Surgery of the Shoulder, Elbow, Wrist, Knee, and Ankle
Shoulder
Shoulder Arthroscopy
Rotator Cuff Tears
Rotator Cuff Impingement
Labral Tears of the Shoulder
Shoulder Dislocations
Shoulder Instability
Clavicle Injuries
Biceps Tendon Disorders (Biceps Tenodesis)
AC Joint Injuries / Reconstructions
Shoulder Arthritis
Total and Reverse Shoulder Arthroplasty (Replacement)
Elbow
Elbow Arthroscopy
Elbow Ulnar Collateral ligament (UCL) reconstruction, "Tommy John" surgery
Medial and Lateral epicondylitis
Biceps Rupture
"Little League" Elbow
Ulnar Nerve Compression (Cubital Tunnel Syndrome)
Knee
Anterior Cruciate Ligament (ACL) Reconstruction / Revision Reconstruction
Posterior Cruciate Ligament (PCL) Reconstruction / Revision Reconstruction
Medial Collateral Ligament (MCL) Repair / Reconstruction
Lateral Collateral Ligament (LCL) Repair / Reconstruction including Posterior Lateral Corner Repair / Reconstruction
Multi-Ligament Repair / Reconstructions
Osteochondral Autograft / Allograft Transplantation (OATS)
Osteochondral Microfracture
Carticel Reimplantations (ACI) (Autologous Chondrocyte Implantation)
Meniscal Injury (Meniscectomies and Meniscal Repairs)
Patellofemoral Disorders
Meniscal (Allograft) Transplants
Knee Malalignment
Knee Arthritis
Total and Partial Knee Arthroplasty (Replacement)
Wrist
Wrist/Scaphoid Fracture Fixation
Wrist Arthroscopy
TFCC Injuries
Tendon repair and Reconstruction
Carpal Tunnel Release
Trigger Finger Release
Ankle
Ankle Arthroscopy
Osteochondral Defects (OCD)
Ankle Ligament Reconstruction
Jones Fracture Fixation
Trauma
Fracture Repair Surgery
Biologics
Platelet Rick Plasma (PRP), Bone Marrow Aspiration (BMA) and other biologic injections
Publications
Lane Bailey, Phd, PT; Joshua Griffin, MD; Mark Elliot, MD; Jennifer Wu, MD; Thanos Papavasiliou, DPT; Christopher Harner, MD; Walter Lowe, MD. Adductor Canal Nerve versus Femoral Nerve Blockade for Pain Control and Quadriceps Function Following ACL Reconstruction with Patellar Tendon Autograft: A Prospective Randomized Trial. Arthroscopy. 2019 Mar;35(3):921-929
https://www.ncbi.nlm.nih.gov/pubmed/30733025
Joshua Griffin, Travis L. Anthony, Donavan K. Murphy, Kindyle L. Brennan, Michael L. Brennan. What is the impact of age on reoperation rates for femoral neck fractures treated with internal fixation and hemiarthroplasty? A comparison of hip fracture outcomes in the very elderly population. Journal of Orthopaedics: Vol 13, 1. March 2016, 33-39
https://www.ncbi.nlm.nih.gov/pubmed/26951944
Presentations
2017 American Orthopaedic Society for Sports Medicine Annual Meeting, Toronto, Canada
Femoral Nerve Blockade versus Adductor Canal Blockade with Anterior Cruciate Ligament Reconstruction: A Prospective, Randomized Clinical Trial
2015 Mid American Orthopaedic Association Meeting, Hilton Head, South Carolina
Guided Growth for the Correction of Deformity in Fibular Deficiency
2013 Southern Orthopaedic Association Annual Meeting, Palm Beach, Florida
2013 Eastern Orthopaedic Association Annual Meeting, Miami Beach, Florida
What Is The Impact Of Age On Reoperation Rates For Femoral Neck Fractures Treated With Closed Reduction Percutaneous Pinning And Hemiarthroplasty?
2012 Western Orthopaedic Association Meeting, Portland, Oregon
Hemoglobin A1c Value in Relation to Total Knee Arthroplasty Complications
2007 University of Texas Health Science Center, Houston, Texas
Maternal Glucose Correlation with Spina Bifida Related Genes UTHSC Medical School Research Forum