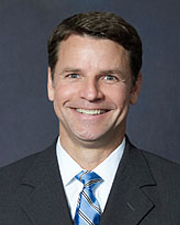 Assistant Professor
Co-Director, Total Joint Reconstruction Program, Memorial Hermann The Woodlands Hospital
Contact
713.486.8800
281.367.1323 fax
713-486-8800

Biography
Dr. Kelly Blevins is an Assistant Professor in the Department of Orthopedic Surgery at McGovern Medical School at UTHealth Houston. He also serves as the Co-Director for the Total Joint Reconstruction Program at Memorial Hermann The Woodlands Hospital.
Certified by the American Board of Orthopedic Surgery, Dr. Blevins specializes in Total Joint Reconstruction with an emphasis in minimally invasive arthroplasty of the knee and hip. He also performs partial knee replacements as well as robotic-assisted surgeries.
Dr. Blevins received his undergraduate degree from Texas A&M University in College Station, Texas. He attended medical school at The University of Texas Health Science Center at Houston, where he also completed internship and residency. Dr. Blevins went on to complete a Foot and Ankle Reconstruction fellowship at the American Sports Medicine Institute in Birmingham, Alabama.
He routinely serves as a tournament physician for the Association of Tennis Professionals at the U.S. Clay Court Championships. He often speaks in support of his interest in enhanced patient-centric care pathways including programs like the Perioperative Surgical Home.
Dr. Blevins is a member of several professional organizations including the American Academy of Orthopedic Surgeons, the American Association of Hip and Knee Surgeons, the American Orthopedic Foot and Ankle Society, and the Texas Orthopedic Association.
Areas of Interest
Clinical Interests
Cartilage Restoration Procedures
Hip and Knee Joint Replacement
Partial Knee Replacement
Robotic Assisted Surgery
Treatment of Arthritis
Sports Injuries
Disorders of the Foot and Ankle