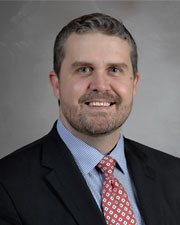 Contact
713.486.7500
713.512.2234 fax

Biography
Dr. Kyle Woerner is an Assistant Professor in the Department of Orthopedic Surgery at McGovern Medical School at UTHealth Houston.
Dr. Woerner specializes in Hand and Upper Extremity surgery with an emphasis on disorders of the hand, wrist, and elbow. His areas of clinical interest include fractures, dislocations, tendon injuries, nerve injuries, arthritis, and sports injuries as well as complex trauma of the upper extremity. He focuses on the optimal non-operative management for conditions that do not require surgery, and can sometimes offer arthroscopic or minimally invasive options when surgery becomes necessary.
Dr. Woerner received his undergraduate degree from Texas A&M University in College Station, Texas. He attended medical school at McGovern Medical School at Houston, where he also completed his training through the Orthopedic Surgery residency. During his time as a resident, he was honored with multiple awards including the Gold Foundation Humanism and Excellence in Teaching Award and the Arthur Jansa Courage to Lead Award. He was later honored as the only resident to receive the Benjy Brooks Outstanding Clinical Faculty Award. His training then took him to Philadelphia, Pennsylvania, where he studied hand surgery at the prestigious Philadelphia Hand Center under Dr. A. Lee Osterman.
Dr. Woerner is a member of several professional organizations, including the American Academy of Orthopedic Surgeons, the American Society for Surgery of the Hand, and the American Association for Hand Surgery.
Education
Undergraduate Degree

Texas A&M University, College Station, Texas

Medical Degree

University of Texas Health Science Center at Houston, Houston, Texas

Residency

Orthopedic Surgery Residency, University of Texas Health Science Center at Houston, Houston, Texas

Fellowship

Hand Surgery Fellowship, Philadelphia Hand Center, Philadelphia, Pennsylvania
Publications
Woerner K, (2012, October). Orthopedic Surgery for the Boards – A Knuckle-Draggers Guide to Kiddo Bone Problems. Oral Presentation: UT Houston Pediatrics Noon Conference
Woerner K, Scott A. (2010-present). Gait Lab Predictors of Calcaneous Gait in Multilevel Cerebral Palsy Surgery, ongoing project
Woerner K, Scott A, Sullivan E. (2006, August). Bony Deformities in Children with Hypophosphatemic Rickets, Oral Presentation: Shriners Hospital for Children Grand Rounds, Thomas E. Cain Medical Research Fellow
Woerner K, Scott A, Sullivan E. (2006, October) Bony Deformities in Children with Hypophosphatemic Rickets, Poster Presentation: Shriners Hospital for Children, Thomas E. Cain Medical Research Fellow; 05/2006 – 10/2006