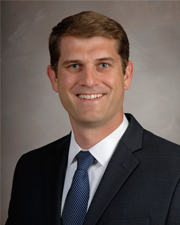 Contact
713.486.1600
713.234.7343 fax
713-486-7500

Biography
Dr. Michael Greaser is an Assistant Professor in the Department of Orthopedic Surgery at McGovern Medical School at UTHealth Houston.
Dr. Greaser specializes in Foot and Ankle surgery with an emphasis in minimally invasive and arthroscopic treatments of foot and ankle disorders.
Dr. Greaser received his undergraduate degree from The University of Texas at Austin. He attended medical school at The University of Texas Health Science Center at Houston. Following his internship and Orthopedic Surgery residency at The University of Texas Health Science Center Southwestern in Dallas, Texas, Dr. Greaser went on to complete a fellowship in Foot and Ankle Surgery at OrthoCarolina in Charlotte, North Carolina. During his fellowship training, he had the opportunity to treat a large number of elite athletes from a variety of sports, including professional football and basketball, U.S. Olympic Track and Field, and ballet.
Dr. Greaser is a member of the Academy of Orthopedic Surgeons.
Education
Undergraduate Degree

The University of Texas at Austin, Austin, Texas

Medical School

The University of Texas Health Science Center at Houston, Houston, Texas

Internship

General Surgery Internship, The University of Texas Health Science Center Southwestern, Dallas, Texas

Residency

Orthopaedic Surgery Residency, The University of Texas Health Science Center Southwestern, Dallas, Texas

Fellowship

Foot and Ankle Fellowship, OrthoCarolina Foot and Ankle Institute, Charlotte, North Carolina
Areas of Interest
Clinical Interests
General orthopedic trauma
Foot and ankle surgery
Arthroscopy and minimally invasive foot and ankle surgery
Foot and Ankle sports injuries
Foot and Ankle trauma and fractures
Foot and Ankle Arthritis
Flatfoot reconstruction
Bunions and hammertoes
Diabetic foot and ankle treatment
Rheumatologic foot and ankle treatment
Revision foot and ankle surgery
Ilizarov External Fixations for deformity correction
Ankle replacement
Extremity fractures
Research Interests
Texas Scottish Rite Hospital/Children's Medical Center – Dallas, Texas. Mentors: Dr. Lane Wimberly, Dr. Lori Karol. Project: "Outcomes of Operatively Treated Pediatric Lisfranc Injuries"
Baylor University Medical Center – Dallas, Texas. Mentors: Dr. James Brodsky. Project: "Second Metatarsal Phalangeal Instability"
UT Southwestern Medical Center – Dallas, Texas. Mentors: Dr. Rahul Banerjee. Project: "Wound Complications After ORIF Calcaneus Fracture: The Parkland Experience 13 years Later"