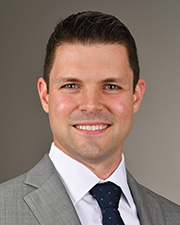 Contact
713-486-7500

Biography
Dr. Nathan Rogers is an Assistant Professor in the Department of Orthopedic Surgery at McGovern Medical School at UT Health. He specializes in adult reconstruction and performs both primary and revision hip and knee replacements. He has interests in reducing and preventing prosthetic joint infections as well as treating periprosthetic fractures. Dr. Rogers is trained in robotic surgery and is certified with multiple systems including primary unicompartmental and total knee arthroplasty, robotic total hip arthroplasty, and hip resurfacing. He offers a patient-specific treatment plan and performs total hip arthroplasty through both the anterior and posterior approaches.
Dr. Rogers received his undergraduate degree at Baylor University in Waco, Texas, where he graduated Summa Cum Laude and was inducted into the Phi Beta Kappa Honor Society. He attended medical school at the UT McGovern Medical School where he was inducted into the Alpha Omega Alpha National Honor Society and completed a scholarly concentration in Medical Humanities. This was followed by orthopedic residency at UT Houston and finally the James A. Dickson Fellowship in Adult Reconstructive Surgery at the Cleveland Clinic Foundation.
Dr. Rogers has published articles and book chapters in both adult reconstruction and orthopedic trauma, and is an active member in many professional societies including the American Academy of Orthopedic Surgeons and the American Association of Hip and Knee Surgeons. He has received multiple research awards, presented at several academic conferences, and serves as an editor of two orthopedic journals. He also participated in medical mission trips to both Guatemala and El Salvador.
Dr. Rogers enjoys staying physically active and is the team captain for an MS 150 team, a charity bike ride that raises money and awareness for the diagnosis and treatment of multiple sclerosis. He enjoys traveling and spending time with his wife and two children.
Education
Undergraduate Degree

Bachelor of Arts, Baylor University, Waco, Texas

Medical Degree

McGovern Medical School at The University of Texas Health Science Center at Houston, Houston, Texas

Residency

Orthopedic Surgery Residency, The University of Texas Health Science Center at Houston Department of Orthopedic Surgery, Houston, Texas

Fellowship

Adult Reconstructive Surgery Fellowship, Cleveland Clinic, Cleveland, Ohio
Areas of Interest
Clinical Interests
Osteoarthritis of the hip and knee
Avascular necrosis of the hip and knee
Primary hip arthroplasty
Complex primary hip arthroplasty
Revision hip arthroplasty
Conversion hip surgery
Birmingham hip resurfacing
Periprosthetic fracture
Periprosthetic joint infection
Robotic-assisted surgery
Unicompartmental knee arthroplasty
Total knee arthroplasty
Complex primary knee arthroplasty
Revision knee arthroplasty
Conversion knee surgery
Publications
Rogers NB, Karam WN, Kumaravel M, Warner SJ, Gary JL. Dual-Energy CT to Diagnosie Occult
Femoral Neck Fracture in MRI-Contraindicated Patient: A Case Report. JBJS Case Connect. 2021
Oct 14;11(4).
Rogers NB, Achor TS, Kumaravel M, Gary JL, Munz JW, Choo AM, Routt ML, Warner, SJ. Im- plementation of a Novel MRI protocol for Diagnosing Femoral Neck Fractures in High Energy Femoral Shaft Fractures: One Year Results. Injury. 2021 Aug;52(8):2390-2394.
Rogers NB, Roper BP, Mansour AA. Pathologic femur fracture through osteoid osteoma af-
ter radiofrequency ablation: Case report and review of the literature. Case Rep Orthop. 2021 Jul
28;2021:5560037.
Rennard JA, Rogers NB, Achor TS, Kumaravel M, Gary JL, Choo AM, Munz JW, Routt ML, Warner SJ. The impact of femoral neck MRI on the diagnosis of ipsilateral femoral neck and shaft fractures. J Orthop Trauma. 2022 Feb 1;36(2):93-97.
Rogers NB, Hartline BE, Kumaravel M, Achor TS, Gary JL, Choo AM, Routt ML, Munz JW, Warner, SJ. Improving the diagnosis of ipsilateral femoral neck and shaft fractures: A new imaging protocol. Journal of Bone and Joint Surgery, 2020;102:309-14.
Putnam LR, Chang CM, Rogers NB, Podolnick JM, Sakhuja S, Matuszczak M, Austin MT, Kao LS, Lally KP, Tsao K. Adherence to surgical antibiotic prophylaxis remains a challenge despite multifaceted interventions. Surgery. 2015 Aug 1;158(2):413-9.
Putnam LR, Levy SM, Sajid M, Dubuisson DA, Rogers NB, Kao LS, Lally KP, Tsao K. Multifaceted interventions improve adherence to the surgical checklist. Surgery. 2014 Aug
1;156(2):336-44.
Honors and Awards
Member of the 2020 AAOS Resident Rumble Winning Team
American Academy of Orthopaedic Surgeons – November 2020
Vernon Thompson Award Winner 2019
Western Orthopaedic Association – Monterey, CA – July 2019
Member of the 2019 AAOS Resident Quiz Bowl Winning Team
American Academy of Orthopaedic Surgeons Annual Meeting – Las Vegas, NV – March 2019
Alpha Omega Alpha Honor Society – Delta Chapter of Texas
University of Texas Medical School at Houston – Houston, TX – Inducted March 2016
National Institute of Diabetes and Digestive and Kidney Diseases (NIDDK) Mission
Related Project Grant
University of Texas Medical School at Houston – Houston, TX – 2013
Phi Beta Kappa Member – Zeta Chapter
Baylor University – Waco, TX – Inducted April 2012
Outstanding Senior Award – Department of Biology
Baylor University – Waco, TX – May 2012