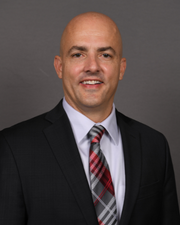 Contact
713.486.1700
713.467.6682 fax

Biography
Dr. Paul Shupe is an Assistant Professor in the Department of Orthopedic Surgery at McGovern Medical School at UTHealth Houston.
Certified by the American Board of Orthopedic Surgeons, Dr. Shupe specializes in Sports Medicine with an emphasis on arthroscopic and minimally invasive surgery of the shoulder, elbow, knee, and ankle.  His expertise includes the latest and most advanced techniques for minimally invasive surgery and reconstructive treatments, as well as nonsurgical management and rehabilitation.
Dr. Shupe received his undergraduate degree at the University of Nevada-Las Vegas. He completed medical school at The George Washington University in Washington, DC, graduating with distinction.  After completing an internship in general surgery at the Naval Medical Center San Diego, Dr. Shupe served as a Naval Flight Surgeon in Beaufort, SC caring for the Marines and Sailors of VMFA-312 and MAG-31. Dr. Shupe then completed his orthopedic surgery residency at the Naval Medical Center San Diego. Upon completion of training, he went on to serve as a staff orthopedic surgeon at US Naval Hospital Yokosuka Japan and Naval Hospital Jacksonville FL.  He next completed an additional fellowship year of specialty training in orthopedic sports medicine at the University of Texas Health Science Center at Houston where he was chosen as the Administrative Fellow.
Dr. Shupe is a member of the American Academy of Orthopedic Surgeons (AAOS), the American Orthopedic Society for Sports Medicine (AOSSM), and the Society of Military Orthopedic Surgeons (SOMOS).  He has extensive hands-on experience in sports medicine treating high school, collegiate, professional, and recreational athletes.  He has worked with the Houston Texans, Houston Rockets, Houston Astros, Houston Dynamo, and the athletic teams at the University of Houston.  Dr. Shupe is the team physician for George Ranch High School in Richmond, TX and participates in the care of athletes at other local high schools.
Education
Undergraduate Degree

University of Nevada-Las Vegas, Las Vegas, Nevada

Medical School

The George Washington University School of Medicine, Washington, District of Columbia

Internship

Naval Medical Center San Diego, San Diego, California

Residency

Naval Medical Center San Diego, San Diego, California

Fellowship

Orthopaedic Sports Medicine Surgery Fellowship, University of Texas Health Science Center at Houston, Houston, Texas
Areas of Interest
Clinical Interests
Orthopedic Sports Medicine Arthroscopic and Minimally Invasive Surgery of the Shoulder, Elbow, Knee, and Ankle
Shoulder
Rotator Cuff Tears
Rotator Cuff Impingement
Labral Tears of the Shoulder
Shoulder Dislocations
Shoulder Instability
Clavicle injuries
Bicep Tendon Disorders (Biceps Tenodesis)
AC Joint Injuries / Reconstructions
Elbow
Elbow arthroscopy
Elbow ulnar collateral ligament (UCL) reconstruction, "Tommy John" surgery
Medial and Lateral epicondylitis
"Little League" elbow
Knee
ACL tears
PCL tears
MCL tears
LCL tears
Knee dislocations
Meniscus tears
Patella Dislocations and Instability
Cartilage Disorders
Osteochondris Dissecans
Cartilage and Meniscus Transplantation
Ankle
Ankle arthroscopy
Osteochondral defects (OCD)
Ankle ligament reconstruction
General/Trauma
Fracture repair surgery
Tendon repair and reconstruction
PRP and other biologic injections
Carpal tunnel release
Trigger finger release
Publications
Publications
McDonald LS, Shupe PG, Raiszadeh K, Singh A. Misdiagnosed pneumothorax interpreted as necrotizing fasciitis of the chest wall: case report of a potentially preventable death. Patient Safety in Surgery. 2014;8:20.
McDonald LS, Dewing CB, Shupe PG, Provencher MT: Disorders of the Proximal and Distal Aspects of the Biceps Muscle. J Bone & Joint Surg, Am. 2013; 95(13):1235-1245.
McDonald LS, Shupe PG, Hammel N, Kroonen LT. The intermetacarpal angle screening test for ulnar-sided carpometacarpal fracture-dislocations.  J Hand Surg Am. 2012;37(9):1839-44.
Abstracts/Presentations
Scientific Presentation/Exhibit 53: The Human Gun: Management of the Biceps from Stem to Stern.  LCDR Paul Shupe MD MC USN, LT Lucas McDonald MD MC USN, LCDR Christopher Dewing MD MC USN, CDR Matthew Provencher MD MC USN 78th Annual Meeting, American Academy of Orthopedic Surgery, February 2011
Prospective Analysis of Hip Arthroscopy.  LCDR Paul Shupe MD MC USN, CDR Keith Holley MD MC USN
Podium presentation Society of Military Orthopedic Surgeons Annual Meeting 2009
Poster presentation Western Orthopedic Association Annual Meeting 2010
Podium presentation for NMCSD distinguished visiting professor 2010
OREF Southwest Resident Research Competition May 2011 (3rd place)
Outcome of Periacetabular Osteotomy in Active Duty Population. LT Eric Venn-Watson MD MC USN, CAPT(S) Michael P. Muldoon MD MC USN, Richard Santore MD, ENS Paul Shupe MC USNR, LCDR Michael Langworthy MD MC USNR
Podium presentation Society of Military Orthopedic Surgeons Annual Meeting 2002