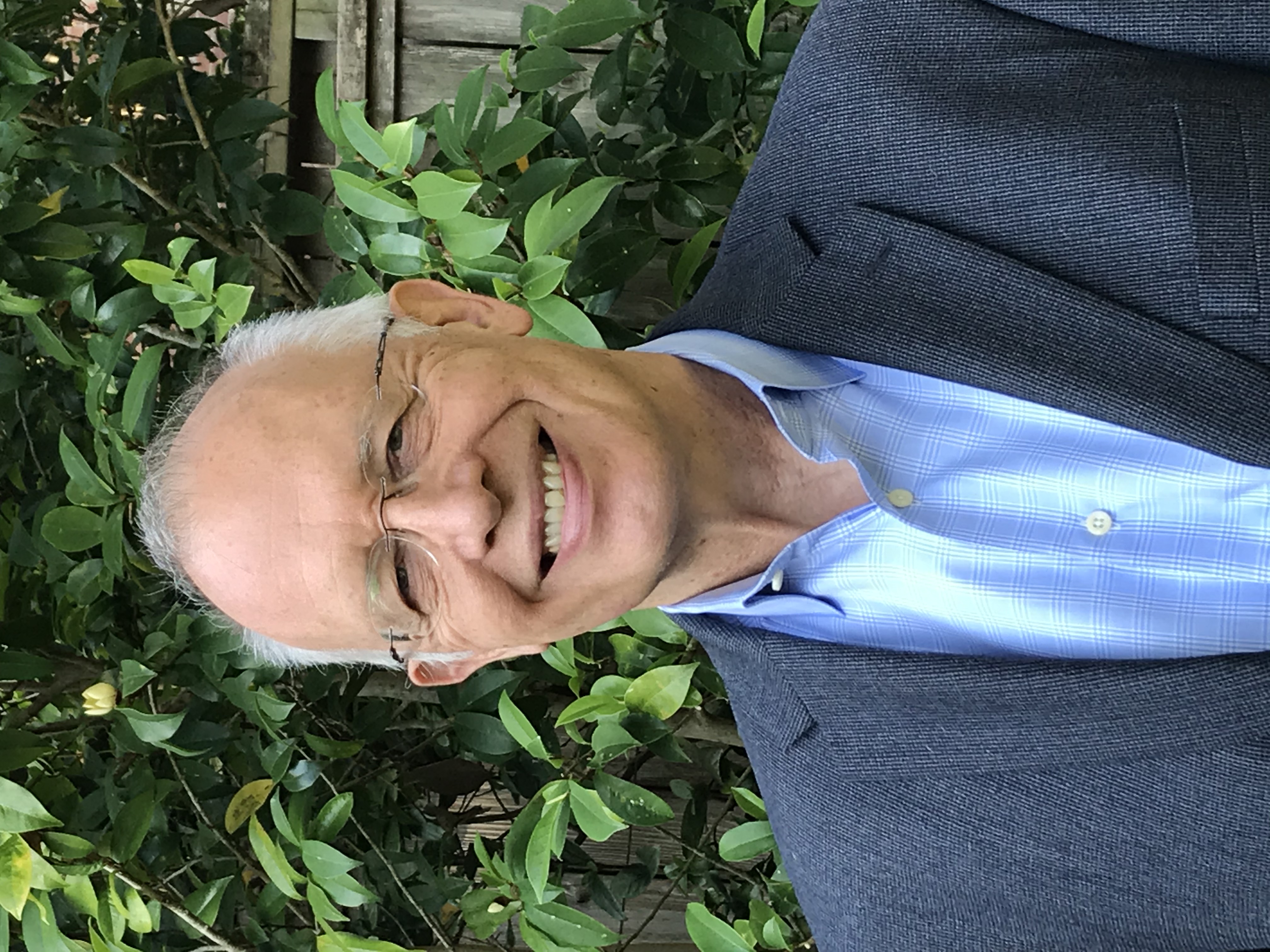 Contact
713-486-1156

Biography
Dr. Philip Noble is an Adjunct Professor at McGovern Medical School at UTHealth Houston and serves as a Scientific Consultant to the Center for Orthopaedic Research, Innovation and Training (CORIT) in the Department of Orthopaedic Surgery.  The Center specializes in the introduction, evaluation and development of new technologies in Orthopedics. Current CORIT research programs include: (1) Development new mitigation strategies for prevention of prosthetic joint infections, (2) The prevention and treatment of periprosthetic fractures, (3) Quantifying and enhancing surgical skills through computer-assisted and robotic technologies, and (4) Biomechanical simulation and optimization of orthopaedic procedures.
Dr Noble has over 40 years' experience in orthopedic research and received his education at several Australian universities, including the University of Melbourne, Latrobe University, and the University of Western Australia, in addition to the University of Strathclyde in Glasgow, Scotland, where he received his PhD under the mentorship of Professor John Paul.
Dr. Noble's diverse research interests include the biomechanics of human and artificial joints, the morphometry of human bones, computer-assisted orthopedics and robotic surgery, orthopedic biomaterials, and the quantitative assessment of clinical outcomes. He is a frequent speaker at national and international conferences. He has also published extensively in Orthopedics and related fields and serves as a reviewer of manuscripts for many journals including Clinical Orthopaedics and Related Research and the Journal of Bone and Joint Surgery.
Dr Noble has received several awards including the Winston Churchill Traveling Fellowship, the Frank Stinchfield and Otto AuFranc Awards of the Hip Society, the John Insall Award of the Knee Society and, most recently, the Lifetime Achievement Award of International Society of Hip Arthroscopy. He is a Member of several professional societies, including The Hip Society, The Knee Society, The International Hip Society, and The American Academy of Orthopedic Surgeons. He also serves on the Board of Directors of the International Society of Technology in Arthroplasty and is the Deputy Editor for Research of the Journal of Hip Preservation Surgery. Dr. Noble is also an experienced inventor who holds numerous patents and has contributed to the design of several popular designs of hip and knee replacements that have been implanted in millions of patients worldwide.
Education
Undergraduate Degree

Bachelor of Metallurgical Engineering, University of Melbourne, Melbourne, Australia

Masters Degree

Master of Engineering Science, University of Melbourne, Melbourne, Australia

Doctorate

Doctor of Philosophy, Strathyclyde University, Glasgow, United Kingdom
Publications
Published in Reference Journals
1. P.C. Noble. The Selection of Acrylic Bone Cements for Use in Joint Replacement. Biomaterials, 4: 94-100, 1983.
2. P.C. Noble, T.A. Krouskop, S.L. Garber, W.A. Spencer. The Effectiveness of Preventive Management in Reducing the Occurrence of Pressure Sores. Res. Dev., 20: 74-83, 1983.
3. P.C. Noble. Special Materials for the Replacement of Human Joints. Metal Forum, 6:59-80, 1983.
4. P.C. Noble, E. Swarts. Penetration of Acrylic Bone Cements into Cancellous Bone. Acta Orthop. Scand., 54: 566-573, 1983.
5. P.C. Noble, B. Goode, T.A. Krouskop, B. Crisp. The Influence of Environmental Aging Upon the Load Bearing Properties and Polyurethane Foams. Journal Rehab. Res. and Dev., 21: 31-38, 1984.
6. T.A. Krouskop, P.C. Noble, J. Brown, R. Marburger. Factors Affecting the Pressure Distribution Properties of Foam Mattress Overlays. Journal Rehab. Res. and Dev., 23(3): 33-39. July 1986.
7. J.C Kovach, G.M. Gartsman, P.C. Noble. Carpal Arch Alteration Following Carpal Tunnel Release. Journal of Hand Surgery, 11A(3): 372-374, May 1986.
8. G.T. Gabel, G.W. Hanson, J.B. Bennett, P.C. Noble, H.S. Tullos. Intra-articular Fractures of the Distal Humerus in the Adult. Clinical Orthopaedics and Related Research, 216: 99-108, March 1987.
9. B.N. Edwards, H.S. Tullos, P.C. Noble. Contributory Factors and Etiology of Sciatic Nerve Palsy in Total Hip Arthroplasty. Clinical Orthopaedics and Related Research, 218: 136-141, May 1987.
10. S.M. Dreeben, P.B.M. Thomas, P.C. Noble, H.S. Tullos. A New Method for Radiography of Weight-Bearing Metatarsal Heads. Clinical Orthopaedics and Related Research, 224: 260-267, November 1987.
11. G.M. Gartsman, M.E. Blair Jr., P.C. Noble, J.B. Bennett, H.S. Tullos. Arthroscopic Sub-acromial Decompression: An Anatomical Study. The American Journal of Sports Medicine, 16: 48-50, January/February 1988.
12. T.L. Mehlhof, P.C. Noble, J.B. Bennett, H.S. Tullos. Simple Dislocation of the Elbow in the Adult. The Journal of Bone and Joint Surgery, 70A: 244-249, February 1988.
13. R.N. Levy, P.C. Noble, A. Scheller Jr., H.S. Tullos, R. Turner. Prolonged Fixation of Cemented Total Hip Replacement. Surgical Rounds for Orthopaedics, 11: 15-22, April 1988.
14. P.C. Noble, J.W. Alexander, L.J. Lindahl, D.T. Yew, W.M. Granberry, H.S. Tullos. The Anatomic Basis of Femoral Component Design. Clinical Orthopaedics and Related Research, 235: 145-165, October 1988.
15. S.M. Dreeben, P.C. Noble, S. Hammerman, J.O. Bishop, H.S. Tullos. Metatarsal Osteotomy for Primary Metatarsalgia: Radiographic and Pedobarographic Study. Foot and Ankle, 9(5): 214-218, April 1989.
16. J.A. Maltry, P.C. Noble, G.W. Woods, J.W. Alexander, G.W. Feldman, H.S. Tullos. External Stabilization of the
Anterior Cruciate Ligament Deficient Knee During Rehabilitation. The American Journal of Sports Medicine, 16: 550-
554, 1989.
17. G.C. Landon, H.S. Tullos, P.C. Noble. Primary Total Hip Replacement. Surgical Rounds for Orthopaedics, 12: 61-67,
March 1989.
18. A.E. Heilman, W.G. Braly, J.O. Bishop, P.C. Noble, H.S. Tullos. An Anatomic Study of Subtalar Instability. Foot and
Ankle, 10(4): 224-228, February 1990.
19. W.M. Granberry, P.C. Noble, G.W. Woods. Evaluation of an Electrogoniometric Instrument for Measurement of Laxity
of the Knee. The Journal of Bone and Joint Surgery, 72A: 1316-1322, October 1990.
20. D.D. Rhoads, P.C. Noble, J.D. Reuben, O.M. Mahoney, H.S. Tullos. The Effect of Femoral Component Position on
Patellar Tracking After Total Knee Arthroplasty. Clinical Orthopaedics and Related Research, 260: 43-51, November,
1990.
21. O.M. Mahoney, P.C. Noble, J.D. Davidson, H.S. Tullos. The Effect of Continuous Epidural Analgesia on Post-Operative
Pain, Rehabilitation, and Duration of Hospitalization in Total Knee Arthroplasty. Clinical Orthopaedics and Related
Research, 260: 30-37, November 1990.
22. G.W. Stocks, G.T. Gabel, P.C. Noble, G.W. Hansen, H.S. Tullos. Anterior and Posterior Internal Fixation of Vertical
Shear Fractures of the Pelvis. Journal of Orthopaedic Research, 9(2): 237-245, March 1991.
23. D.K. Kuechle, G.C. Landon, D.M. Musher, P.C. Noble. Elution of Vancomycin, Daptomycin, and Amikacin from
Acrylic Bone Cement. Clinical Orthopaedics and Related Research, 264: 302-308, March 1991.
24. W.M. Granberry, P.C. Noble, J.O. Bishop, H.S. Tullos. Use of a Hinged Silicone Prosthesis for Replacement
Arthroplasty of the First Metatarsophalangeal Joint. The Journal of Bone and Joint Surgery, 73A(10): 1453-1459,
December 1991.
25. D.D. Rhoads, P.C. Noble, J.D. Reuben, H.S. Tullos. The Effect of Femoral Component Position on the Kinematics of
Total Knee Replacement. Clinical Orthopaedics and Related Research, 286: 122-129, January 1993.
26. R. Leggon, R. Lindsey, B.J. Doherty, J.W. Alexander, P.C.Noble. The Holding Strength of Cannulated Screws
Compared with Solid Core Screws in Cortical and Cancellous Bone. Journal of Orthopaedic Trauma, 7(5): 450-457,
1993.
6
27. O.M. Mahoney, P.C. Noble, D.D. Rhoads, J.W. Alexander, H.S. Tullos. Posterior Cruciate Function Following Total
Knee Arthroplasty A Biomechanical Study. Journal of Arthroplasty, 9(6): 569-578, 1994.
28. S.G.J. Eckrich, P.C. Noble, H.S. Tullos. Effect of Rotation on the Radiographic Appearance of the Femoral Canal.
Journal of Arthroplasty 9(4): 419-426, 1994.
29. P.C. Noble. Contributions of the Basic and Applied Sciences to Hip Replacement in Older Persons. Instr Course Lect,
43: 381-392, 1994.
30. J.H. Dickson, S. Mirkovic, P.C. Noble, T. Nalty, W.D. Erwin. Results of Operative Treatment of Idiopathic Scoliosis in
Adults. The Journal of Bone and Joint Surgery, 77A: 513-523, 1995.
31. D.M. Lintner, E. Kamaric, J.B. Moseley, P.C. Noble. Partial Tears of the Anterior Cruciate Ligament. Are They
Clinically Detectable? American Journal of Sports Medicine, 23(1): 111-118, 1995.
32. C.A.Hicks, P.Noble, and H.Tullos, The anatomy of the tibial intramedullary canal, Clin Orthop Relat Res, no. 321, pp. 111-
116, Dec 1995
33. P.C. Noble, G.G. Box, E. Kamaric, M.J. Fink, J.W.. Alexander, H.S. Tullos. The Effect of Aging on the Shape of the
Proximal Femur. Clinical Orthopaedics and Related Research, 316: 31-44, 1995.
34. J.B. Kendrick, P.C. Noble, H.S. Tullos. Distal Stem Design and the Torsional Stability of Cementless Femoral Stems.
The Journal of Arthroplasty, 10(4): 463-469, 1995.
35. J.A. Maltry, P.C. Noble, E. Kamaric, H.S. Tullos. Factors Influencing Pressurization of the Femoral Canal during
Cemented Total Hip Arthroplasty. The Journal of Arthroplasty, 10(4): 492-497, 1995.
36. D.V. Craft, J.B. Moseley, P.W. Cawley, P.C. Noble. Fixation Strength of Rotator Cuff Repairs and Suture Anchors and
the Transosseous Suture Technique. Journal of Shoulder and Elbow Surgery, 5: 32-40, 1996.
37. W.K. Feinstein, P.C. Noble, E. Kamaric, H.S. Tullos. Anatomic Alignment of the Patellar Groove. Clinical Orthopedics
and Related Research, 331: 64-73, October 1996.
38. N. Attias, A. Hayman, J.A. Hipp, P.C. Noble, S.I. Esses. Assessment of Magnetic Resonance Imaging in the Diagnosis
of Lumbar Spine Foraminal Stenosis – A Surgeon's Perspective. J Spinal Disord Tech, 19(4): 249-256, 2006.
39. J.P. Furia, D.M. Lintner, P. Saiz, H.W. Kohl, P.C. Noble. Isometry Measurements in the Knee with the Anterior
Cruciate Ligament Intact, Sectioned, and Reconstructed. The American Journal of Sports Medicine, 25(3): 346-352,
1997.
40. B.A. Goldberg, G. Al-Habbal, P.C. Noble, M. Paravic, T.R. Liebs, H.S. Tullos. The Performance of Proximal and Distal
Centralizers in Modern Cemented Hip Arthroplasty. Clinical Orthopedics and Related Research, 349: 163-173, 1998.
41. G.A. Murphy, S.G. Pneumaticos, E. Kamaric, P.C. Noble, S.G. Trevino, D.E. Baxter. Biomechanical Consequences of
Sequential Plantar Fascia Release. Foot Ankle Int., 19(3): 149-152, 1998.
42. C.G. George, R.W. Lindsey, P.C. Noble, J.W. Alexander, E. Kamaric. Optimal Location of a Single Distal Interlocking
Screw in Intramedullary Nailing of Distal Third Femoral Shaft Fractures. Journal of Orthopedic Trauma, 12(4): 267-
272, 1998.
43. L.T. Hall, S.I. EssesI, P.C. Noble, E. Kamaric. Morphology of the Lumbar Vertebral Endplates. Spine, 23(14): 1517-
1522,1998.
44. N. Sugano, P.C. Noble, E. Kamaric, J.K. Salama, T. Ochi, H.S. Tullos. The Morphology of the Femur in Congenital
Dysplasia of the Hip. J Bone Joint Surg Br, 80(4): 711-719, 1998.
45. N. Sugano, P.C. Noble, E. Kamaric. A Comparison of Alternative Methods of Measuring Femoral Anteversion. J
Comput Assist Tomogr., 22(4): 610-614, 1998.
46. W.C. McGarvey, S.G. Trevino, D.E. Baxter, P.C. Noble, L.C. Schon. Tibiotalocalcaneal Arthrodesis: Anatomic and
Technical Considerations. Foot Ankle Int., 19 (6): 363-369, 1998.
47. P.C. Noble, M.B. Collier, J.A. Maltry, E. Kamaric, H.S. Tullos. Pressurization and Centralization Enhance the Quality
and Reproducibility of Cement Mantles. Clinical Orthopedics and Related Research, 355: 77-89, 1998.
48. S.W. Breeze, B.J. Doherty, P.C. Noble, A. LeBlanc, M.H. Heggeness. A Biomechanical Study of Anterior
Thoracolumbar Screw Fixation. Spine, 23(17): 1829-1831, 1998.
49. N. Sugano, P.C. Noble, E. Kamaric. Predicting the Position of the Femoral Head Center. The Journal of Arthroplasty,
14(1): 102-107, 1999.
50. S.G. Pneumaticos, P.C. Noble, W.C. McGarvey, D.R. Mody, S.G. Trevino. Open Versus Closed Repair of the Achilles
Tendon: An Experimental Animal Study. Foot Ankle Int., 20(5): 307-13, 1999.
51. T.E. Siff, E. Kamaric, P.C. Noble, S.I. Esses. Femoral Ring Versus Fibular Strut Allografts in Anterior Lumbar Interbody
Arthrodesis. A Biomechanical Analysis. Spine, 24(7): 659-65, 1999.
52. W.K. Feinstein, D.M. Lichtman, P.C. Noble, J.W. Alexander, J.A. Hipp. Quantitative Assessment of the Midcarpal
Shift Test. J Hand Surg., 24(5): 977-83, 1999.
53. D.M. Stadelmaier, W.R. Lowe, O.A. Ilahi, P.C. Noble, H.W. Kohl. Cyclic Pull-out Strength of Hamstring Tendon Graft
Fixation with Soft Tissue Interference Screws. Influence of Screw Length. Am J Sports Med., 27(6): 778-83, 1999.
54. W. Kapp, R.W. Lindsey, P.C. Noble, T. Rudersdorf, P. Henry. Long-Term Residual Musculoskeletal Deficits after
Femoral Shaft Fractures Treated with Intramedullary Nailing. The Journal of Trauma Injury, Infection and Critical
Care, 49(3): 446-449, 2000.
7
55. R.L. Bartz, P.C. Noble, N.R. Kadakia, H.S. Tullos. The Effect of Femoral Component Head Size on Posterior
Dislocation of the Artificial Hip Joint. J Bone Joint Surg Am., 82(9): 1300-7, 2000.
56. P.C. Noble. Biomechanics of Dislocation after Total Hip Replacement. Current Opinion in Orthopaedics, 12(1): 79-84,
2001.
57. J.H. Healey, S. Barton, P.C. Noble, H.W. Kohl 3rd, O.A. Ilahi. Biomechanical Evaluation of the Origin of the Long Head
of the Biceps Tendon. Arthroscopy, 17(4): 378-382, 2001.
58. R.L. Bartz, E. Kamaric, P.C. Noble, D. Lintner, J. Bocell. Topographic Matching of Selected Donor and Recipient Sites
for Osteochondral Autografting of the Articular Surface of the Femoral Condyles. Am J Sports Med., 29(2): 207-212,
2001.
59. M.E. Rittmeister, P.C. Noble, J.R. Bocell Jr, J.W. Alexander, M.A. Conditt, H.W. Kohl 3rd. Interactive Effects of Tunnel
Dilation on the Mechanical Properties of Hamstring Grafts Fixed in the Tibia with Interference Screws. Knee Surg
Sports Traumatol Arthrosc., 9(5): 267-71, 2001.
60. C.F. Scifert, P.C. Noble, T.D. Brown, R.L. Bartz, N. Kadakia, N. Sugano, R.O. Johnston, D.R. Pederson, J.J. Callaghan.
Experimental and Computational Simulation of Total Hip Arthroplasty Dislocation. Orthop Clin North Am., 32(4):
553-67, 2001.
61. R.H. Leland, J.V. Marymont, S.G. Trevino, K.E. Varner, P.C. Noble. Calcaneocuboid Stability: A Clinical and
Anatomic Study. Foot Ankle Int., 22(11): 880-4, 2001.
62. J.C. McCarthy, P.C. Noble, M.R. Schuck, J. Wright, J. Lee. The Watershed Labral Lesion: Its Relationship to Early
Arthritis of the Hip. Journal of Arthroplasty, 16(8 Suppl 1): 81-7, 2001.
63. J.C. McCarthy, P.C. Noble, M.R. Schuck, J. Wright, J. Lee. The Otto E. Aufranc Award: The Role of Labral Lesions to
Development of Early Degenerative Hip Disease. Clinical Orthopedics and Related Research, 393(12): 25-37, 2001.
64. C.L. Soo, P.C. Noble, S.I. Esses. Scheuermann Kyphosis: Long-term Follow-up. Spine J., 2(1): 49-56, 2002.
65. M. Rittmeister, P.C. Noble, D.M. Lintner, J.W. Alexander, M. Conditt, H.W. Kohl 3rd. The Effect of Strand
Configuration on the Tensile Properties of Quadrupled Tendon Grafts. Arthroscopy, 18(2): 194-2002, 2002.
66. P.C. Noble. The Effect of Rotation on Radiographic Evaluation of the Tibiofibular Syndesmosis. Foot Ankle Int.,
23(2): 107-11, 2002.
67. M.E. Rittmeister, P.C. Noble, J.R. Bocell Jr, J.W. Alexander, M.A. Conditt, H.W. Kohl 3rd. Components of Laxity in
Interference Fit Fixation of Quadrupled Hamstring Grafts. Acta Orthop Scand., 73(1): 65-71, 2002.
68. C.C. Rankin, D.M. Lintner, P.C. Noble, V. Paravic, E. Greer. A Biomechanical Analysis of Meniscal Repair Techniques.
Am J Sports Med., 30(4): 492-7, 2002.
69. G.M. Millard, J.E. Budof, V. Paravic, P.C. Noble. Functional Bracing for Distal Radioulnar Joint Instability. J Hand
Surg., 27A(6): 972-77, 2002.
70. J.M. Weiss, P.C. Noble, M.A. Conditt, H.W. Kohl, S. Roberts, K.F. Cook, M.J. Gordon, K.B. Mathis. What Functional
Activities Are Important to Patients With Knee Replacements? Clinical Orthopedics and Related Research, (404): 172-
88, 2002.
71. J. McCarthy, P.C. Noble, F.V. Alusio, M. Schuck, J. Wright, J.A. Lee. Anatomy, Pathologic Features, and Treatment of
Acetabular Labral Tears. Clinical Orthopedics and Related Research, (406): 38-47, 2003.
72. D.W. Starch, J.W. Alexander, P.C. Noble, S. Reddy, D.M. Lintner. Multistranded Hamstring Tendon Graft Fixation
with a Central Four-Quadrant or a Standard Tibial Interference Screw for Anterior Cruciate Ligament Reconstruction.
Am J Sports Med., 31(3): 338-44, 2003.
73. X. Liu, P.C. Noble, Z.P. Luo. A Method for Testing Compressive Properties of Single Proteoglycan Aggregates.
Biochem Biophys Res Commun., 25:307(2): 338-41, 2003.
74. P.C. Noble, M.A. Conditt, M.T. Thompson, J.A. Stein, S. Kreuzer, B.S. Parsley, K.B. Mathis. Extra-articular Abrasive
Wear in Cemented and Cementless Total Knee Arthroplasty. Clinical Orthopedics and Related Research, ( 416): 120-
8, 2003.
75. P.C. Noble, E. Kamaric, N. Sugano, M. Matsubara, Y. Harada, K. Ohzono, V. Paravic. Otto Au Franc Award: Threedimensional
Shape of the Dysplastic Femur: Implications for THR. Clinical Orthopedics and Related Research, (417):
27-40, 2003.
76. P.C. Noble, N. Sugano, J.D. Johnston, M.T. Thompson, M.A. Conditt, C.A. Engh Sr, K.B. Mathis. Computer Simulation:
How Can it Help the Surgeon Optimize Implant Position? Clinical Orthopedics and Related Research, (417): 242-52,
2003.
77. O.A. Ilahi, S.A. Younas, J. Alexander, P.C. Noble. Cyclic Testing of Arthroscopic Knot Security. Arthroscopy, 20(1):
62-8, 2004.
78. M.A. Conditt, B.S. Parsley, J.W. Alexander, S.D. Doherty, P.C. Noble. The Optimal Strategy for Stable Fixation in
Revision TKA. Journal of Arthroplasty, 19(2): 256, 2004.
79. M.A. Conditt, J.A. Stein, P.C. Noble. Factors Affecting the Severity of Backside Wear of Modular Tibial Inserts. J Bone
Joint Surg Am., 86-A(2): 305-11, 2004.
80. M.T. Thompson, M.A. Conditt, S.K. Ismaily, A. Agarwal, P.C. Noble. Validation of a System for Automated
Measurement of Knee Laxity: Brief Report. Clin Biomech (Bristol, Avon), 19(3): 308-12, 2004.
8
81. X. Liu, P.C. Noble, Z.P. Luo. Direct Measurements of the Compressive Properties of Single Proteoglycan Aggregates.
Biochem Biophys Res Commun., 316(2): 313-3166, 2004.
82. C.A. DiRaimondo, J.W. Alexander, P.C. Noble, W.R. Lowe, D.M. Lintner. A Biomechanical Comparison of Repair
Techniques for Type II SLAP Lesions. Am J Sports Med., 32(3): 727-733, 2004.
83. M.A. Conditt, S.K. Ismaily, J.W. Alexander, P.C. Noble. Backside Wear of Modular Ultra-High Molecular Weight
Polyethylene Tibial Inserts. J Bone Joint Surg Am., 86-A(5): 1031- 1037, 2004.
84. M.A. Conditt, P.C. Noble, R. Bertolusso, J. Woody, B.S. Parsley. The PCL Significantly Affects the Functional Outcome
of Total Knee Arthroplasty. Journal of Arthroplasty, 19 (7 suppl 2): 107-112, 2004.
85. M.A. Conditt, B.S. Parsley, J.W. Alexander, S.D. Doherty, P.C. Noble. The Optimal Strategy for Stable Tibial Fixation
in Revision Total Knee Arthroplasty. Journal of Arthroplasty, 19 (7 suppl 2): 113-118, 2004.
86. M.A. Conditt, M.T. Thompson, M.M. Usrey, S.K. Ismaily, P.C. Noble. Backside Wear of Polyethylene Tibial Inserts:
Mechanism and Magnitude of Material Loss. J Bone Joint Surg Am., 87: 326-331, 2005.
87. M.A. Conditt, P.C. Noble, B. Allen, M. Shen, B.S. Parsley, K.B. Mathis. Surface Damage Of Patellar Components Used
In Total Knee Arthroplasty. J Bone Joint Surg Am., 87(6): 1265-1271, 2005.
88. N.H. Miller, S.G. Krishnan, E. Kamaric, P.C. Noble. Long-Term Results Of The Dial Osteotomy In The Treatment
Of High-Grade Acetabular Dysplasia. Clinical Orthopedics and Related Research, (433): 115-123, 2005.
89. P.C. Noble, M.J. Gordon, J.M. Weiss, R.N. Reddix, M.A. Conditt, K.B. Mathis. Does Total Knee Replacement Restore
Normal Knee Function? Clinical Orthopedics and Related Research, (431): 157-165, 2005.
90. J.V. Marymont, G. Shute, H. Zhu, K.E. Varner, V. Paravic, J.L. Haddad, P.C. Noble. Computerized Matching Of
Autologous Femoral Grafts For The Treatment Of Medial Talar Osteochondral Defects. Foot Ankle Int., 26(9): 708-
712, 2005.
91. D. Lionberger, P.C. Noble. Celecoxib Does Not Affect Osteointegration of Cementless Total Hip Stems. Journal of
Arthroplasty, 20(6 Suppl 3): 115-122, 2005.
92. M.V. Birman, P.C. Noble, M.A. Conditt, S. Li, K.B. Mathis. Cracking and Impingement in Ultra-High-Molecular-Weight
Polyethylene Acetabular Liners. Journal of Arthroplasty, 20(6 Suppl 3): 87-92, 2005.
93. T.A.M. Scheerlinck, J.D. Mey, R. Deklerck, P.C. Noble. CT Analysis of Defects of the Cement Mantle and Alignment
of the Stem: In Vitro Comparison of Charnley-Kerboul Femoral Hip Implants Inserted Line-To-Line and Undersized
In Paired Femora. J Bone Joint Surg [Br]., 88-B(1): 19-25, 2006.
94. M.J. Gordon, J.E. Budof, M.L. Yeh, Z.P. Luo, P.C. Noble. Comminuted Olecranon Fractures: A Comparison of Plating
Methods. J Shoulder Elbow Surg., 15(1):94-99, 2006.
95. D.M. Green, P.C. Noble, J.S. Ahuero, H.H. Birdsall. Cellular Events Leading To Chondrocyte Death after Cartilage
Impact Injury. Arthritis Rheum., 54(5):1509-1517, 2006.
96. P.C. Noble, R.F. Santore. Clinical and Scientific Advances in Arthritis Surgery: Past and Future. Articularis, (3): 3-6,
2006.
97. D.M. Green, P.C. Noble, J.R. Bocell, J.S. Ahuero, B.A. Poteet, H.H. Birdsall. Effect of Early Full Weight-Bearing after
Joint Injury on Inflammation and Cartilage Degradation. J Bone Joint Surg Am., 88: 2201-2209, 2006.
98. M.M. Usrey, P.C. Noble, L. Rudner, M.A. Conditt, M. Birman, R. Santore, K.B. Mathis. Does Neck/Liner Impingement
Increase Wear of Ultrahigh-Molecular-Weight Polyethylene Liners? Journal of Arthroplasty, 21(6): 65-71, 2006.
99. B. Parsley, M.A. Conditt, R. Bertolusso, P.C. Noble. Posterior Cruciate Ligament Substitution is not essential for
Excellent Postoperative Outcomes in Total Knee Arthroplasty. Journal of Arthroplasty, 21(6 Suppl 2): 127-131, 2006.
100. P.C. Noble, M.A. Conditt, K.F. Cook, K.B. Mathis. The John Insall Award: Patient Expectations Affect Satisfaction
with Total Knee Arthroplasty. Clinical Orthopedics and Related Research, 452: 35-43, 2006.
101. M.A. Conditt, P.C. Noble, M.T. Thompson, S.K. Ismaily, G.J. Moy, K.B. Mathis. A Computerized Bioskills System
for Surgical Skills Training in Total Knee Replacement. Proc Inst Mech Eng [H]; 221(1): 61-69, 2007.
102. L. Ren, G. Song, M. Conditt, P.C. Noble, H. Li. Fiber Bragg grating displacement sensor for movement measurement
of tendons and ligaments. Appl Opt., 46(28): 6867-6871, 2007.
103. P.C. Noble, J.D. Johnston, J.A. Alexander, M.T. Thompson, M.M. Usrey, E.M. Heinrich, G.C. Landon, K.B. Mathis.
Making Minimally Invasive THR Safe: Conclusions From Biomechanical Simulation And Analysis. Int. Orthopedics,
31(1 Suppl 1): 25-28, 2007.
104. M.J.Crawford, C.J. Dy, J.W. Alexander, M.T.Thompson, S.J.Schroder, C.E., Vega, C. E., R.V.Patel, A.R.Miller,
J.C.McCarthy, W.R.Lowe, and P.C.Noble. The 2007 Frank Stinchfield Award: The Biomechanics Of The Hip Labrum
And The Stability Of The Hip. Clinical Orthopaedics And Related Research, 465:16-22, 2007.
105. T. Scheerlinck, P. Vandenbussche, P.C. Noble. Quantification of Stem-Cement Interfacial Gaps: In Vitro CT Analysis
of Charnley-Kerboul and Lubinus SpII Femoral Hip Implants. J Bone Joint Surg [B], 90-B(1): 107-113, 2008.
106. C.J. Dy, M.T. Thompson, M.J. Crawford, J.W. Alexander, J.C. McCarthy, P.C. Noble. Tensile Strain in the Anterior
Acetabular Labrum During Provocative Maneuvering of the Normal Hip. J Bone Joint Surg., 90-A(7): 1464-1472,
2008.
107. S. Hawkins-Rivers, J.E. Budoff, S.K. Ismaily, P.C. Noble, J. Haddad. MRI Study of the Capitate, Lunate, and Lunate
Fossa with Relevance to Proximal Row Carpectomy. J Hand Surg [Am]., 33(6): 841-849, 2008.
9
108. O.A. Ilahi, S.A. Younas, D.M. Ho, P.C. Noble. Security of Knots Tied With Ethibond, Fiberwire, Orthocord, or
Ultrabraid. Am J Sports Med., 36(12): 2407-2414, 2008.
109. D. Bin and P.C. Noble Aseptic loosening of cemented stem following cemented hip arthroplasty Analysis of 36 revised
specimens. Journal of Clinical Rehabilitative Tissue Engineering Research:5176-80, 2009
110. K.E. Varner, V. Matt, J.W. Alexander, J.D. Johnston, S. Younas, J.V. Marymont, P.C. Noble. Screw versus Plate
Fixation of Proximal First Metatarsal Crescentic Osteotomy. Foot Ankle Int., 30(2): 142-149, 2009.
111. A.B. Patel, R.R. Wagle, M.M. Usrey, M.T. Thompson, S.J. Incavo, P.C. Noble. Guidelines for Implant Placement to
Minimize Impingement during Activities of Daily Living After Total Hip Arthroplasty. Journal of Arthroplasty, 2010
25(8), 1275-1281
112. A. Dewan, R. Bertolusso, A. Karastinos, M. Conditt, P.C. Noble, B. Parsley. Implant Durability and Knee Function
After Total Knee Arthroplasty in the Morbidly Obese Patient. Journal of Arthroplasty, 24(6 e3): 89-94, 2010.
113. P. Murray, J. Alexander, J. Gold, K. Icenogle, P.C. Noble, W. Lowe. Anatomic Double- Bundle Anterior Cruciate
Ligament Reconstruction: Kinematics and Knee Flexion Angle- Graft Tension Relation. Arthroscopy, 26(2): 202-213,
2010. Read here.
114. R. Goytia, B.A. McArthur, P.C. Noble, S.K. Ismaily, D. Irwin, M. Usrey, M.A. Conditt, K.B. Mathis. Does Gender
Explain the Variability of Patello-Femoral Morphology Observed in TKR? Journal of Arthroplasty, 25(3):e71, 2010.
115. A.J. Shimmin, S. Graves, P.C. Noble. The Effect of Operative Volume on the Outcome of Hip Resurfacing. Medical
Image Analysis, 25(3):e4, 2010.
116. J.J. Mangelson, P.C. Noble, U. Osadebe, M.A. Harrington, B.S. Parsley. Ethnicity Affects all Knee Arthroplasty.
Journal of Arthroplasty, 25(3): e41, 2010.
117. F. Stevens, M.A. Conditt, N. Kulkarni, S.K. Ismaily, P.C. Noble, D.R. Lionberger. Minimizing Electromagnetic
Interference from Surgical Instruments on Electromagnetic Surgical Navigation. Clin Orthop Relat Res. 2010
Aug;468(8):2244-50.
118. B.S. Parsley, R. Bertolusso, M. Harrington, A. Brekke, P.C. Noble. Influence of Gender on Age of Treatment with TKA
and Functional Outcome. Clin Orthop Relat Res. 2010 Jul;468(7):1759-64.
119. N. Celebi, E.C. Rohner, J. Gateno, P.C. Noble, S.K. Ismaily, J.F. Teichgraeber, J.J. Xia. Development of a mandibular
motion simulator for total joint replacement. J Oral Maxillofac Surg. 2011 Jan;69(1):66-79.
120. B.N. Devers, M.A. Conditt, M.L. Jamieson, M.D. Driscoll, P.C. Noble, and B.S. Parsley. Does Greater Knee Flexion
Increase Patient Function and Satisfaction after Total Knee Arthroplasty? J Arthroplasty. 2011 Feb;26(2):178-86.
121. J.P Duggan Jr., U.C. Osadebe, J.W. Alexander, P.C. Noble, D.M. Lintner. The impact of ulnar collateral ligament tear and
reconstruction on contact pressures in the lateral compartment of the elbow. J Shoulder Elbow Surg. 2011 Mar;20(2):226-
33.
122. S.J. Incavo, M.T. Thompson, J.E. Gold, R.V. Patel, K.D. Icenogle, P.C. Noble. Which Procedure Better Restores Intact
Hip Range of Motion: Total Hip Arthroplasty or Resurfacing? A Combined Cadaveric and Computer Simulation
Study. J Arthroplasty. 2011 Apr;26(3):391-7.
123. H.L. Jones, A.L. Crawley, P.C. Noble, A.J. Schoenfeld, B.K. Weiner. A novel method for the reproducible production of
thoracolumbar burst fractures in human cadaveric specimens. Spine J. 2011 May; 11(5):447-51.
124. Incavo SJ, Gold JE, Exaltacion JJ, Thompson MT, Noble PC. Does acetabular retroversion affect range of motion after
total hip arthroplasty? Clin Orthop Relat Res. 2011 Jan;469(1):218-24.
125. Jamieson ML, Russell RD, Incavo SJ, Noble PC. Does an enhanced surface finish improve acetabular fixation in revision
total hip arthroplasty? J Arthroplasty. 2011 Jun;26(4):644-8.
126. C.M. Lawrie, P.C. Noble, S.K. Ismaily, D. Stal, S.J. Incavo. The flexion-extension axis of the knee and its relationship to
the rotational orientation of the tibial plateau. J Arthroplasty. 2011 Sep; 26(6 Suppl): 53-58. e1.
127. K.A. Siebenrock, F. Ferner, P.C. Noble, R.F. Santore, S. Werlen, T.C. Mamisch. The cam-type deformity of the proximal
femur arises in childhood in response to vigorous sporting activity. Clin Orthop Relat Res. 2011 Nov;469(11):3229-40.
128. A.R. Ellis, P.C. Noble, S.J. Schroder, M.T. Thompson, G.W. Stocks. The cam impinging femur has multiple morphologic
abnormalities. J Arthroplasty. 2011 Sep; 26(6 Suppl):59-65.
129. G.R. Scuderi, R.B. Bourne, P.C. Noble, J.B. Benjamin, J.H. Lonner, W.N. Scott. The New Knee Society Scoring System.
Clin Orthop Relat Res. 2012 Jan; 470(1):3-19. Review.
130. P.C. Noble, G.R. Scuderi, A.C. Brekke, A. Sikorskii, J.B. Benjamin, J.H. Lonner, P. Chadha, D.A. Daylamani, W.N. Scott,
R.B. Bourne. Development of a New Knee Society Scoring System. Clin Orthop Relat Res. 2012 Jan;470(1):20-32.
Review.
131. A.J Hart, A. Matthies, J. Henckel, K. Ilo, J. Skinner, P.C. Noble. Understanding Why Metal-on-Metal Hip Arthroplasties
Fail: A Comparison Between Patients with Well-Functioning and Revised Birmingham Hip Resurfacing Arthroplasties
AAOS Exhibit Selection. J Bone Joint Surg Am. 2012 Feb 15; 94(4):e221-10.
132. J.J. Exaltacion, S.J. Incavo, V. Matthews, B. Parsley, P.C. Noble. Hip Arthroplasty after Intramedullary Hip Screw
Fixation: A Perioperative Evaluation. J Orthop Trauma. 2012 Mar;26(3):141-7.
133. P.C. Noble, M.A. Conditt, M.T. Thompson, M.M. Usrey, G.W. Stocks. The Cam Impinging Femur has Multiple
Morphologic Abnormalities. J Bone Joint Surg Br 2012 vol. 94-B no. SUPP XXV 174
10
134. P.C. Noble, S.K. Ismaily, S.J. Incavo. The Flexion-Extension Axis of the Knee and the Rotational Orientation of Tibial
Components. J Bone Joint Surg Br 2012 vol. 94-B no. SUPP XXV 175.
135. S.K Ismaily, L. Turns, J.E. Gold, J.W. Alexander, K.B. Mathis, P.C. Noble. Which Steps Do Trainees Find Most Difficult
in Performing Knee Replacement? J Bone Joint Surg Br 2012 vol. 94-B no. SUPP XXV 176.
136. Dy CJ, Schroder SJ, Thompson MT, Alexander JW, Noble PC. Etiology and severity of impingement injuries of the
acetabular labrum: what is the role of femoral morphology? Orthopedics. 2012 Jun;35(6):e778-84.
137. Noble PC, Pflüger G, Junk-Jantsch S, Thompson MT, Alexander JW, Mathis KB. The optimal skin incision for minimally
invasive total hip arthroplasty performed via the anterolateral approach. J Arthroplasty. 2012 Jun;27(6):901-8.
138. Noble PC, Durrani SK, Usrey MM, Mathis KB, Bardakos NV. Constrained cups appear incapable of meeting the demands
of revision THA. Clin Orthop Relat Res. 2012 Jul;470(7):1907-16.
139. Luo R, Brekke A, Noble PC. The Financial Impact of Joint Registries in Identifying Poorly Performing Implants. J
Arthroplasty. 2012 Sep; 27(8 Suppl):66-71.e1.
140. M. D. Driscoll, G.P. Isabell Jr., M.A. Conditt, S.K. Ismaily, D.C. Jupiter, P.C. Noble, W.R. Lowe. Comparison of 2 Femoral
Tunnel Locations in Anatomic Single Bundle Anterior Cruciate Ligament Reconstruction: A Biomechanical Study.
Arthroscopy: The Journal of Arthroscopic and Related Surgery, Vol, No 10 (October), 2012: pp 1481-1489.
141. C.J. Dy, M.T. Thompson, M.M. Usrey, P.C. Noble. The Distribution of Vascular Foramina at the Femoral Head/ Neck
Junction: Implications for Resurfacing Arthroplasty. J Arthroplasty. Vol 27, No 9 (October), 2012: pp 1669-1675.
142. McCulloch PC, Andrews WJ, Alexander J, Brekke A, Duwani S, Noble P. The effect on external rotation of an anchor
placed anterior to the biceps in type 2 SLAP repairs in a cadaveric throwing model. Arthroscopy. 2013 Jan;29(1):18-24.
143. Incavo SJ, Schmid S, Sreenivas K, Ismaily S, Noble PC. Total knee arthroplasty using anatomic alignment can produce
mid-flexion laxity. Clin Biomech (Bristol, Avon). 2013; 28(4), 429-435.
144. McCulloch PC, Shybut TB, Isamaily SK, Durrani S, Gold JE, Noble PC, Lintner DM. The Effect of Progressive Degrees
of Medial Meniscal Loss on Stability after Anterior Cruciate Ligament Reconstruction. J Knee Surg. 2013; 26(05), 363-
370..
145. Noble, PC, Chan, N., Fuchs, C. H., Valle, R., Ismaily, S., & Adickes, M. (2013). What is the Minimum Depth of Bone
Resection Necessary for Treatment of CAM FAI?. Arthroscopy: The Journal of Arthroscopic and Related Surgery, 29(12),
e212-e212.
146. Lin DL, Ruh S, Jones HL, Karim A, Noble PC, McCulloch PC. Does High Knee Flexion Cause Separation of Meniscal
Repairs? Am J Sports Med. 2013; 41(9), 2143-2150.
147. Sikorskii A and Noble, PC "Statistical Considerations in the Psychometric Validation of Outcome Measures." Clinical
Orthopaedics and Related Research (2013): 471(11), 3489-3495.
148. Franz JO, McCulloch PC, Kneip CJ, Noble PC, Lintner DM. The Utility of the KJOC Score in Professional Baseball in the
United States. Am J Sports Med. 2013; , 41(9), 2167-2173.
149. Noble PC, Dwyer M, Brekke A. Commonalities, Differences, and Challenges With Patient-derived Outcome Measurement
Tools: Function/Activity Scales. Clinical Orthopaedics and Related Research 2013; 471(11), 3457-3465.
150. Gateno J, Cookston C, Hsu SS-P, Stal DN, Durrani SK, Gold JE, Ismaily SK, Alexander JW, Noble PC, Xia JJ.
Biomechanical Evaluation of a New MatrixMandible Plating System on Cadaver Mandibles. Journal of Oral and
Maxillofacial Surgery – 2013; 71(11), 1900-1914.
151. Huber, W. O. & Noble, P. C Effect of design on the initial stability of press-fit cups in the presence of acetabular rim
defects: experimental evaluation of the effect of adding circumferential fins. International Orthopaedics. (2013). 1-7.
152. Noble, P. C., Fuller-Lafreniere, S., Meftah, M., & Dwyer, M. K. Challenges in Outcome Measurement: Discrepancies
Between Patient and Provider Definitions of Success. Clinical Orthopaedics and Related Research, 2013; 471(11), 3437-
3445.
153. Grecula, M. J., & Noble, P. C. Editorial Comment: Symposium: ABJS Carl T. Brighton Workshop on Outcome Measures.
Clinical Orthopaedics and Related Research, 2013; 471(11), 3417-3418.
154. McCulloch, P. C., Shybut, T. B., Isamaily, S. K., Durrani, S., Gold, J. E., Noble, P. C., & Lintner, D. M. The Effect of
Progressive Degrees of Medial Meniscal Loss on Stability after Anterior Cruciate Ligament Reconstruction. Journal of
Knee Surgery, 2013; 26(05), 363-370.
155. Martin, S., Saurez, A., Ismaily, S., Ashfaq, K., Noble, PC., & Incavo, S. J. Maximizing tibial coverage is detrimental to
proper rotational alignment. Clinical Orthopaedics and Related Research, 2014; 472(1), 121-125.
156. McCulloch, P. C., Patel, J. K., Ramkumar, P. N., Noble, P. C., & Lintner, D. M. Asymmetric Hip Rotation in Professional
Baseball Pitchers. Orthopaedic Journal of Sports Medicine, 2014; 2(2), 2325967114521575.
157. McCulloch, P. C., Bott, A., Ramkumar, P. N., Suarez, A., Isamaily, S. K., Daylamani, D., & Noble, P. C. Strain within the
Native and Reconstructed MPFL during Knee Flexion. J Knee Surg. 2014 Apr;27(2):125-32.
158. Matthies, A. K., Henckel, J., Cro, S., Suarez, A., Noble, P. C., Skinner, J., & Hart, A. J. Predicting wear and blood metal
ion levels in metal‐on‐metal hip resurfacing. Journal of Orthopaedic Research, 2014; 32(1), 167-174.
159. Dwyer, M. K., Jones, H. L., Hogan, M. G., Field, R. E., McCarthy, J. C., & Noble, P. C. The Acetabular Labrum Regulates
Fluid Circulation of the Hip Joint During Functional Activities. The American journal of sports medicine, 2014; 42(4), 812-
819.
11
160. Durrani, S. K., Noble, P. C., Sampson, B., Panetta, T., Liddle, A. D., Sabah, S. A., … & Alister, H. J. Changes in blood
ion levels after removal of metal-on-metal hip replacements: 16 patients followed for 0-12 months. Acta
orthopaedica, 2014; 85(3), 1-7.
161. Shybut TB, Vega CE, Haddad J, Alexander JW, Gold JE, Noble PC, Lowe WR. Effect of lateral meniscal root tear on the
stability of the anterior cruciate ligament–deficient knee. The American journal of sports medicine. 2015 Apr;43(4):905-
11.
162. Dwyer, M. K., Jones, H. L., Field, R. E., McCarthy, J. C., & Noble, P. C. (2015). Femoroacetabular Impingement Negates
the Acetabular Labral Seal During Pivoting Maneuvers but Not Gait. Clinical Orthopaedics and Related Research®,
473(2), 602-607.
163. Borque, K. A., Gold, J. E., Incavo, S. J., Patel, R. M., Ismaily, S. E., & Noble, P. C. (2015). Antero-Posterior Knee Stability
During Stair Descent. The Journal of Arthroplasty 2015; 30(6), 1068-1072.
164. Gobba MS, Chan N, Patel R, Noble PC, Incavo SJ. Tibial stems in revision total knee arthroplasty: is there an anatomic
conflict?. The Journal of Arthroplasty. 2015 Sep 30;30(9):86-9
165. Rajgopal A, Noble PC, Vasdev A, Ismaily SK, Sawant A, Dahiya V. Wear Patterns in Knee Articular Surfaces in Varus
Deformity. The Journal of Arthroplasty. 2015 Nov 30;30(11):2012-6.
166. Ramkumar PN, Harris JD, Noble PC. Patient-reported outcome measures after total knee arthroplasty. Bone and Joint
Research. 2015 Jul 1;4(7):120-7.
167. Scuderi, G. R., Sikorskii, A., Bourne, R. B., Lonner, J. H., Benjamin, J. B., & Noble, P. C. (2016). The Knee Society Short
Form Reduces Respondent Burden in the Assessment of Patient-reported Outcomes. Clinical Orthopaedics and Related
Research, 474(1), 134-142
168. Noble PC. CORR Insights®: Otto Aufranc Award: Large Heads Do Not Increase Damage at the Head-neck Taper of Metalon-
polyethylene Total Hip Arthroplasties. Clinical Orthopaedics and Related Research®. 2016 Feb 1;474(2):339-41.
169. McCulloch PC, Jones HL, Lue J, Parekh JN, Noble PC. What Is the Optimal Minimum Penetration Depth for "All-Inside"
Meniscal Repairs?. Arthroscopy: The Journal of Arthroscopic & Related Surgery. 2016 Aug 31;32(8):1624-30.
170. McCulloch PC, Jones HL, Hamilton K, Hogen MG, Gold JE, Noble PC. Does simulated walking cause gapping of meniscal
repairs?. Journal of Experimental Orthopaedics. 2016 Mar 15;3(1):11..
171. Isaacson, M.J., Bunn, K.J., Noble, P.C., Ismaily, S.K. and Incavo, S.J., 2016. Quantifying and Predicting Surgeon Work
Input in Primary vs Revision Total Hip Arthroplasty. The Journal of Arthroplasty, 31(6), pp.1188-1193.
172. Bunn KJ, Isaacson MJ, Ismaily SK, Noble PC, Incavo SJ. Quantifying and Predicting Surgeon Work Effort for Primary and
Revision Total Knee Arthroplasty. The Journal of Arthroplasty. 2016 Sep 30;31(9):59-62.
173. Boymans, T.A., Veldman, H.D., Grimm, B.P., Noble, P.C., and Heyligers, I.C., 2016. Femoral head size is correlated with
head position in very elderly patients. The Journal of Arthroplasty. 32(2), pp.587-593
174. Boymans TA, Veldman HD, Noble PC, Heyligers IC, Grimm B. The Femoral Head Center Shifts in a Mediocaudal
Direction During Aging. The Journal of Arthroplasty. 2017 Feb 28;32(2):581-6.
175. Noble PC, Mayassi H, Lawrie CM, Murphy AJ, Ismaily SK, Patel R, Harris JD, Harrington M. Which Morphologic Factors
Predict the Range-of-Motion of the Human Hip?. Journal of Hip Preservation Surgery. 2016 Sep 1;3(suppl 1):hnw030-047.
176. McCulloch PC, Dolce D, Jones HL, Gale A, Hogen MG, Alder J, Palmer JE, Noble PC. Comparison of Kinematics and
Tibiofemoral Contact Pressures for Native and Transplanted Lateral Menisci. Orthopaedic Journal of Sports Medicine. 2016
Dec 17;4(12):2325967116674441
177. Bernstein DT, O'Neill CA, Kim RS, Jones HL, Noble PC, Harris JD, McCulloch PC. Osteochondral Allograft Donor-Host
Matching by the Femoral Condyle Radius of Curvature. The American journal of sports medicine. 2017 Feb;45(2):403-9.
178. Harrold, LR.; Porter, A; Noble, PC.; Ayers, DC.; Allison, JJ.; and Franklin, PD., "Differential burden of musculoskeletal
pain in African Americans and whites patients at the time of total joint replacement surgery" (2017). Orthopedics and
Physical Rehabilitation Publications and Presentations. http://escholarship.umassmed.edu/ortho_pp/184
179. Derasari A, Gold JE, Ismaily S, Noble PC, Incavo SJ. Will New Metal Heads Restore Mechanical Integrity of Corroded
Trunnions?. The Journal of arthroplasty. 2017 Apr 30;32(4):1356-9.
180. Russo, R.R., Burn, M.B., Ismaily, S.K., Gerrie, B.J., Han, S., Alexander, J., Lenherr, C., Noble, P.C., Harris, J.D. and
McCulloch, P.C., 2017. How Does Level and Type of Experience Affect Measurement of Joint Range of
Motion?. Journal of Surgical Education.
181. Russo, R.R., Burn, M.B., Ismaily, S.K., Gerrie, B.J., Han, S., Alexander, J., Lenherr, C., Noble, P.C., Harris, J.D. and
McCulloch, P.C., Is digital photography an accurate and precise method for measuring the range of motion of the hip and
knee? J Exp Orthop. 2017; 4: 29-36.
182. Han, S., Alexander, J. W., Thomas, V. S., Choi, J., Harris, J. D., Doherty, D. B., Jeffers, J.R.T., Noble, P. C., 2018. Does
Capsular Laxity Lead to Microinstability of the Native Hip? The American Journal of Sports Medicine,46(6), 1315-1323.
183. Simpson, J. B., Thomas, V. S., Ismaily, S. K., Muradov, P. I., Noble PC., Incavo, S. J., 2018. Hypothermia in Total Joint
Arthroplasty: A Wake-Up Call. The Journal of Joint Arthroplasty. 33(4), 1012-1018. DOI:10.1016/j.arth.2017.10.057
184. Bernstein DT, Alexander JJ, Petersen NJ, Lambert BS, Noble PC, Netscher DT. The Impact of Suture Caliber and
Looped Configurations on the Suture-Tendon Interface in Zone II Flexor Tendon Repair. Journal of hand surgery. 2018
Jun 8.
12
185. Alaee F, Angerame M, Bradbury T, Blackwell R, Booth RE, Brekke AC, Courtney PM, Frenkel T, Grieco Silva FR, Heller
S, Hube R, Ismaily S, Jennings J, Lee M, Noble PC, Ponzio D, Saxena A, Simpson H, Smith BM, Smith EB, Stephens S,
Vasarhelyi E, Wang Q, Yeo SJ. General Assembly, Prevention, Operating Room – Surgical Technique: Proceedings of
International Consensus on Orthopedic Infections. J Arthroplasty.2019 Feb;34(2S): S139-S146
186. Saeed K, McLaren AC, Schwarz EM, Antoci V, Arnold WV, Chen AF, Clauss M, Esteban J, Gant V, Hendershot E, Hickok
N, Higuera CA, Coraça-Huber DC, Choe H, Jennings JA, Joshi M, Li WT, Noble PC, Phillips KS, Pottinger PS, Restrepo
C, Rohde H, Schaer TP, Shen H, Smeltzer M, Stoodley P, Webb JCJ, Witsø E. 2018 international consensus meeting on
the musculoskeletal infection: Summary from the biofilm workgroup and consensus on biofilm-related musculoskeletal
infections. J Orthop Res. 2019 May;37(5):1007-1017
187. Han S, Kim RS, Harris JD, Noble PC. The envelope of active hip motion in different sporting, recreational, and daily living
activities: A systematic review. Gait Posture.2019 Jun;71:227-233
188. Delgadillo LE, Jones HL, Ismaily SK, Han S, Noble PC. How Flat Is the Tibial Osteotomy in Total Knee Arthroplasty?. J
Arthroplasty. 2019 Oct 9
189. Patel RV, Han S, Lenherr C, Harris JD, Noble PC. Pelvic Tilt and Range of Motion in Hips With Femoroacetabular
Impingement Syndrome. J Am Acad Orthop Surg. 2019 Oct 9;. DOI: 10.5435/JAAOS-D-19-00155. [Epub ahead of print]
Full Papers Published without Review by Peer Group
1. R.N. Levy, P.C. Noble, A. Scheller Jr., H.S. Tullos, R. Turner. Prolonged Fixation of Cemented Total Hip Replacement.
Surgical Rounds for Orthopaedics, 11: 15-22, 1988.
2. G.C. Landon, H.S. Tullos, P.C. Noble. Primary Total Hip Replacement. Surgical Rounds for Orthopaedics, 12: 61-67, 1989.
3. P.C. Noble. Proximal Femoral Geometry and the Design of Cementless Hip Replacements. Orthopaedics and Related
Science, 1: 86-92, 1990.
4. P.C. Noble, J.W. Alexander, L.J. Lindahl, D.T. Yew, W.M. Granberry, H.S. Tullos. Basic anatomiche del disegno di una
componente femorale. Tekne Newsletter, 7: 31-48, 1990-1991.
5. P.C. Noble, R.F. Santore. Clinical and Scientific Advances in Arthritis Surgery: Past and Future. Articularis, 3: 3-6, 2006.
Complete Books Written
P.C. Noble. The Prevention of Pressure Sores in Persons with Spinal Cord Injuries. Monograph Number 11, International
Exchange of Information in Rehabilitation, World Rehabilitation Fund, pp. 1-59, 1981.
J.C. McCarthy, P.C. Noble, R.N. Villar. Hip Joint Restoration: Worldwide Advances in Arthroscopy, Arthroplasty,
Osteotomy and Joint Preservation Surgery. Springer New York, pp. 1-980, 2017.
Book Chapters
1. E.R. Scull, P.C. Noble. "Rehabilitation Engineering and Orthotics." Lifetime Care of the Paraplegic Patient. Ed. Sir George
M. Bedbrook. Edinburgh: Churchill Livingstone, 1985. 202-1
2. P.C. Noble, A.D. Scheller Jr., H.S. Tullos, R.N. Levy, R.H. Turner. "Design and Selection of Prosthetic Components in Total
Hip Replacement." The Art of Total Hip Arthroplasty. New York: Grune & Stratton, 1986. 51-67. Print.
3. H.S. Tullos, J.B. Bennett, D. Shepard, P.C. Noble, G.T. Gabel. "Adult Elbow Dislocations: Mechanism of Instability." Instructional
Course Lectures. Ed. C.V. Mosby, L.D. Anderson. American Academy of Orthopaedic Surgeons, volume 35, 1986. 69-82. Print.
Read here.
4. P.C. Noble. "The Optimum Cement Mantle for Total Hip Replacement: Theory and Practice." Instructional Course Lectures. Ed. H.S.
Tullos. American Academy of Orthopaedic Surgeons, volume 15, 1991. 145-50. Print.
5. P.C. Noble, E. Kamaric, R.W. Davis, M.L. Granberry, M.J. Fink. "The Anatomy of the Proximal Femur in Primary and Revision Hip
Replacement." The Implant/Bone Interface. New York: Springer-Verlag, 1992. Print.
6. P.C. Noble. "Biomechanical Advances in Total Hip Replacement." Biomechanics in Orthopaedics. Ed. S. Niwa, S.M. Perren, T.
Hattori. Tokyo: Springer-Verlag, 1992. 46-75. Print.
7. P.C. Noble, K.A. Ward, G.R. Balu, H.W. Helmke, J.A. Maltry. "Factors Affecting the Strength of Cemented Interfaces." The
Implant/Bone Interface. New York: Springer-Verlag, 1992. Print.
8. P.C. Noble. "Extended Longevity in Modern Cemented Total Hip Replacement." Instructional Course Lectures.. Ed. B. Davis.
American Academy of Orthopaedic Surgeons, volume 42, 1993. Print.
9. P.C. Noble. "Contributions of Basic Applied Sciences to Hip Replacement in Older Persons." Instruction Course Lectures. Ed. B.
13
Davis. American Academy of Orthopaedic Surgeons, volume 43, 1994. Print.
10. P.C. Noble, J.W. Alexander, L.J. Lindahl, T. Nalty, H.S. Tullos. "The Geometry of the Proximal Femur and the Design of Hip
Endoprostheses." Technical Principles, Design, and Safety of Joint Implants. Ed. H.G. Wilbert, G.H. Buchhorn. Cambridge:
Hogrefe & Huber, 1994. Print.
11. P.C. Noble. "Experiences with Implant Failures and Conclusions for the Future Design of Hip Endoprostheses." Technical
Principles, Design, and Safety of Implants. Ed. H.G. Wilbert, G.H. Buchhorn. Cambridge: Hogrefe & Huber, 1994. Print.
12. P.C. Noble. "The Design of Cementless Femoral Prostheses." Hip and Knee Reconstruction. American Academy of Orthopaedic
Surgeons, volume 16, 1995. 127-38. Print.
13. P.C. Noble. "Biomechanics of Revision Hip Replacement." Revision Total Hip Arthroplasty. Ed. B.E. Bierbaum, J.V. Bono, J.C.
McCarthy, T.S. Thornhill, M.D. Turner. American Academy of Orthopaedic Surgeons, 1999. Print.
14. P.C. Noble, K.B. Mathis, H.S. Tullos. "Pre-operative Templating in Revision THR." Revision Total Hip Arthroplasty. Ed. B.E.
Bierbaum, J.V. Bono, J.C. McCarthy, T.S. Thornhill, M.D. Turner. American Academy of Orthopaedic Surgeons, 1999. Print.
15. J.C. McCarthy, P.C. Noble, M. Schuck, J.W. Aluisio, J. Lee. "Acetabular and Labral Hip Disorders. Ed. P.C. McCarthy. American
Academy of Orthopaedic Surgeons, 2003. Print.
16. J.D. Johnston, P.C. Noble, D.E. Hurwitz, T.P. Andriacchi. "Biomechanics of The Hip." The Adult Hip. Ed. J. Callaghan, A.
Rosenberg, H. Rubash.
17. P.C. Noble, M.A. Conditt, M.T. Thompson, S.K. Ismaily, K.B. Mathis. "CAOS for Technical Skills Training In Orthopedic Surgery."
Navigation and MIS in Orthopedic Surgery. Ed. J.B. Stiehl, W.H. Konermann, R.G. Haaker, A.M. DiGioia. New York: Spinger,
2007. 54-60.
18. P.C. Noble. "Scoring Systems and Their Validation Hip for the Arthritic Knee" Insall & Scott Surgery of the Knee. Ed. G. Scuderi, A.
Hanssen, W. N. Scott.
19. P.C. Noble. "Biomechanics of the Human Hip Joint." Surgery of the Hip. Ed. D.J. Berry, J.R. Lieberman. Philadelphia: Elsevier
(Saunders), 2012.
20. P.C. Noble, M.K. Dwyer, M.S. Gobba, J.D. Harris. "Functional Mechanics of the Human Hip." Hip Joint Restoration: Worldwide
Advances in Arthroscopy, Arthroplasty, Osteotomy, and Joint Preservation Surgery. Ed. J.C. McCarthy, P.C. Noble, R.N.
Villar. New York: Springer, 2017. 57-73.
21. S.S. Chua, J.D. Alder, J.D. Harris, A.R. Palisch, C.D. Bray, P.C. Noble. "Imaging of Cartilage Patho-Anatomy." Hip Joint
Restoration: Worldwide Advances in Arthroscopy, Arthroplasty, Osteotomy, and Joint Preservation Surgery. Ed. J.C.
McCarthy, P.C. Noble, R.N. Villar. New York: Springer, 2017. 221-229.
22. J.M. O'Donnell, M.G. Pritchard, M.S. Gobba, G.C. Ozoude, P.C. Noble, P.J. Singh. "Special Patients and Conditions: Elite
Athletes." Hip Joint Restoration: Worldwide Advances in Arthroscopy, Arthroplasty, Osteotomy, and Joint Preservation
Surgery. Ed. J.C. McCarthy, P.C. Noble, R.N. Villar. New York: Springer, 2017. 585-593.
24. M.K. Dwyer, P.C. Noble. "Evaluating the Outcome of Hip Preserving Procedures: Patient Function, Satisfaction, and
Impairment." Hip Joint Restoration: Worldwide Advances in Arthroscopy, Arthroplasty, Osteotomy, and Joint Preservation
Surgery. Ed. J.C. McCarthy, P.C. Noble, R.N. Villar. New York: Springer, 2017. 649-653.
25. P.C. Noble, A.A. Saadat, M. Meftah, K.E. Garrett, J.D. Harris. "Survivorship and Clinical Results After Hip Arthroscopy: How
Should We Define A Good Treatment Option?" Hip Joint Restoration: Worldwide Advances in Arthroscopy, Arthroplasty,
Osteotomy and Joint Preservation Surgery. Ed. J.C. McCarthy, P.C. Noble, R.N. Villar. New York: Springer, 2017. 831-
839.
26. J.D. Alder, S.S. Chua, C.D. Bray, J.D. Harris, A.R. Palisch, P.C. Noble. "Research into the Application of Imaging to the
Diagnosis of Hip Disease." Hip Joint Restoration: Worldwide Advances in Arthroscopy, Arthroplasty, Osteotomy, and Joint
Preservation Surgery. Ed. J.C. McCarthy, P.C. Noble, R.N. Villar. New York: Springer, 2017. 941-948.
27. J.C. McCarthy, P.C. Noble, R.N. Villar. "The Future of Hip Arthroscopy." Hip Joint Restoration: Worldwide Advances in
Arthroscopy, Arthroplasty, Osteotomy, and Joint Preservation Surgery. Ed. J.C. McCarthy, P.C. Noble, R.N. Villar. New
York: Springer, 2017. 977-980.
Patents 1. Method and Apparatus for Prosthesis Placement: U.S. Patent No. 4881536.
2. Sealing Device for Introducing Cement Into A Bone Canal: U.S. Patent No. 4896662.
3. Method and Apparatus for Preventing Rotational Failure of Orthopaedic Endoprostheses: U.S. Patent No. 4678471.
4. Prosthetic Device and Method of Implantation: U.S. Patent No. 5002580.
5. Prosthetic Device and Method of Implantation: U.S. Patent No. 5062854.
6. Prosthetic Device and Method of Implantation: U.S. Patent No. 5147408.
7. Intramedullary Centralizer: U.S. Patent No. 5665351.
8. Prosthetic Modular Bone Fixation Mantle and Implant System: U.S. Patent No. 5658338.
9. Surgical Broach: U.S. Patent No. 5665091.
10. Asymmetric Hip Stem: U.S. Patent No. 5776204.
14
11. Machining Assembly and Methods for Preparing the Medullary Cavity of a Femur in Hip Arthroplasty: U.S. Patent
Application No. 08/749279.
12. Surgical Broach and Methods for Preparing the Medullary Cavity of Femur in Hip Arthroplasty: U.S. Patent No. 5993455.
13. Computerized Bioskills Surgical Training System: U.S. Patent No. 7427200.
14. Femoral Implant for Hip Arthroplasty: U.S. Patent No. 7060102 B2.
15. Design and Performance of a Fiber Bragg Displacement Sensor for Measurement of Movement U.S. Patent No. 7796843.
16. Femoral Implant with Improved Range of Motion: U.S. Patent Application.
17. Seal Equipment for Introducing Cement into Bone Tube: International Patent JP01-207058.
18. Bone Graft and Bone Graft Kit: International Patent JP02-174844.
19. Sealing Device for Introducing Cement into a Bone Canal: International Patents EP0320138, AUS1988026361, CA1312248.
20. Prosthetic Device and Method of Implantation: International Patents CA1328953, AUS1989042675.
21. Prosthetic Device: International Patent EP0363151.
22. Mechanical Work Assembly and Method for Forming Marrow Cavity of Thigh Bone-in Hip Joint Forming Operation:
International Patent JP10-155801.
23.. Prosthetic Modular Bone Fixation Mantle and Implant System: International Patent WO9908626.
24. Surgical Broach for Preparing the Medullary Cavity of a Femur in Hip Arthroplasty: International Patent EP0852931.
25. Machining Assembly for Preparing the Medullary Cavity of a Femur in Hip Arthroplasty: International Patents
EP0842639, CA2219163.
26. Asymmetric Hip Stem: International Patents EP0808618, AUS1997023606, CA2205727.
27. System and Method for Monitoring the Health of Joints.. – US Patent App. 13/968,018, 2013; Inventors: G Song, Y Yu,
PC Noble
28. Modification of the Surface Topography of Cartilage Grafts for Joint Reconstruction. US Patent App. 2017/0056182
A1;2017; Inventors: Philip C Noble and Hugh Jones