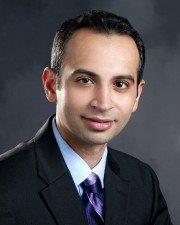 Contact
713.486.4900
713.880.8754 fax

Biography
Dr. Raj Shani is an Assistant Professor in the Department of Orthopedic Surgery at McGovern Medical School at UTHealth Houston.
Certified by the American Board of Orthopedic Surgery, Dr. Shani specializes in Sports Medicine with an emphasis on surgery of the shoulder, knee, and ankle. He has traveled internationally, gaining expertise in new and innovative techniques in cartilage repair and preservation. Dr. Shani was the Team Physician during the River Oaks Clay Court Championship, Memorial Hermann Marathon, and several Ironman events. He is currently the Team Physician for St. Pius High School and Lutheran North High School.
Dr. Shani received his undergraduate degree from Washington University in Saint Louis. He then attended medical school at Baylor College of Medicine in Houston, Texas. Following a five-year Orthopedic Surgery residency at The University of Texas Medical Branch at Galveston, Dr. Shani completed a fellowship in Sports Medicine at Emory Orthopedic and Sports Medicine Center in Atlanta, Georgia.
Dr. Shani is a member of the American Academy of Orthopedic Surgeons and the American Orthopedic Society for Sports Medicine.
Education
Undergraduate Degree

Washington University, Saint Louis, Missouri

Medical School

Baylor College of Medicine, Houston, Texas

Residency

Orthopaedic Surgery Residency, The University of Texas Medical Branch at Galveston, Galveston, Texas

Fellowship

Sports Medicine Fellowship, Emory Orthopedic and Sports Medicine Center, Atlanta, Georgia
Areas of Interest
Clinical Interests
Knee
Anterior Cruciate ligament reconstruction
Posterior Cruciate ligament reconstruction
MCL/LCL injuries
Cartilage restoration
Meniscal repair and transplant
Biological treatment of knee osteoarthritis
Partal and total knee replacement
Knee arthroscopy
Shoulder
Rotator cuff repair
Labral repair
Biceps injury
Recurrent shoulder dislocation
Rotator cuff tendonitis/impingement syndrome
Shoulder replacement
Shoulder arthroscopy
Ankle
Ankle instability
Peroneal tendonitis
Ligament injury and repair
Talar osteochondral lesion, cartilage restoration
Ankle arthroscopy
Hip
Labral injuries and impingement
Elbow
UCL reconstruction (Tommy John Surgery)
Pitcher's elbow
Distal biceps injury
Triceps injury
Publications
"Biomechanical Comparison of Quadriceps and Patellar Tendon Grafts in Anterior Cruciate Ligament Reconstruction". Raj H. Shani, M.D., Erica Umpierez, M.D., Michael Nasert, B.A., Elise A. Hiza, M.D., and John Xerogeanes, M.D.
"Outcomes of Selective Percutaneous Myofascial Lengthening in Children with Cerebral Palsy, Yngve, D, Shani, R, Wild, D Carmichael, K, (Currently in submission)
"Outcomes of Minimally Invasive Multilevel Surgery for Children with Cerebral Palsy" Yngve D, Wild D, Shani R, Carmichael K, Baker American Academy of Orthopedic Surgeons Annual Meeting, Feb 18, 2011, San Diego, CA
"The Reliability of Videographic Analysis using a Novel Computer Based Software to Measure Knee and Ankle Range of Motion During Gait in Children with Cerebral Palsy"- Shani, R, Wild, D, Carmichael, K, Yngve, D (Accepted to APTA combined section meetings in 2009 as well as the AACP national convention in 2009)
"Biomechanical Evaluation of angular stabilized distal interlocking screws in distal tibia fractures"- Shani R, Gugula Z, Lindsey, R
In Submission
"What are the Contact Stresses in the Knee in Deep Flexion". Shani, R, Condit M, Noble P – Accepted for Paper Podium Presentation 53rd Annual ORS Meeting San Diego Feb 12, 2007
"Does the End-Systolic Pressure Volume Relationship remain linear in the Phase Plane" .Shani, R ,Kovacs, S. Submitted and Accepted to the PV Loop Congress Masstricht Netherlands 2002.
"Assessment of the End Systolic Pressure Volume Relationship in Physiological Hyperspace", Shani R, Kovacs . Submitted and Accepted to the annual EMB-BMES society at Washington University 2003