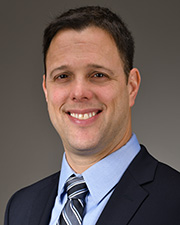 Contact
713.486.7500

Biography
Dr. Ran Lador is an Assistant Professor in the Department of Orthopedic Surgery at McGovern Medical School at UTHealth Houston.
Certified by the Israeli Board of Orthopedic Surgery, Dr. Lador specializes in the surgical care of complex spinal disorders and Orthopedic Trauma with an emphasis in spinal trauma and tumors, degenerative spinal disorders, revision spinal surgery, use of advanced technologies including navigation and minimally invasive techniques.
Dr. Lador received his undergraduate degree from The Hebrew University of Jerusalem and graduated medical school at the Hadassah Medical school affiliated with the Hebrew University of Jerusalem.
Dr. Lador completed his Orthopedic Residency at the Sourasky Tel-Aviv Medical center affiliated with the Tel-Aviv University in Israel. Following his residency, he continued his spine surgery training with a specific interest in the field of Spine Oncology. He was a Spine Oncology Surgery fellow at the Rizzoli institute of Orthopedic surgery in Bologna Italy, at the Spine Oncology and Degenerative Department, one of Europe's and the world's leading Spine Oncology institutions.
After returning from Bologna, Dr. Lador established a practice as an attending Spine Surgeon at the Tel-Aviv medical center, focusing in complex spine surgery including spine tumors and trauma. During that time, he developed the use of 3D printing technology in complex spine cases. As part of this ongoing project, he implanted the first 3D printed lumbar vertebra in a living patient.
Dr. Lador completed an additional Fellowship in Spine Neurosurgical Oncology at the University of Texas MD Anderson Cancer Center, Houston Texas.
Dr. Lador is a member of the North American Spine Society, the Israeli Academy of Orthopedic Surgeons, and the Israeli Spine Society.
He has authored numerous peer-reviewed journal articles and book chapters on spine trauma, tumors and 3D printing technology used in the spine. He serves as a reviewer in numerous spine and oncology journals.
Education
Undergraduate Degree

The Hebrew University of Jerusalem, Jerusalem, Israel

Medical School

The Hadassah school of medicine, affiliated with The Hebrew University of Jerusalem, Jerusalem, Israel

Internship

The Shiba Tel-Hashomer Medical Center, Israel

Residency

Orthopaedic Surgery Residency, Tel-Aviv Medical Center, affiliated with the Tel-Aviv University, Tel-Aviv, Israel

Fellowship

Spine oncology and degenerative diseases, Rizzoli Orthopedic Institute, Bologna, Italy.

Fellowship

Spine Neurosurgical Oncology Fellowship, The University of Texas MD Anderson Cancer Center, Houston, Texas
Areas of Interest
Clinical Interests
Primary tumors of the spine
Metastatic spine disease
Surgical care of complex spinal disorders
Spine Trauma
Minimal invasive spine surgery
Herniated discs
Spinal stenosis
Myelopathy
Revision spinal surgery
Use of 3D printing technology in complex spine cases
Research Interests
3 dimensional printing for complex spine and orthopedic situations
Non Unions and use of customized implants