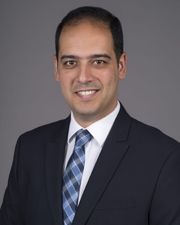 Contact
713-486-7500

Biography
Dr. Robert Frangie is an Assistant Professor in the Department of Orthopaedic Surgery at McGovern Medical School at UTHealth Houston.
Dr. Frangie is triple fellowship trained, completing fellowships in Adult Reconstruction as well as Orthopedic Sports Medicine at McGovern Medical School at The University of Texas Health Science Center at Houston. He also completed a fellowship in Orthopedic Trauma at the University of Louisville in Kentucky.
Dr. Frangie specializes in hip and knee surgery with an emphasis on innovative, arthroscopic procedures and complex, open surgeries for ligamentous and meniscal injuries to the knee. He performs partial and total knee replacement as well as total hip replacement and hip resurfacing. His practice encompasses primary and revision surgeries for failed arthroplasties and periprosthetic fractures. He uses both anterior and posterior approaches for his hip procedures. In all efforts to enhance the patient's experience, he utilizes technologies such as robot and computer navigation.
During his training, Dr. Frangie had extensive hands-on experience in sports medicine treating high school, collegiate and professional athletes including serving as assistant team physician for the Houston Texans, Houston Astros, Houston Rockets, Houston Dynamo, and the University of Houston Cougars. This extensive training allows him to treat a wide spectrum of hip and knee problems in patients of all age groups and ensure they return to the activities they enjoy.
Dr. Frangie's practice is characterized by an empathic and individualized approach toward patient care. He practices personalized medicine where he uses each patient's unique profile to guide decisions made in regard to prevention, diagnosis, and treatment of orthopedic conditions.
Dr. Frangie attended medical school and completed his residency at the American University of Beirut in Lebanon. He is fluent in English, French, and Arabic. He is a member of the American Academy of Orthopedic Surgeons (AAOS) and the American Association of Hip and Knee Surgeons (AAHKS). He has multiple publications in peer-reviewed journals and continues to be involved in clinical and experimental studies with the McGovern medical school. His areas of interest are periprosthetic fractures, revision arthroplasties, and computer simulation models in the study of multiple orthopedic conditions.
Education
Undergraduate Degree

Bachelor of Science in Biology, American University of Beirut, Beirut, Lebanon

Medical Degree

Doctor of Medicine, American University of Beirut, Beirut, Lebanon

Residency

Orthopedic Surgery Residency, American University of Beirut, Beirut, Lebanon

Fellowship

Orthopedic Trauma Fellowship, University of Louisville, Louisville, KY, USA

Fellowship

Orthopedic Sports Medicine and Shoulder Fellowship, University of Texas Health Science Center at Houston, Houston, Texas

Fellowship

Adult Reconstruction Fellowship, University of Texas Health Science Center at Houston, Houston, Texas
Areas of Interest
Clinical Interests
Computer and robotic assisted knee and hip replacement
Total and partial knee replacement
Complex revision knee replacement
Anterior and posterior total hip replacement
Hip resurfacing
Complex revision hip replacement
Periprosthetic joint infection
Periprosthetic fracture
Painful hip and knee replacement
ACL and PCL reconstruction and revision reconstruction
MCL, LCL and posterolateral corner repair and reconstruction
Osteochondral autograft, allograft, microfracture
Meniscal repair and transplant
Patellofemoral disorders
Multi-ligamentous knee injuries
Publications
1. Saghieh S, Weinstein S, Hoballah J (Eds). Operative Dictations in Orthopedic Surgery. Springer. 2013
Chapter 64: Ankle Fracture, Open Reduction and Internal Fixation
Chapter 65: Lisfranc Open Reduction and Internal Fixation
Chapter 78: Closed Reduction and Pinning of Two Parts Proximal Humerus Fracture
2. Frangie R, Warth RJ, Harner C. Will suture tape augmentation prove to be the answer to ACL graft remodeling, ultimate strength, and safe return to play? Arthroscopy. 2019
3. Frangie R, Masrouha KZ, Abi-Melhem R, Tamim H, Al-Taki M. The Association of Anemia and its Severity with Composite Morbidity after Total Hip Arthroplasty. HIP International. 2020
4. A New Modular External Fixator
This article describes the use of a new modular external fixator, Dolphix, and its application in pelvic and lower extremity stabilization. 36 cases done in 2018 at the University of Louisville Hospital are reviewed. The outcome as well as the surgical techniques are described. Pending submission.