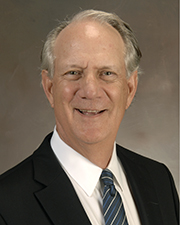 Contact
713.486.7585

Biography
Russ Paine, PT is the Director of Rehabilitation and Sports Medicine of the Department of Orthopedic Surgery at McGovern Medical School at The University of Texas Health Science Center at Houston (UTHealth).
He received his undergraduate degree from Abilene Christian University, and his PT degree from Texas Women's University School of Physical Therapy.
Russ has been involved in sports medicine his entire career. He began to develop his expertise by working and training with David Drez, M.D. of Lake Charles Louisiana. Russ has worked in conjunction with sports medicine physicians in the Houston area from 1991 to present. He has served as a rehabilitation consultant to the Houston Astros, Houston Rockets, and NASA. Russ continues to devote his time to research and education while maintaining a busy sports medicine clinical practice.
Serving on the planning committee of the Sports Physical Therapy Section for the Traveling Fellowship and Team Concept Meeting, Russ is involved on a national level with sports medicine education. Russ is also a founding member of the ICCUS society and is a member of the SPTS and the AOSSM. Paine received the Career Service Award from the American Sports Medicine Institute in 2009 from Dr. James Andrews and was inducted into the Sports Physical Therapy Hall of Fame in 2018. As a well established author and lecturer on topics related to sports medicine, he has lectured at over 500 meetings in the United States and abroad. He has published 25 chapters in textbooks and over 30 research articles in peer review journals.
Russ is known for his experience in sports medicine and has special interests that include injuries to the knee and shoulder, as well as golfing injuries and conditioning.