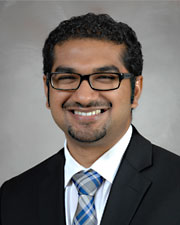 Contact
713.486.7860
713.512.7244 fax
713-486-7500

Biography
Dr. Shah Dodwad is an Assistant Professor in the Department of Orthopedic Surgery at McGovern Medical School at UTHealth Houston.
Certified by the American Board of Orthopedic Surgery, Dr. Dodwad specializes in the surgical care of elective and complex spine surgery, including degenerative spine disease, stenosis, herniated discs, myelopathy, trauma and fractures, tumors, scoliosis, and deformity.
Dr. Dodwad earned his undergraduate degree from the University of Minnesota in Minneapolis, Minnesota. He completed his medical degree at Wayne State University School of Medicine in Detroit, Michigan. Dr. Dodwad then completed his orthopedic surgery residency at The Ohio State University in Columbus, Ohio. He completed an additional fellowship year of specialty training in spine surgery at Northwestern University in Chicago, Illinois. Dr. Dodwad has advanced training from major academic institutions, learning the art and science of evaluating and managing minor to significant spinal disease, and hopes to continue that tradition at the UTHealth.
Dr. Dodwad's goal is to provide exceptional care by listening to his patients and establishing the most effective individualized treatment plan, expeditiously returning patients to activity. Dr. Dodwad is a member of  the American Academy of Orthopedic Surgeons and has lectured nationally and published a number of peer-reviewed articles and book chapters on a variety of spine-related topics. He continues his work and research in cutting-edge technology and techniques to provide optimal care for his patients.
Education
Undergraduate Degree

University of Minnesota, Minneapolis, Minnesota

Medical Degree

Wayne State University School of Medicine, Detroit, Michigan

Residency

Orthopedic Surgery Residency, The Wexner Medical Center at The Ohio State University, Columbus, Ohio

Fellowship

Spine Surgery Fellowship, Northwestern University Memorial Hospital, Chicago, Illinois
Areas of Interest
Clinical Interests
Surgical care of elective and complex spine surgery
Degenerative spine disease
Stenosis
Herniated discs
Myelopathy
Spinal trauma and fractures
Spinal tumors
Scoliosis and deformity
Publications
Dodwad S, Patel AA. Surgical Outcomes of Degenerative Lumbar Stenosis Patients Treated With and Without TLIF. Submission 1/2015.
Dodwad S, Patel AA, Hsu W. Surgical outcomes of XLIF Procedures for Lumbar Stenosis. Submission 12/2014.
Dodwad S, Hsu W. Biologics in Spine Surgery. Benzel's Spine Surgery, 4e. Submission in 11/2014
Dodwad S, Patel AA. Case report of bilateral pedicle fractures from lumbar cortical screw placement. Submission 11/2014.
Patel AA, Dodwad S. Chapter 6- Anterior Cervical Decompression and Fusion for Multilevel Cervical Myelopathy. Rush Publication with Kern Singh. Accepted 9/2014.
Savage J, Dodwad S, Hsu W. Spinal Infections. AAOS Monograph Series. Accepted 8/2014
Dodwad S, Dodwad SJ, Boehmler J, Scharschmidt T. Rotationplasty: A Final Alternative for Active Adults with Infected Total Knee Arthoplasty. Current Orthopedic Practice. Accepted 2/2014
Dodwad S, Savage J, Scarschmidt T, Patel AA. Evaluation and Treatment of Spinal Metastatic Disease. Cancer Treatment and Research. 2014;162:131-50
Dodwad S, Vrik S, Khan SN, Cha T, An H. Chapter 3: Bone and Intervertebral Disc Physiology. Spine Elsevier Accepted 2/2013.
Dodwad SN, Dodwad SJ, Wisneski R, Khan SN. Retrospective Analysis of Thoracolumbar Junction Injuries Using the Thoracolumbar Injury Severity and Classification Score, American Spinal Injury Association Class, Injury Severity Score, Age, Gender, and Length of Hospitalization. Journal of Spinal Disorders and Techniques. Feb 2014.
Dodwad SN, Niedermeier SR, Yu E, Ferguson TA, Klineberg EO, Khan SN. The Morel-Lavallée lesion revisited: management in spinopelvic dissociation. Spine J. Oct 2013 pii: S1529-9430(13)01470-8.
Dodwad SN, Khan SN. . Surgical stabilization of the spine in the osteoporotic patient. Orthop Clin North Am. Apr 2013;44(2):243-9.
Dodwad SN, Khan SN, Howard An. "Anatomy of the Cervical Spine." The Cervical Spine. Ed. Francis H. Shen, Dino Samartzis, & Richard G. Fessler. Elsevier, 2011.
Truumees E, Dodwad SN, Kazmierczak CD. Preoperative embolization in the treatment of spinal metastasis. J Am Acad Orthop Surg. Aug 2010;18(8):449-53.
Truumees E, Dodwad SN. Osteoporosis and Spine Care, Part 2: Surgical Management. North American Spine Society SpineLine. 2008 September/October.
Truumees E, Dodwad SN. Osteoporosis and Spine Care, Part 1: General Overview and Medical Management. North American Spine Society SpineLine. 2008 July/August.