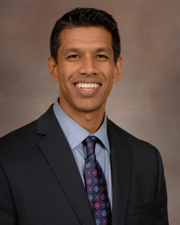 Contact
713.486.7000

Biography
Dr. Vishal Shah is an Assistant Professor in the Department of Orthopedic Surgery at McGovern Medical School at UTHealth Houston.
Certified by the American Board of Orthopedic Surgery, Dr. Shah specializes in Sports Medicine with an emphasis in minimally invasive treatment of sports injuries and complex injuries of the shoulder and knee. Using advanced techniques perfected in the sports medicine arena, Dr. Shah is accustomed to treating fractures, arthritic conditions, and common musculoskeletal conditions and injuries that afflict individuals of all ages and in all walks of life. Understanding that many such conditions can be treated with non-operative means involving physical therapy, bracing, medications, or activity modification, Dr. Shah can guide patients through non-operative and operative solutions and offer surgical treatment when appropriate. Dr. Shah is the Head Orthopedic Surgeon for the Sugar Land Skeeters and Team Physician for Houston Baptist University.
Dr. Shah received his undergraduate degree from The  University of Texas at Austin. He attended medical school at The University of Texas Health Science Center at Dallas. Following a residency at The University of Texas Health Science Center at Houston, Dr. Shah completed a fellowship in Orthopedic Sports Medicine at the American Sports Medicine Institute in Birmingham, Alabama.
Dr. Shah is a member of several professional organizations, including the American Orthopedic Society for Sports Medicine, American Academy of Orthopedic Surgeons, and Arthroscopy Association of North America.
Education
Undergraduate Degree

The University of Texas at Austin, Austin, Texas

Medical School

The University of Texas Southwestern Medical Center, Dallas, Texas

Residency

Orthopaedic Surgery Residency, The University of Texas Health Science Center at Houston, Houston, Texas

Fellowship

Sports Medicine Fellowship, American Sports Medicine Institute, Birmingham, Alabama
Areas of Interest
Clinical Interests
Joint Resurfacing Procedures
Comprehensive Fracture Management of the Extremities
Operative and Non-operative management of tendonitis, arthritis, sprains, strains, injuries and fractures
Shoulder
Arthroscopic Treatment of Labral Tears of the Hip and Femoroacetabular Impingement (FAI)
Reverse Total Shoulder Replacement
Rotator Cuff Repair of the Shoulder
Partial and Total Shoulder Replacement
Labrum Repair of the Shoulder (SLAP, Bankart, Reverse Bankart)
Treatment of Shoulder Instability and Dislocations of the Shoulder
Knee
Partial and Total Knee Replacement
Ligament Reconstruction of the Knee (ACL, PCL, LCL, MCL)
Pediatric ACL Reconstruction
Revision ACL Reconstruction
Meniscus Repair of the Knee
Cartilage Restoration Techniques (Cartilage Transplant, Carticel, ACI, OATS, Microfracture)
Elbow
Elbow and Shoulder Conditions in the Throwing Athlete
Open and Arthroscopic Elbow Surgery
Open and Arthroscopic Treatment of Tennis Elbow (Lateral Epicondylitis)
UCL Reconstruction of the Elbow (Tommy John procedure)
Publications
Shah VM, Marco RA. Delayed presentation of cervical ligamentous injury without radiologic evidence. Spine. 2007 Mar 1; 32(5):E168-174
Biomechanical comparison of modes of fixation for comminuted distal fibular fractures in elderly bone. UT Houston Resident Research Presentation, May 2007.
Occult spinal cord anomalies in children with 'idiopathic' clubfoot. Resident Research Presentation, Shriner's Hospital for Crippled Children, October 2005
Mann and Coughlin: Surgery of the Foot and Ankle, 8th edition, 2006. Updating of 'Peroneal Tendon ubluxation and Dislocation' section of "Athletic Injuries to the Soft Tissues of the Foot and Ankle" chapter by Drs. Thomas Clanton and William McGarvey